Home
/ Waves of Darkness II
Waves of Darkness II
| Date | Band | Location | Venue | Tickets | Share |
| --- | --- | --- | --- | --- | --- |
| 2021.09.04-06 | Waves of Darkness II | Stockholm | Baltic Queen | Tickets | Facebook Tweet |
WAVES OF DARKNESS II
4–6 September 2021 | M/S BALTIC QUEEN
A 40 HOUR FESTIVAL CRUISE TO TALLINN, FEATURING 11 ACTS
Welcome aboard M/S Baltic Queen and most likely the first festival in a good while!
As promised earlier we have now decided that we are willing to take the chance and set sails despite the fact that the world's still burning. The trade-off is that in order to have the festival happen we are forced to reduce the capacity to about half of the previous edition as well as this will be a 100% sitting crowd event, thus respecting the restrictions regarding the space between seats and so on.
Please note that the departure date has also changed, and the departure is now one day later. If you have already purchased your tickets, you should have received an email by now with a new confirmation for the updated departure. Lastly, we would like to thank you for your continued support especially in these strange times, when everything around us is so uncertain!
You may choose between different cabin categories, prices vary depending on how many people share a cabin, with or without sea view.
Prices start at 1200 SEK* (116 EUR) /person
*4 people sharing Economy Class cabin.
All prices include accommodation and access to the festival venue.
Booking info
Book online or by telephone
Call: +46 (0)8-666 33 33
Website:
www.death-disco.se
Official Facebook event:
https://business.facebook.com/events/380316109680626/
Complete line-up in alphabetical order:
| DEN SORTE DØD| DER BLUTHARSCH | DESIDERII MARGINIS |
| DIE WEISSE ROSE | FORNDOM | OF THE WAND & THE MOON |
| ORDO ROSARIUS EQUILIBRIO | PETER BJÄRGÖ | ROME |
| TREHA SEKTORI | VRIL JÄGER |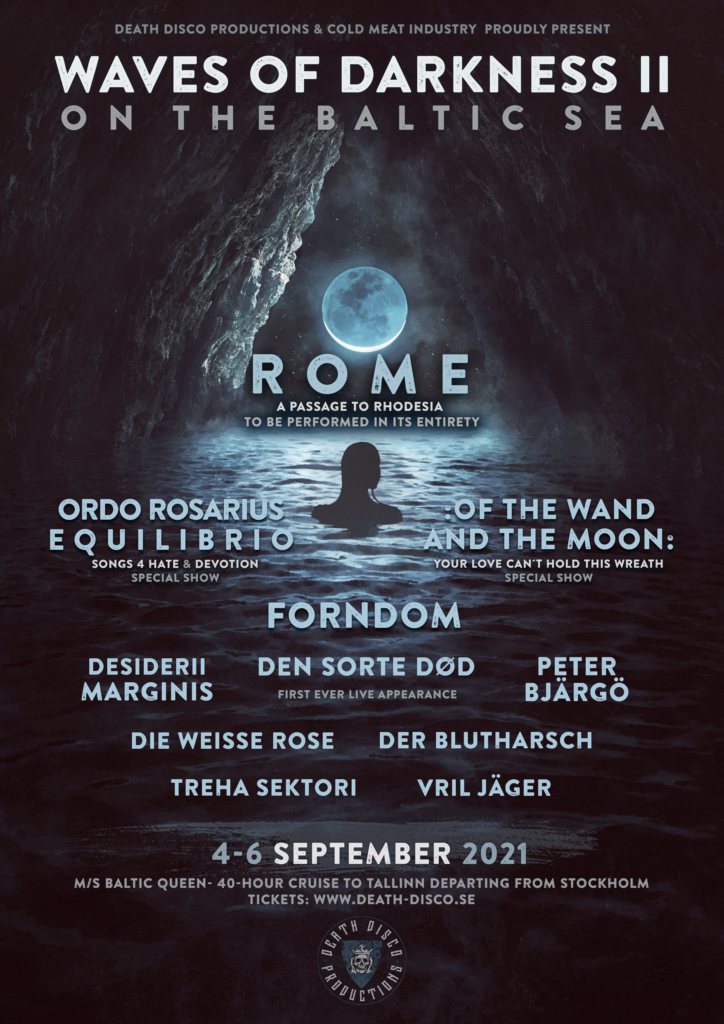 Varmt välkomna till kvällens ljudmagi!
Hålltider:
16:15 – insläpp VIP-biljetter
19:00 – insläpp ordinarie biljetter
20:00 – Maria W Horn
21:15 – Sunn O)))
00:00 – curfew publik
Ha gärna i åtanke att kvällens konsert är slutsåld och vi beräknar att det kommer att ta upp till 60 till 80 minuter innan vi hunnit checka in alla biljettköpare. Av den anledningen ber vi er att ha biljetterna till hands när ni kommer fram till Slaktkyrkan. Det är obligatorisk garderob som gäller för större jackor eller större väskor/ryggsäckar.
Sunn o))) har mängder av merchandise med sig (allt från tröjor till deras egna gitarrpedaler) och det är både kort och även kontanter som gäller, de accepterar EUR och SEK.
Vi ses i dimman!
...

See More

See Less