News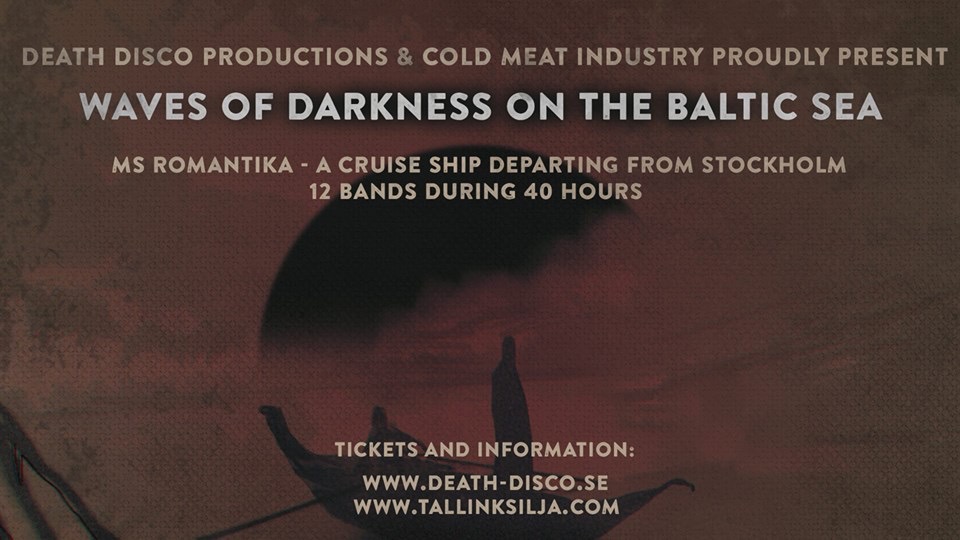 The festival takes place on the cruise boat M/S Romantika that departs from Stockholm – Värtahamnen

The check-in opens at 1 PM and closes at 4 PM and you may check in at the counters

The boarding starts at 3 PM and ends at 4:15 PM

Please plan your journey accordingly so you may get to the terminal in good time

The address to the Värtahamnen terminal is:
Hamnpirsvägen 10, 11574 Stockholm
Keep in mind the time-zone difference between Stockholm and Riga. As you may leave the ship when it arrives in Riga please return in due time before the ship is scheduled to depart. You have to be back on the boat on Sunday by 5:00 PM (Latvian time).
More information available here www.tallinksilja.com/stockholm-vartahamnen
At the terminal: As you probably know, the cruise is sold out. There are no spare tickets at the box office. In order to access the festival, you have to show a valid ticket (the pdf-file that you received from Tallink Silja) as well as a valid national ID/passport. Driver's license is not accepted! Receipts, order confirmations or anything else than valid tickets will not be accepted. Upon checking-in you will receive a wristband that will be your festival ticket for the rest of the weekend. The boarding card that you will receive is also your cabin key.
It is absolutely forbidden to bring any sharp objects, harmful liquids or any kind of weapons (including tear-gas spray). Bringing alcohol or food is also strictly prohibited. 
Onboard the ship – M/S Romantika: The cruise ship has several restaurants onboard and a duty-free shop. You may not bring alcohol purchased in the duty free into the festival venue. All shops and bars accept debit and credit cards. For more information about the ship, please check here www.tallinksilja.com/romantika-tallink-cruise-ship
Cameras and luggage: System cameras are allowed, but you are not allowed to bring into the concert hall any kind of backpacks or bags for your camera. Camera accessories, including camera bags should be left in the cabin. We appreciate if you limit the use of your phone/camera to film or take pictures during performances. It would be most considerate of you to think of the other fellow festival attendees and enjoy the shows together. NO FLASH!
The venue: Starlight, the concert venue, has two bars: one on the main floor and one on the balcony. Access to the venue is possible from deck 6 and 7 on the left side only. Exit is possible on deck 6 and 7, on the right side. In case of emergency all entrances can be used as exits.
Smoking: Smoking is only permitted in designated areas. Smoking in the cabins is forbidden.
Security: Our goal is to make this a pleasant experience for everybody while also complying with strict rules and regulations. Aggressive behaviour will not be tolerated. Please report it to the security guards. If you or anybody around you is feeling unwell, contact the security staff and they will show you to the ship's doctor.
Merchandise: The merchandise area is on deck 7, in the concert hall. Opening hours: Saturday 6.30 PM – 1.00 AM (Swedish time) and Sunday 6.00 PM – 2.00 AM (Latvian time)
Merchandise can only be paid in cash, EUR or SEK only: 1 EUR = 10 SEK.
There is no ATM machine onboard the ship so please make your cash withdrawals in advance. We recommend people interested in buying festival merchandise, to do so already on Saturday as the festival merchandise is limited.
Pre-party: On Friday the 13th there will be an official pre-party at Nalen Klubb. To access the pre-party you will need a separate ticket that can still be purchased following the link. Opening hours for the pre-party: 8 PM to 1:00 AM.
See you on the Baltic Sea!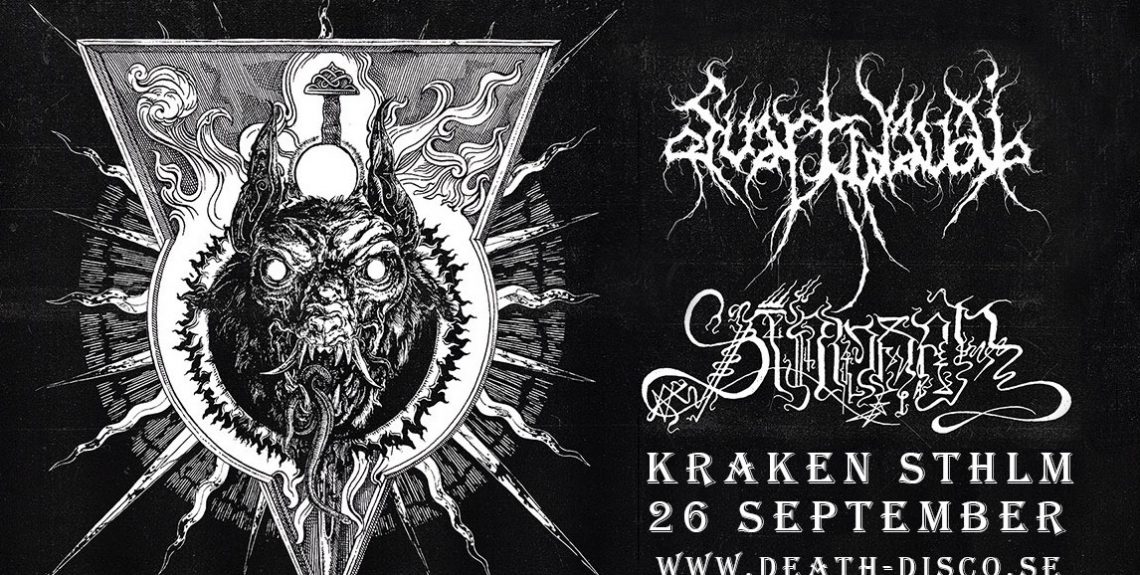 Death Disco bjuder in till en afton av isländsk svartmetall.

Svartidauði

Trots att de ofta omnämns som gudfäder av isländsk black metal fäster Svartidauði ingen som helst vikt vid triviala utmärkelser utan låter dig istället invaggas i hallucinatoriska ljudbilder av shamanistiska riter och lykantropisk lusta.
Med välrenommerade tyska skivbolaget Ván Records i ryggen har Svartidauði nu släppt lös den fasa som hittills endast sjudit under ytan – förkroppsligad i form av fjolårets album, Revelations of the Red Sword, som släpptes sex år på dagen sedan debutskivan Flesh Cathedral.

Sinmara

Sinmara grundades år 2008 och har sedan dess karvat ut sin plats som såväl en av den moderna underjordens mest vördade band samt en grundval inom isländsk black metal, ansedd av många som en av genrens mest inflytelserika scener.

Åldersgräns: 18 år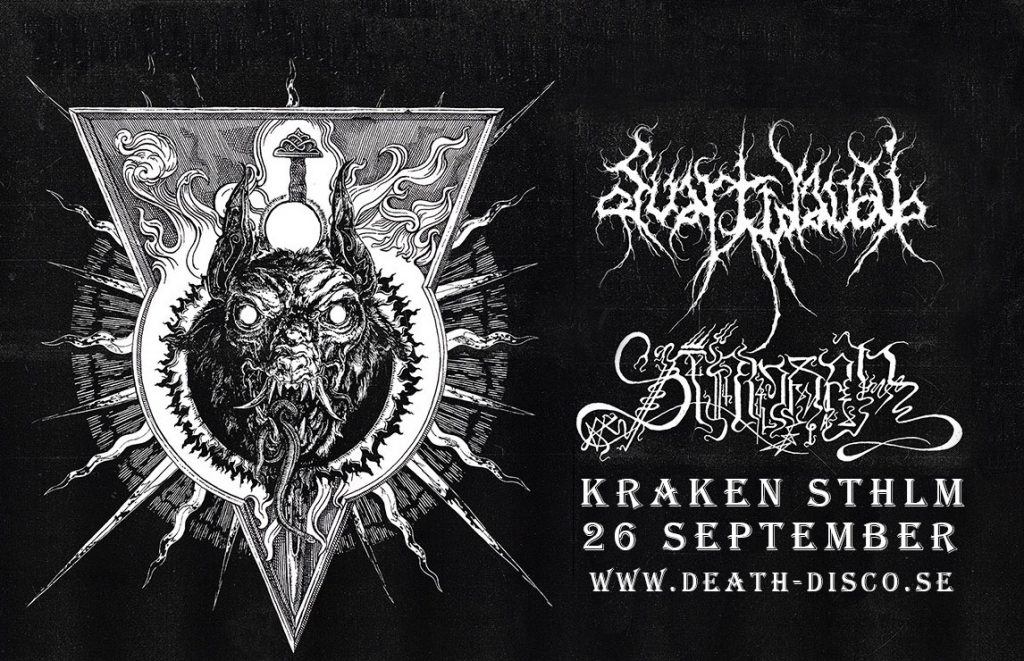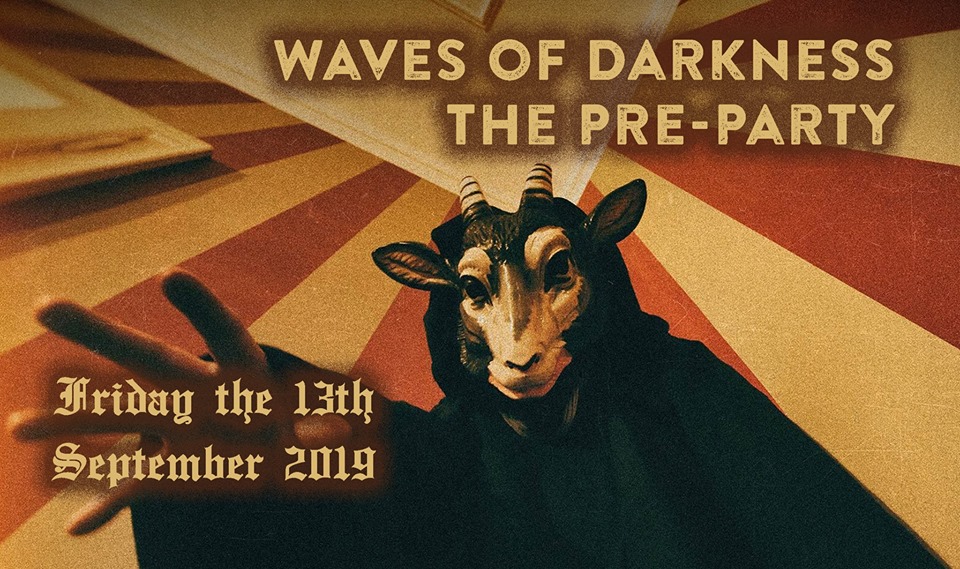 The official pre-party for Waves of Darkness on the Baltic Sea!
We hereby invite you to a warm up evening before we set sail the day after. This is also your chance to purchase festival merchandise in advance.
Strictly limited to 250 tickets, get your ticket in advance!
20:30 Der Blaue Reiter
21:35 The Lust Syndicate
22:55 THE DEVIL & THE UNIVERSE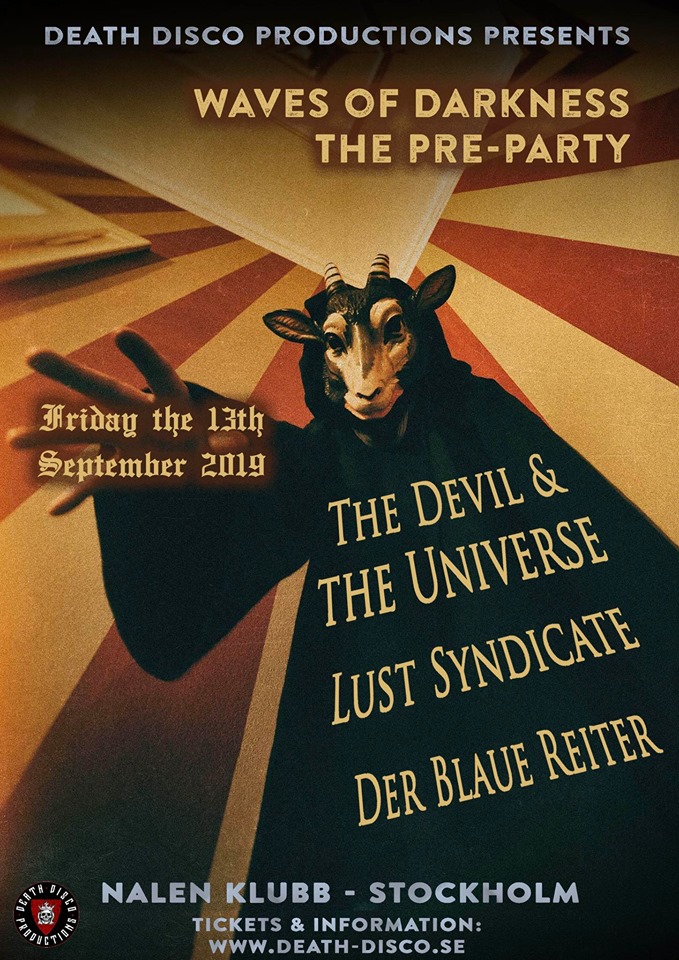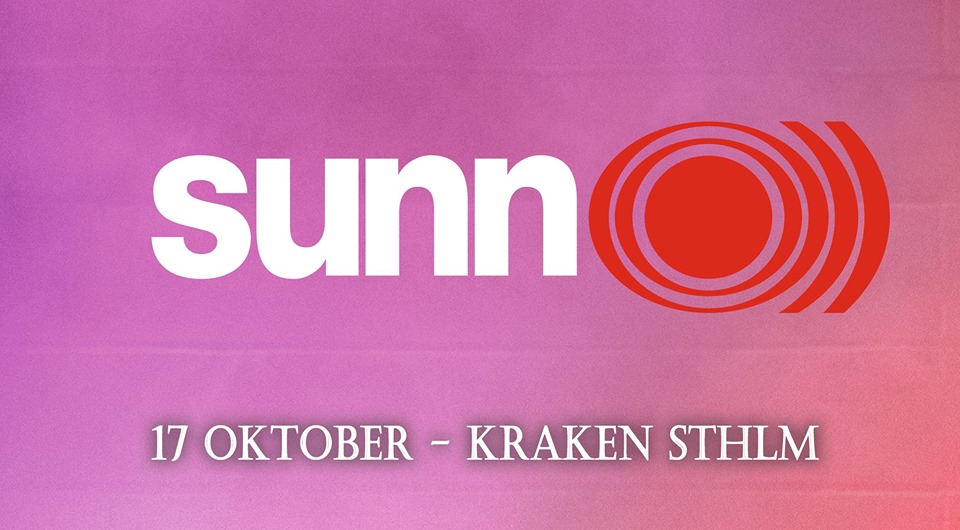 Sunn O))) har i över två decennier utmanat allt vi tror oss veta om musik. Under denna relativt korta tid har bandets två grundare, Stephen O'Malley och Greg Anderson, fortsatt foga sina länkar mellan metal, drone, orkestralmusik, jazz och minimalism – detta med häpnadsväckande resultat, samtidigt som de förblivit de tidlösa principerna om volym, densitet och tyngd trogna.
Sunn O))) presenterar stolt Life Metal – deras första nya studioalbum på fyra år, utgiven april 2019 av Southern Lord. Skivan supporteras genom bandets första Europaturné sedan 2016 och den 17 oktober är de äntligen åter i Stockholm.