News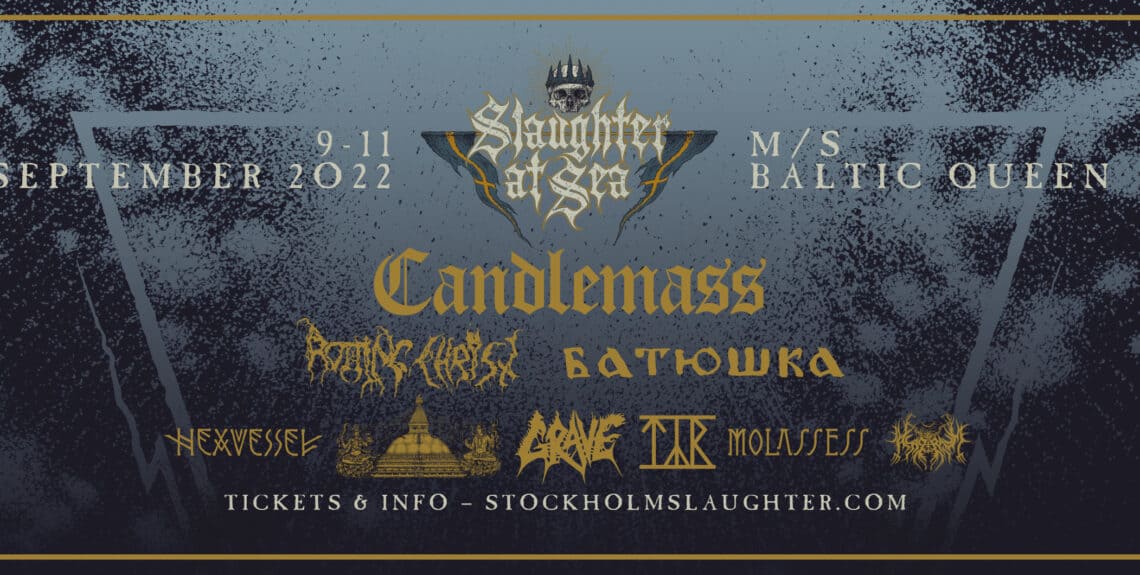 Stockholm Slaughter is back // CANCELLED
CANCELLED
Stockholm Slaughter is back from the grave, under an entirely new form!
Tickets and info: www.stockholmslaughter.com
Prices start at 104 EUR per person (when 4 people share an economy cabin), or 190 EUR (for a single economy cabin). All prices include both accommodation and access to the festival venue onboard the cruise ship.
Slaughter at Sea is the spiritual successor to Stockholm Slaughter – a festival trilogy enacted between 2017 and 2019. We believe that vast majority of attendees will find this to be the ultimate recipe for the most memorable of weekends.
An entire cruise ship full of like-minded maniacs enjoying tax-free booze, a stacked line-up, and crawling distance to not only venues, restaurants, and bars but also their beds. During our two days at sea, you will have the chance to see nine different bands in total. All bands will play proper festival shows, a minimum of 60 minutes each.
• Asagraum
• Batushka
• Candlemass
• Cult of Fire
• Grave
• Hexvessel
• Molasses
• Rotting Christ
• Tyr
See you all in September on the Baltic Sea!



Varmt välkomna till kvällens ljudmagi!
Hålltider:
16:15 – insläpp VIP-biljetter
19:00 – insläpp ordinarie biljetter
20:00 – Maria W Horn
21:15 – Sunn O)))
00:00 – curfew publik
Ha gärna i åtanke att kvällens konsert är slutsåld och vi beräknar att det kommer att ta upp till 60 till 80 minuter innan vi hunnit checka in alla biljettköpare. Av den anledningen ber vi er att ha biljetterna till hands när ni kommer fram till Slaktkyrkan. Det är obligatorisk garderob som gäller för större jackor eller större väskor/ryggsäckar.
Sunn o))) har mängder av merchandise med sig (allt från tröjor till deras egna gitarrpedaler) och det är både kort och även kontanter som gäller, de accepterar EUR och SEK.
Vi ses i dimman!
...

See More

See Less