Home
/ Archive by category "Uncategorized"
Category Archives:
Uncategorized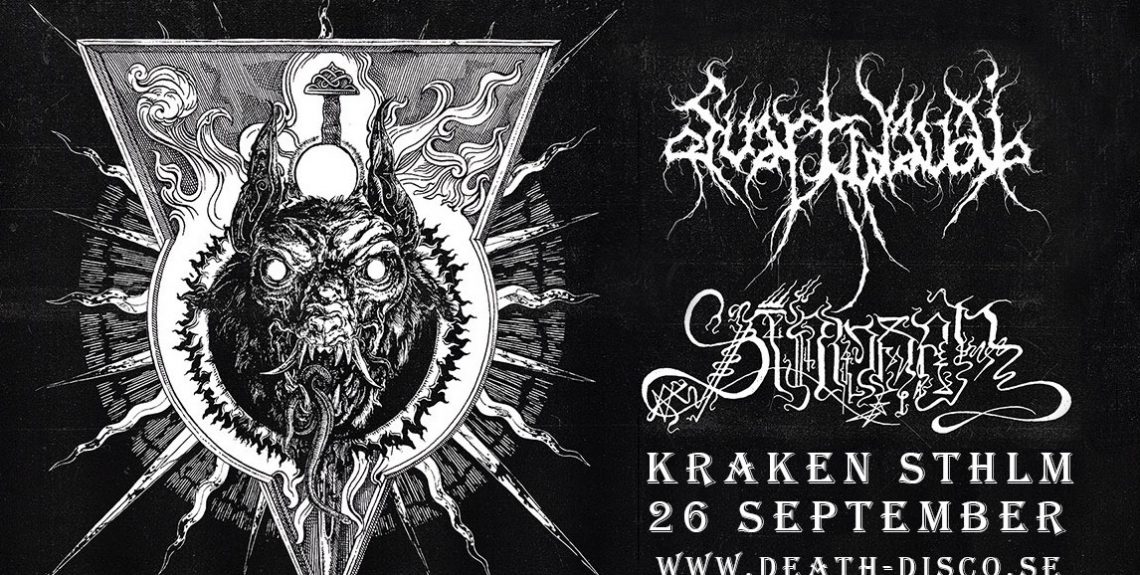 Death Disco bjuder in till en afton av isländsk svartmetall.

Svartidauði

Trots att de ofta omnämns som gudfäder av isländsk black metal fäster Svartidauði ingen som helst vikt vid triviala utmärkelser utan låter dig istället invaggas i hallucinatoriska ljudbilder av shamanistiska riter och lykantropisk lusta.
Med välrenommerade tyska skivbolaget Ván Records i ryggen har Svartidauði nu släppt lös den fasa som hittills endast sjudit under ytan – förkroppsligad i form av fjolårets album, Revelations of the Red Sword, som släpptes sex år på dagen sedan debutskivan Flesh Cathedral.

Sinmara

Sinmara grundades år 2008 och har sedan dess karvat ut sin plats som såväl en av den moderna underjordens mest vördade band samt en grundval inom isländsk black metal, ansedd av många som en av genrens mest inflytelserika scener.

Åldersgräns: 18 år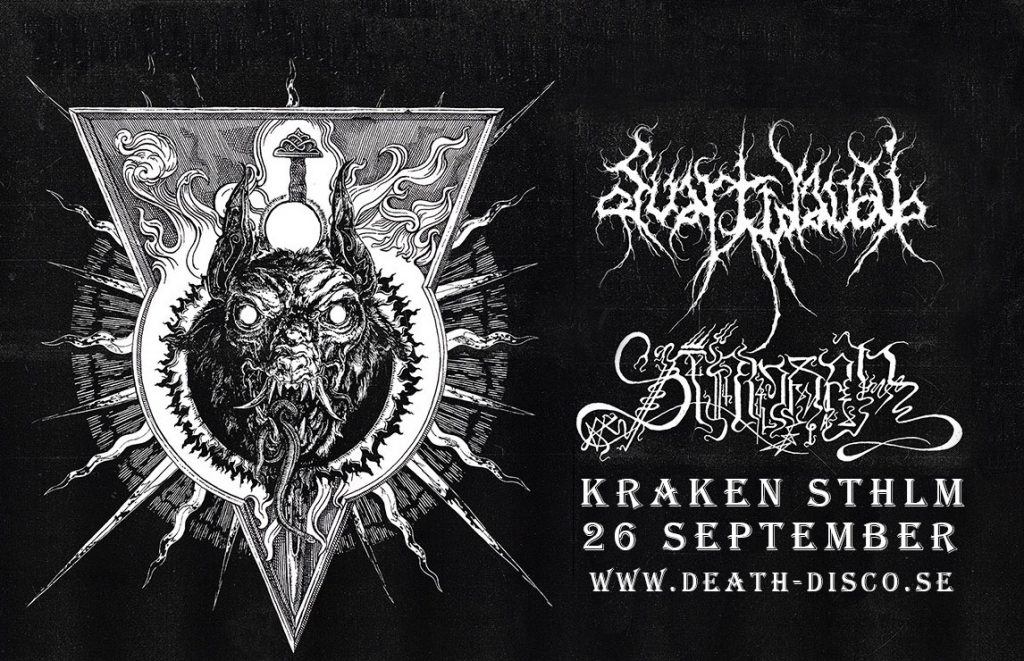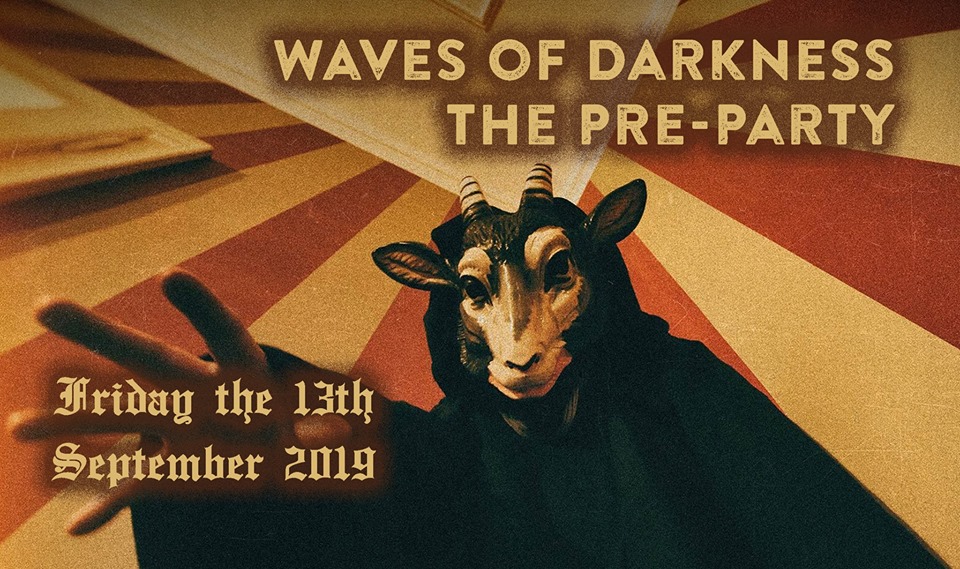 The official pre-party for Waves of Darkness on the Baltic Sea!
We hereby invite you to a warm up evening before we set sail the day after. This is also your chance to purchase festival merchandise in advance.
Strictly limited to 250 tickets, get your ticket in advance!
20:30 Der Blaue Reiter
21:35 The Lust Syndicate
22:55 THE DEVIL & THE UNIVERSE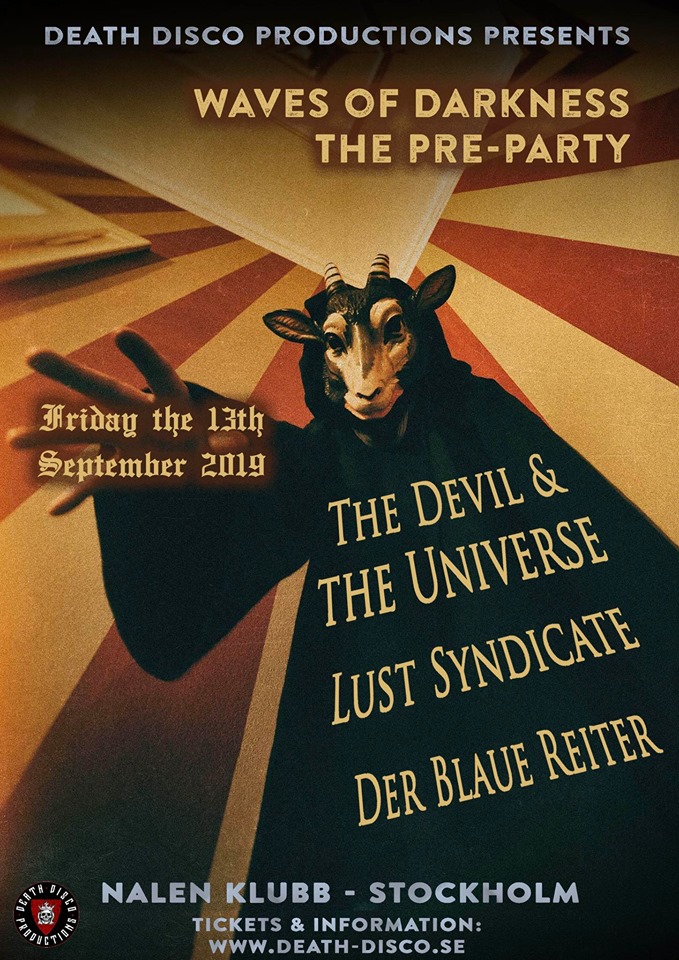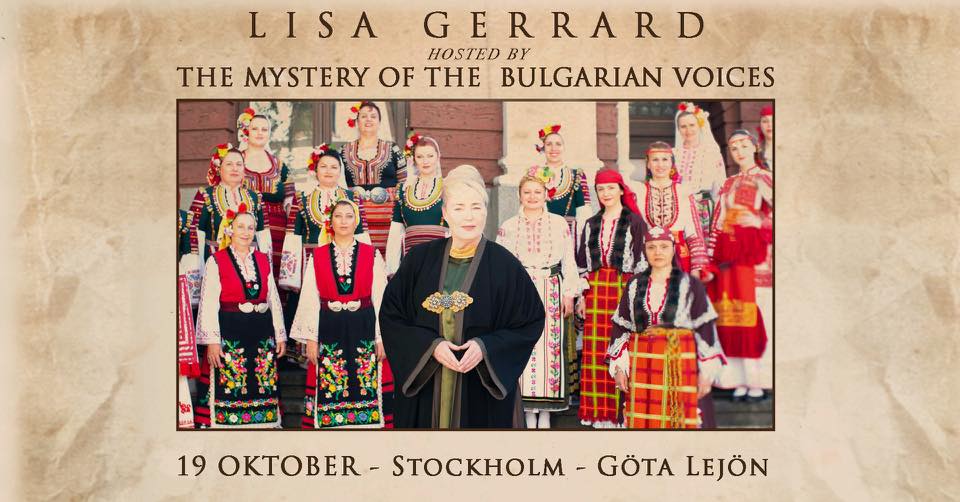 Death Disco Productions och Triffid And Danger Concertspresenterar stolt två konserter med den legendariska Dead Can Dance-sångerskan Lisa Gerrard tillsammans med a cappella-kören The Mystery of the Bulgarian Voices – Le Mystère des Voix Bulgares:
19 oktober Lisa Gerrard & The Mystery of the Bulgarian Voices i Stockholm
20 oktober Lisa Gerrard & The Mystery of the Bulgarian Voices i Oslo
Främst känd som den gudomliga kvinnorösten i Dead Can Dance samt för soloskivor och soundtrack såsom Gladiator – plus ytterligare samarbeten med mästerkompositören Hans Zimmer – har Lisa Gerrard karvat ut sin egna stil.
Kören som ackompanjerar Lisa på denna turné är känd över hela världen och har genomfört fler än 1250 konserter i de mest prestigefyllda konsertlokalerna jorden runt. År 2018 gav kören ut sitt första studioalbum på över två decennier: BooCheeMish.
"Mysteriet" ligger i hur de lyckas kombinera diafonisk sång med dissonanta harmonier till att frammana en rent hisnande ljudbild, och med Lisa Gerrard i sina led vågar vi utlova en oförglömlig afton!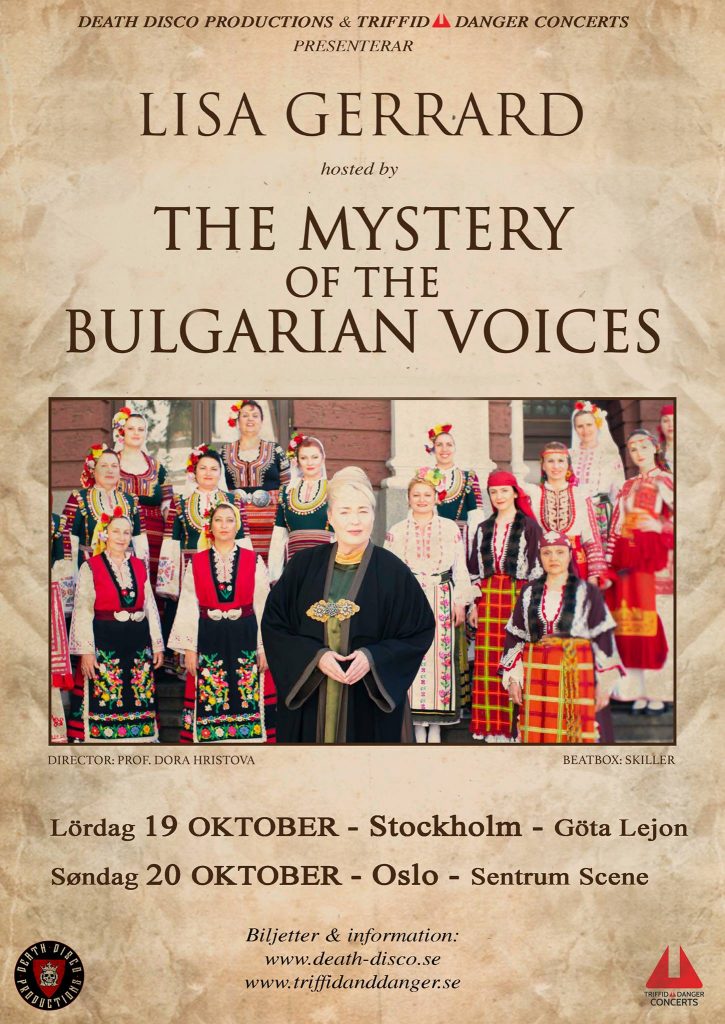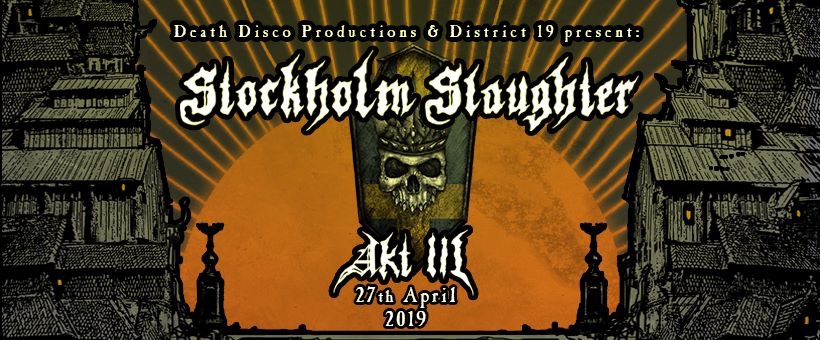 With the addition of Behexen Official and Impaled Nazarene (exclusive Suomi Finland Perkele set) the line-up for the 3rd edition of Stockholm Slaughter is finally complete.
1 day – 2 stages – 12 bands during 12 hours
We've already sold half of the festival capacity so don't wait for too long if you want to secure your spot at the heaviest metal party in town!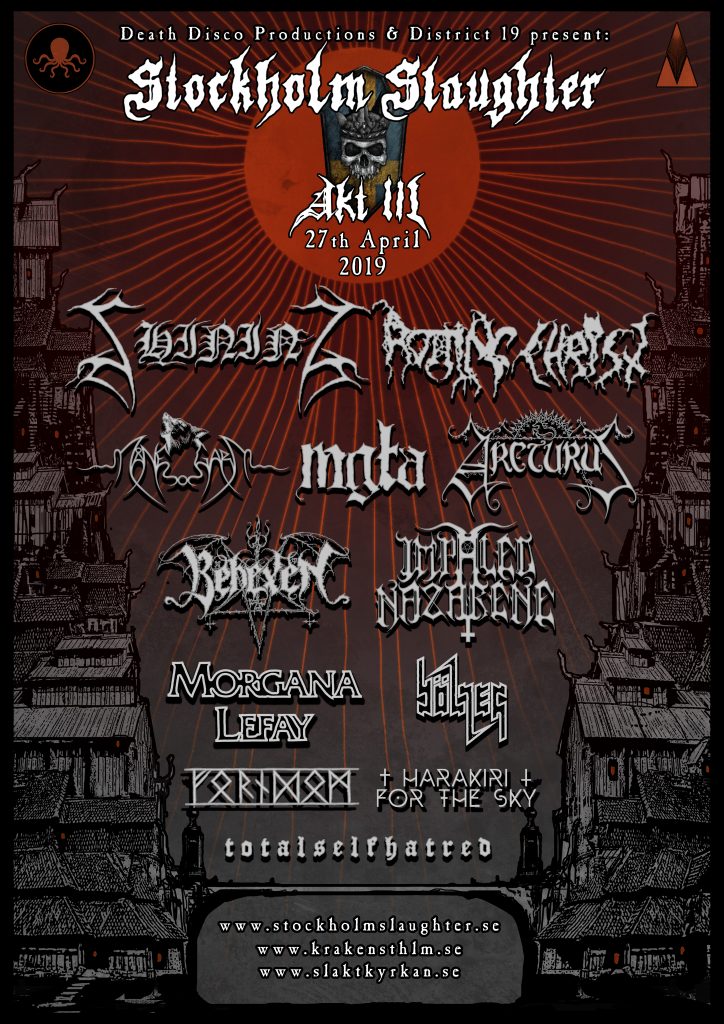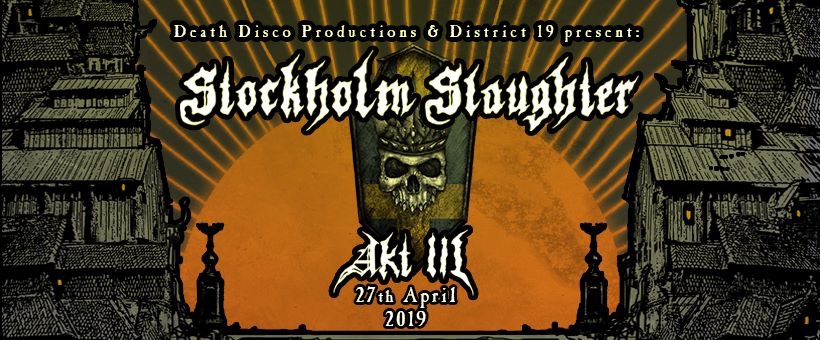 The Greek titans of Black Metal Rotting Christ are returning to Scandinavia! The Tolis brothers have been holding the blasphemy flag high for more than 3 decades and next year they are coming to Stockholm for an exclusive performance!
Norrtälje's Månegarm is the first band to return to Stockholm Slaughter, after having performed during our first edition. The band is currently recording a new album and their performance at Stockholm Slaughter will be the band's official release fest.
There are few bands nowadays that have such a unique sound as Arcturus. The Avant-garde Norwegian metal band is finally due to play on Swedish soil. The quintet, that features members of very well-known Norwegian acts (e.g. Mayhem, Borknagar, ex-Dimmu Borgir, ex-Coventant), has prepared a setlist that contains both old and new material.
The festival line-up is slowly shaping up, but we do have more bands to announce within a few weeks' time.
Remember that the ticket price goes up for each new line-up addition.