News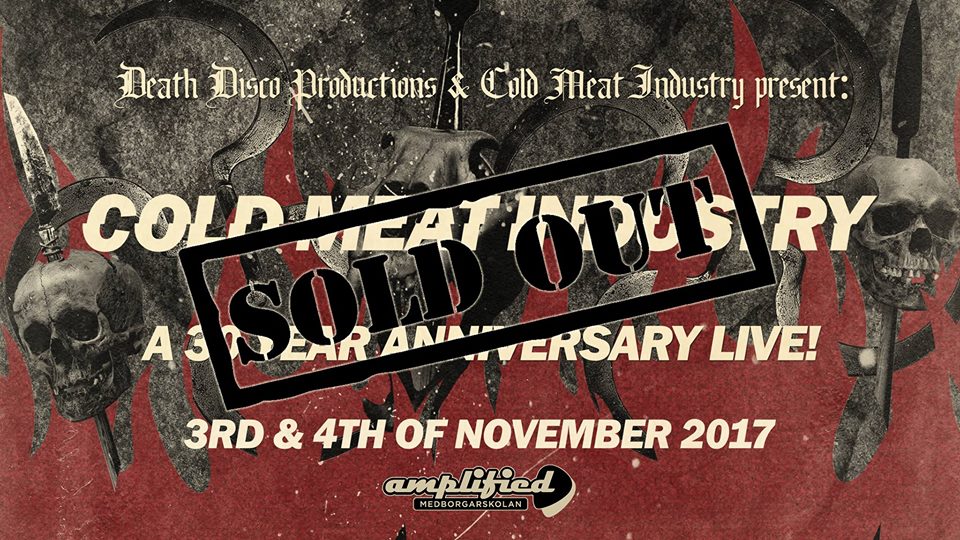 Cold Meat Industry festival running order and info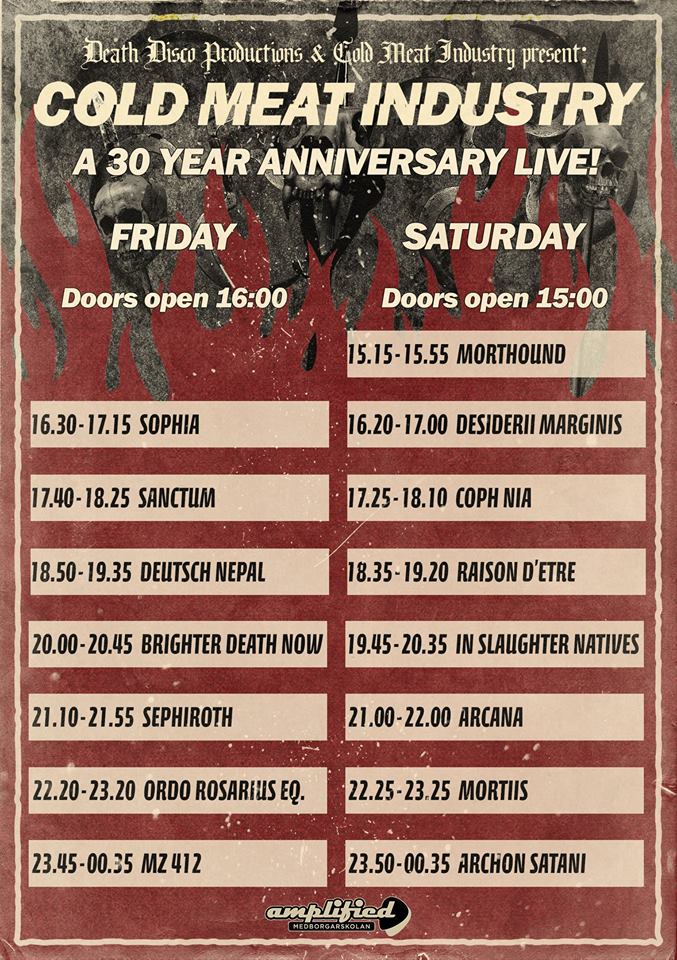 The weekend that many of us have been waiting for is finally closing in. Here comes some very important information about what to expect and how you can contribute to a smooth running event.
Arrival in Stockholm:
If you're arriving by car, make sure you know in advance where you're going to park your car. Parking in the inner city can be an issue and fines are given all the time. Parking around the festival area is extremely limited so we suggest that you use the public transport instead.
If you are arriving by train, you can take the green line subway to Gullmarsplan to get to the venue.
If you're landing at Arlanda Airport, and you are minimum 2 persons, we recommend that you use the Flygbussarna Door to Gate service, that will basically take you from the airport all the way to your accommodation in Stockholm. Other shared transportation options are Flygbussarna, Arlanda Express, the SL train service.
If you're landing at Bromma, Skavsta or Västerås, then Flygbussarna might be the only easy way to get into the city.
Keep in mind that you must have a valid ticket before getting on board of the above-mentioned transport services. Payments to the driver/conductor are not possible. You can book you tickets either online, at the ticket machines or at SL services centers. Check the websites for details.
The address to the venue is: Mårtensdalgatan 6, Stockholm
At the entrance
As you probably know, the festival is completely sold out since more than two months ago. There are no spare tickets at the box office. In order to access the festival, you have to show a valid ticket (the pdf-file that includes a QR-code). Receipts, order confirmations or anything else than valid tickets will not be accepted.
Please have your ticket ready when you enter the venue to assure a smooth check-in for everybody. Upon entering the venue, you will receive a wristband. The wristband is your ticket for the rest of the weekend, meaning that you can get in and out as often as you want.
It is absolutely forbidden to bring any sharp objects, liquids or any kind of weapons (including tear-gas spray). Bringing alcohol or food to the venue is also strictly prohibited.
Cameras and cloakroom
System cameras are allowed, but you are not allowed to bring into the concert hall any kind of backpacks or bags for your camera. Camera accessories, including camera bags MUST be checked in at the cloakroom. The fee for the cloakroom can only be paid in cash.
Large jackets, coats or other large clothing items must be checked in at the cloakroom.
We appreciate if you limit the use of your phone/camera to film or take pictures during performances. It would be most considerate of you to think of the other fellow festival attendees and enjoy the shows together.
Bars, snacks and alcohol policy
Fryshuset Klubben/ Arenan, the venue, has two bars: one on the main floor and one on the balcony in the concert hall.
The merchandise/food area is on a different floor than the concert hall and it is alcohol free. In other words, you will not be able to enter the merchandise area with drinks purchased at the bars in the venue.
The venue will be serving, beer, cider, wine and soft drinks. No strong alcohol due to the strict rules and regulations!
At the merchandise area you can also have a quick snack and in case you want a proper meal, just search for something in the Gullmarsplan / Globen area, which is within walking distance from the venue.
Smoking
The entire building has a strict no smoking policy. The only smoking area is outside, next to the entrance. Once again, no drinks allowed outside (this is a rule that most of the bars and venues have in Sweden).
Toilettes
There are toilets at the entrance of the venue, but also on the left side of the stage in the concert hall.
Security
Our goal is to make this a pleasant experience for everybody while also complying with very strict rules and regulations. Thus some things that may be taken for granted in other countries, are simply forbidden in Sweden (like taking your drink with you when you go out for a smoke).
According to the Swedish law, persons that are extremely intoxicated are to be removed from venues without any prior warning. We hope that during the festival there will not be any such cases. Tap water is absolutely drinkable in Stockholm so, don't save on it, it's free!
Aggressive behaviour will not be tolerated. Please report it to the security guards.
If you or anybody around you is feeling unwell, contact the security staff and they will show you to our festival nurse.
Welcome to Stockholm – the international capital of industrial darkness!



Varmt välkomna till kvällens ljudmagi!
Hålltider:
16:15 – insläpp VIP-biljetter
19:00 – insläpp ordinarie biljetter
20:00 – Maria W Horn
21:15 – Sunn O)))
00:00 – curfew publik
Ha gärna i åtanke att kvällens konsert är slutsåld och vi beräknar att det kommer att ta upp till 60 till 80 minuter innan vi hunnit checka in alla biljettköpare. Av den anledningen ber vi er att ha biljetterna till hands när ni kommer fram till Slaktkyrkan. Det är obligatorisk garderob som gäller för större jackor eller större väskor/ryggsäckar.
Sunn o))) har mängder av merchandise med sig (allt från tröjor till deras egna gitarrpedaler) och det är både kort och även kontanter som gäller, de accepterar EUR och SEK.
Vi ses i dimman!
...

See More

See Less