Home
/ Enslaved, Gaahls Wyrd, Skogen i Göteborg
Enslaved, Gaahls Wyrd, Skogen i Göteborg
| Date | Band | Location | Venue | Tickets | Share |
| --- | --- | --- | --- | --- | --- |
| 2018.11.16 | Enslaved, Gaahls Wyrd, Skogen | Göteborg | Musikens Hus | Tickets | Facebook Tweet |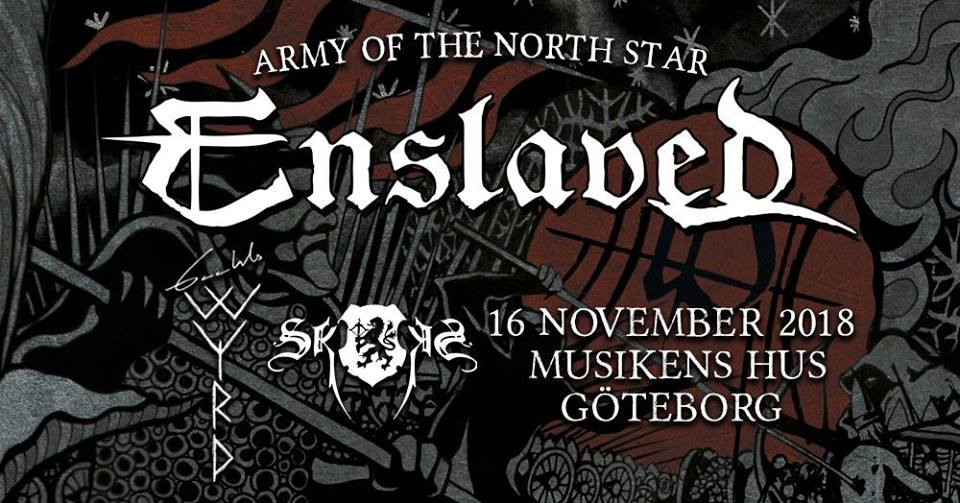 Death Disco Productions i samarbete med Beyond the Gates presenterar två exklusiva Sverigedatum för kommande Army of the North Star-turnén:
Line-up: Enslaved, Gaahls WYRD, Skogen
Åldersgräns: 18 år
Våra vänner från festivalen Beyond the Gates beger sig i november ut på vägarna för allra första gången. Utvalda skandinaviska städer kommer att stå värd för den spektakulära turnén Army of the North Star och Stockholm samt Göteborg ingår i turnéplanen.
Turnéns huvudakt är Enslaved, med Gaahls WYRD som co-headliner. Beyond the Gates och Enslaved har format väldigt speciella länkar sinsemellan; på fjolårets festival levererade bandet en fullständigt makalös tolkning av debutalbumet "Vikingligr Veldi" i sin helhet, vilket lämnade såväl fans som kritiker likaledes handfallna.
På årets upplaga av festivalen, innan de beger sig ut på Army of the North Star-strapatsen i november, kör Enslaved ett exklusivt set baserat på sitt klassiska album "Frost". Själva turnén bjuder på bandets nytolkningar av gamla klassiker – givna nytt liv genom den erfarenhet och skicklighet bandets nuvarande inkarnation besitter – samt låtar från 2017 års kritikerrosade album, "E", vilket även vann fjolårets Grammis.
Gaahls Wyrd frontas av den legendariske vokalisten Gaahl, tidigare frontman i Gorgoroth, God Seed och Trelldom. Bandet framför material från samtliga tre nämnda akter men även material från den kommande debutskivan som släpps senare i år.
I egenskap av lokal arrangör anser vi oss ha hittat en perfekt matchning för denna turné och är glada att presentera Skogen som förband för bägge Sverigedatum.
Torgrim Øyre, manager för Beyond the Gates-festivalen, kommenterar:
"Jag tror vi kan slå fast att Enslaved golvade hela publiken med fjolårets "Vikingligr Veldi"-spelning. Det var nästan surrealistiskt att höra hur väl materialet låter när det framförs av ett band med dryga tjugo års ytterligare erfarenhet. De lyckades behålla stämningen i låtarna men samtidigt lägga till ytterligare nivåer av finess och känsla. Enslaved har alltid varit ett band som konstant ryckt framåt, ständigt skapandes nya texturer och paletter i materialet. Deras senaste skiva, "E", är ett bevis på detta. Jag kan svårligen bärga mig tills vi får ut det här paketet på vägarna och får chansen att visa alla vad över tjugofem år av norsk metalhistoria kan resultera i. Med Gaahls Wyrd och Skogen som inbjudna gäster har denna turné potential att bli en av de starkaste black och heathen metal-paketen som nått skandinavisk jord på väldigt länge."