News

Ordo Rosarius Equilibrio & Triarii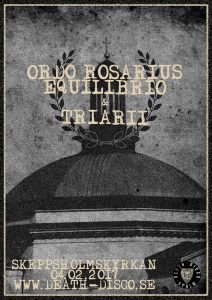 A special welcome to a night of bombastic darkness in a place rarely to be seen within the frames of alternative music. The former church known as Skeppsholmskyrkan, now Eric Ericsonhallen, is the venue perfect to host this kind of event. Majestic, gothic and with outstanding and complicated acoustics that will surely add an extra layer to an evening that will be a once in a lifetime experience.
Ordo Rosarius Equilibrio (Official) is performing a show in Sweden for the first time since 2003. A legendary band that started out with the legendary label, Cold Meat Industry, in 1993. Instantly they found their own sound that can be described as apocalyptic folk music and since 1995 when the debut (Reaping the fallen/The first harvest) came out they have released 14 albums. The new album "[Vision: Libertine] – The Hangman's triad" released in early 2016 is the first since 2010 and for sure one of the best they ever released, probably even the darkest one.
The productive writing of mastermind Tomas Pettersson consists of advanced, yet enticing and wonderful lyrics combined with dark acoustic or industrial music. As a fairly frequent headlining act around festivals' in Europe it is a damned pleasure to have these giants finally playing in Stockholm again.
Special guests for the evening is a band that will fit equally good in this amazing venue.
Triarii Headquarters from Germany is doing their very first gig in Sweden and the bombastic music from Christian Erdmann is at best described as Neoclassical or Martial Industrial. The latest album "Exile" was released in 2011 and many of us fans are eagerly awaiting some new material.
Eric Ericsonhallen, a desacralized church that first opened in 1842 was built with Pantheon as model and has a height of 30 meters beneath its rotund. When entering you will be overwhelmed by a feeling of "not worthy" and the regular events hosted here are normally choirs and alike due to the complicated acoustics.
The line-up of this show is tailor made to the venue and we are certain you will have a great experience joining this event. This is the perfect opportunity to visit Scandinavia's most beautiful city and experience dark Goth-music in the perfect environment on a cold winter evening.
This is a private circle event and the age limit is strict: 18 years!



Varmt välkomna till kvällens ljudmagi!
Hålltider:
16:15 – insläpp VIP-biljetter
19:00 – insläpp ordinarie biljetter
20:00 – Maria W Horn
21:15 – Sunn O)))
00:00 – curfew publik
Ha gärna i åtanke att kvällens konsert är slutsåld och vi beräknar att det kommer att ta upp till 60 till 80 minuter innan vi hunnit checka in alla biljettköpare. Av den anledningen ber vi er att ha biljetterna till hands när ni kommer fram till Slaktkyrkan. Det är obligatorisk garderob som gäller för större jackor eller större väskor/ryggsäckar.
Sunn o))) har mängder av merchandise med sig (allt från tröjor till deras egna gitarrpedaler) och det är både kort och även kontanter som gäller, de accepterar EUR och SEK.
Vi ses i dimman!
...

See More

See Less