Home
/
Uncategorized
/ Lisa Gerrard med "The Mystery of the Bulgarian Voices" kommer till Stockholm och Oslo
News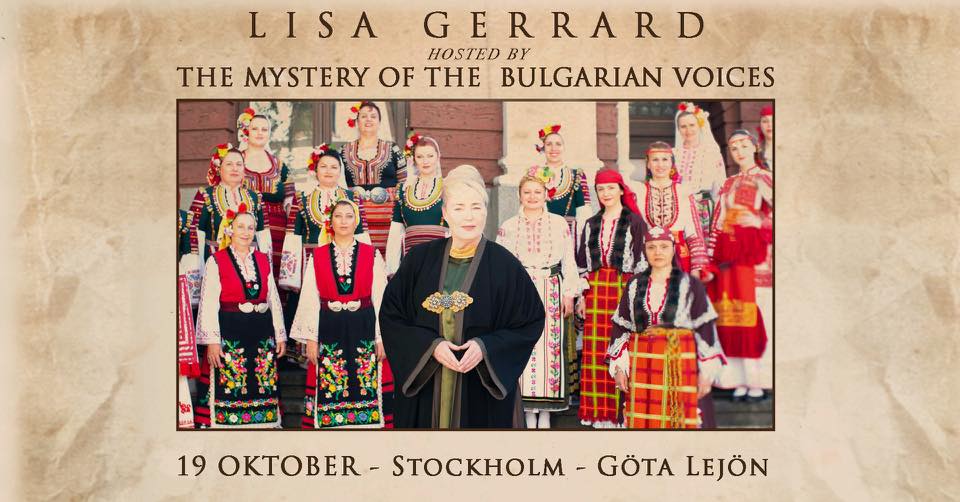 Lisa Gerrard med "The Mystery of the Bulgarian Voices" kommer till Stockholm och Oslo
Death Disco Productions och Triffid And Danger Concertspresenterar stolt två konserter med den legendariska Dead Can Dance-sångerskan Lisa Gerrard tillsammans med a cappella-kören The Mystery of the Bulgarian Voices – Le Mystère des Voix Bulgares:
19 oktober Lisa Gerrard & The Mystery of the Bulgarian Voices i Stockholm
20 oktober Lisa Gerrard & The Mystery of the Bulgarian Voices i Oslo
Främst känd som den gudomliga kvinnorösten i Dead Can Dance samt för soloskivor och soundtrack såsom Gladiator – plus ytterligare samarbeten med mästerkompositören Hans Zimmer – har Lisa Gerrard karvat ut sin egna stil.
Kören som ackompanjerar Lisa på denna turné är känd över hela världen och har genomfört fler än 1250 konserter i de mest prestigefyllda konsertlokalerna jorden runt. År 2018 gav kören ut sitt första studioalbum på över två decennier: BooCheeMish.
"Mysteriet" ligger i hur de lyckas kombinera diafonisk sång med dissonanta harmonier till att frammana en rent hisnande ljudbild, och med Lisa Gerrard i sina led vågar vi utlova en oförglömlig afton!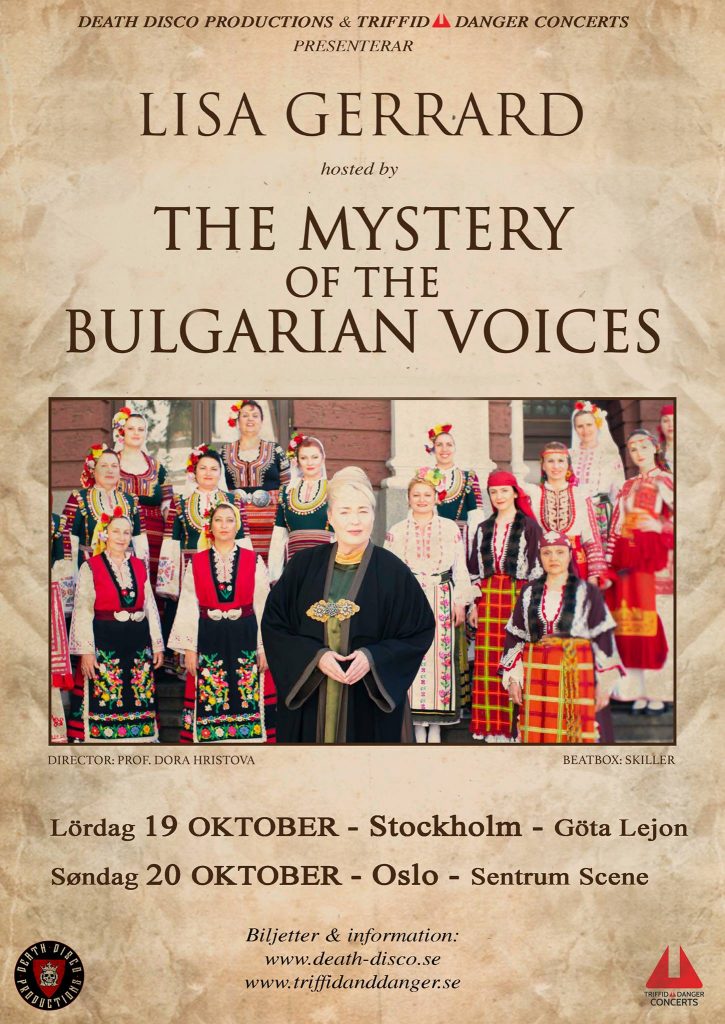 Varmt välkomna till kvällens ljudmagi!
Hålltider:
16:15 – insläpp VIP-biljetter
19:00 – insläpp ordinarie biljetter
20:00 – Maria W Horn
21:15 – Sunn O)))
00:00 – curfew publik
Ha gärna i åtanke att kvällens konsert är slutsåld och vi beräknar att det kommer att ta upp till 60 till 80 minuter innan vi hunnit checka in alla biljettköpare. Av den anledningen ber vi er att ha biljetterna till hands när ni kommer fram till Slaktkyrkan. Det är obligatorisk garderob som gäller för större jackor eller större väskor/ryggsäckar.
Sunn o))) har mängder av merchandise med sig (allt från tröjor till deras egna gitarrpedaler) och det är både kort och även kontanter som gäller, de accepterar EUR och SEK.
Vi ses i dimman!
...

See More

See Less