News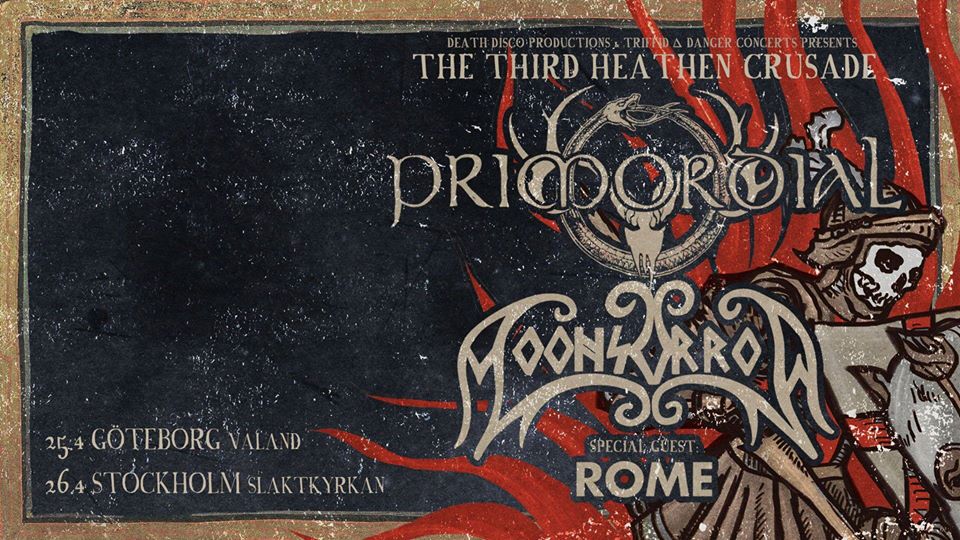 Primordial och Moonsorrow till Sverige!
Det irländska folkinspirerade black-metal bandet Primordial och det finska pagan metal-bandet Moonsorrow kommer i vår till Sverige för två konserter under turnénamnet The Third Heathen Crusade och som support en av våra favoritartister, ROME (Jerome Reuter).
25 april: Valand, Göteborg
26 april: Slaktkyrkan, Stockholm
Primordial bildades 1987 i den irländska staden Skerries. Det dröjde ända till 1995 tills de albumdebuterade med sedan dess har de släppt flera plattor med sin egen form av black-metal där deras irländska rötter märks tydligt. De spelade senast i Sverige i somras när de gjorde succé på Gefle Metal Festival.
Helsingfors bandet Moonsorrow vill själva att musiken ska kallas hednisk metal. Med texter huvudsakligen på det finska språket är Moonsorrow ett band utöver det vanliga.
Bandet Rome från Luxemburg blir öppningsband och kompletterar därmed turnélineupen.
Konserterna presenteras av Death Disco Productions och Triffid And Danger Concerts.