Home
/ Archive by category "Uncategorized"
Category Archives:
Uncategorized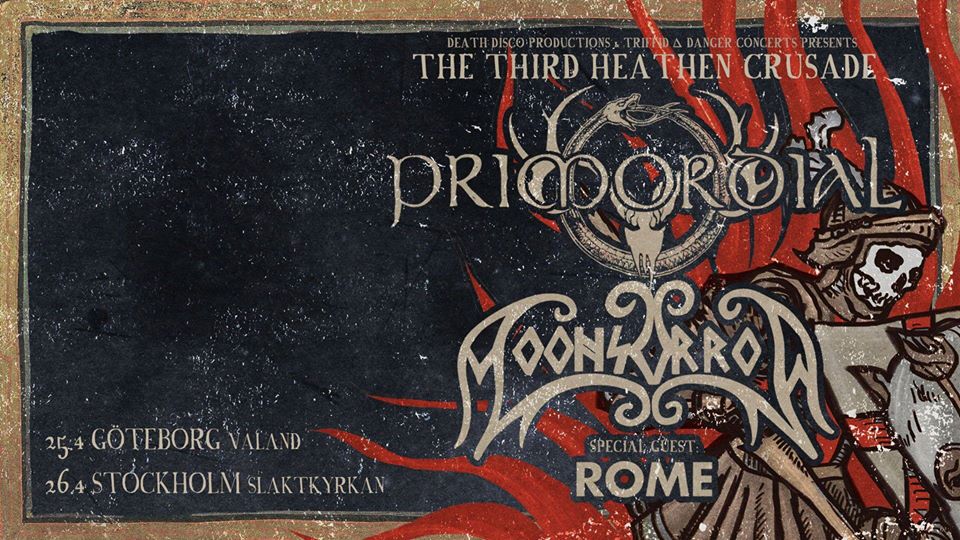 Det irländska folkinspirerade black-metal bandet Primordial och det finska pagan metal-bandet Moonsorrow kommer i vår till Sverige för två konserter under turnénamnet The Third Heathen Crusade och som support en av våra favoritartister, ROME (Jerome Reuter).
25 april: Valand, Göteborg
26 april: Slaktkyrkan, Stockholm
Primordial bildades 1987 i den irländska staden Skerries. Det dröjde ända till 1995 tills de albumdebuterade med sedan dess har de släppt flera plattor med sin egen form av black-metal där deras irländska rötter märks tydligt. De spelade senast i Sverige i somras när de gjorde succé på Gefle Metal Festival.
Helsingfors bandet Moonsorrow vill själva att musiken ska kallas hednisk metal. Med texter huvudsakligen på det finska språket är Moonsorrow ett band utöver det vanliga.
Bandet Rome från Luxemburg blir öppningsband och kompletterar därmed turnélineupen.
Konserterna presenteras av Death Disco Productions och Triffid And Danger Concerts.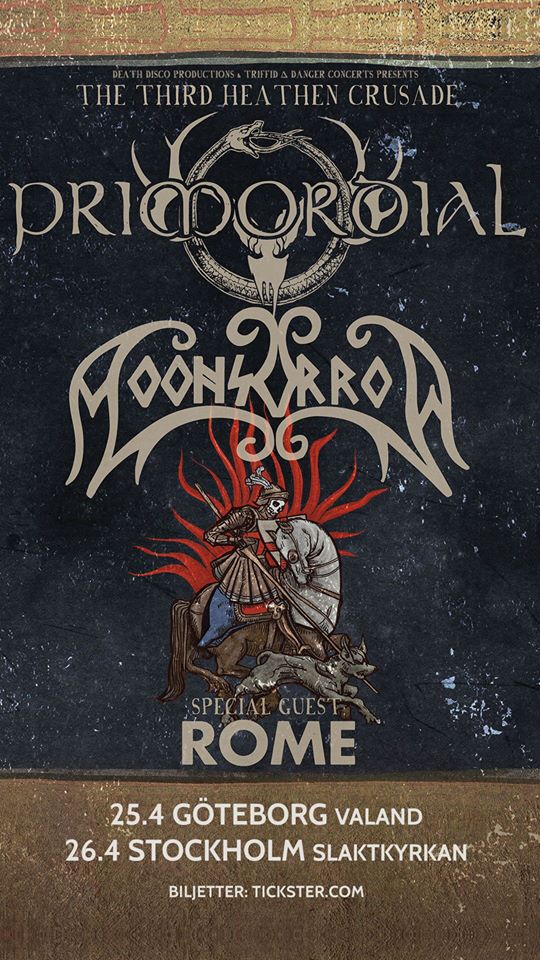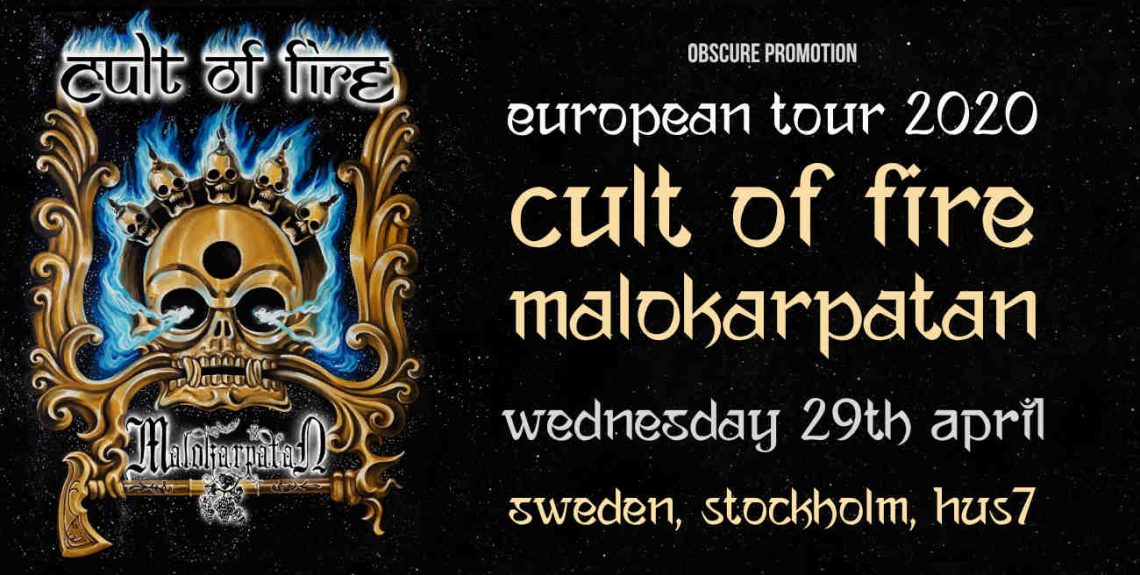 I samarbete med Obscure Promotion kan vi annonsera att den enda Sverigespelningen med tjeckiska black metal-bandet Cult Of Fire under 2020 äger rum på Hus 7, onsdag den 29:e april! Biljetterna släpps fredag den 29:e november.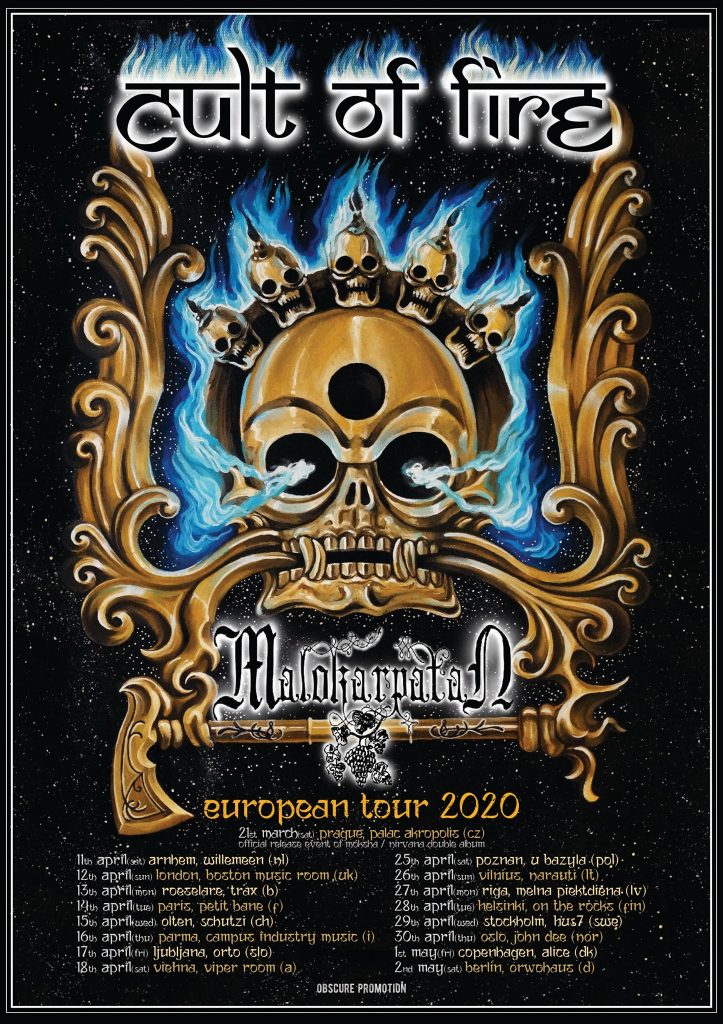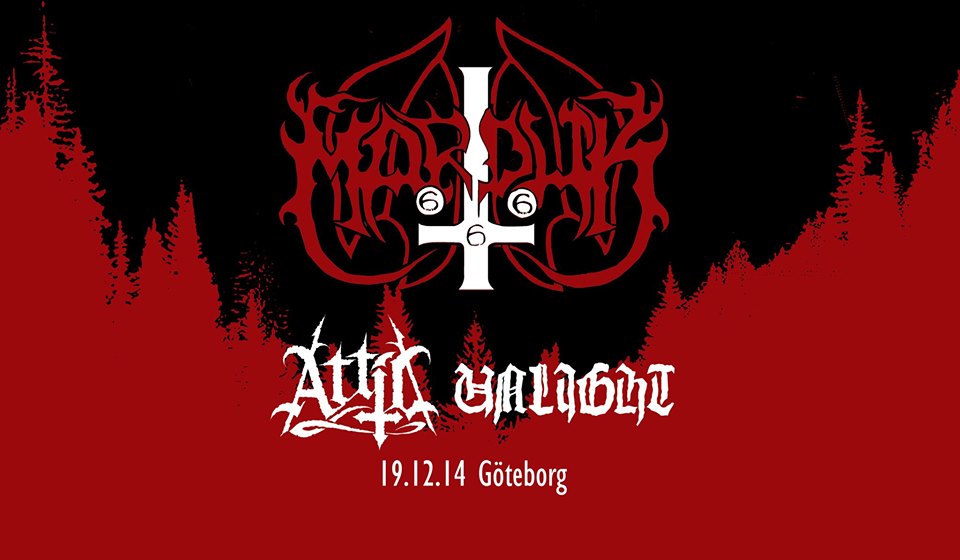 Antagonistiskt djävulskap sprunget ur första generationen skandinavisk black metal; Norrköpingsättade Marduk förblir ohotade i sin position som Sveriges ledande svartmetallband. I kölvattnet av fjortonde fullängdsalbumet, Viktoria, har Marduk trampat såväl segerrikt som kompromisslöst fram över både huvudstad och hemmaplan – nu tar de sikte på västkusten för ett exklusivt Sverigedatum på denna turné.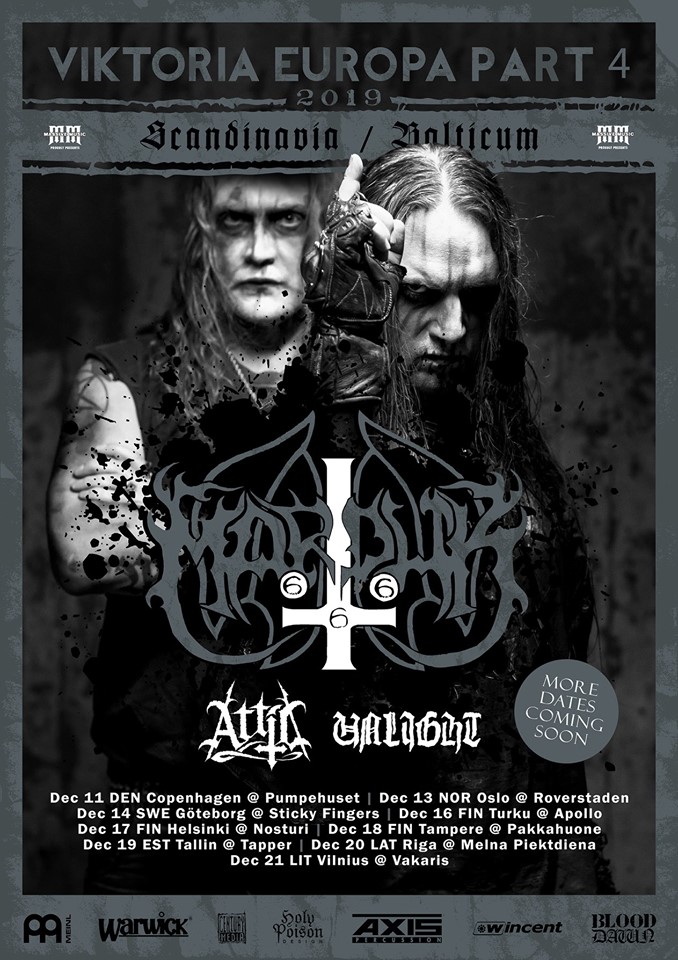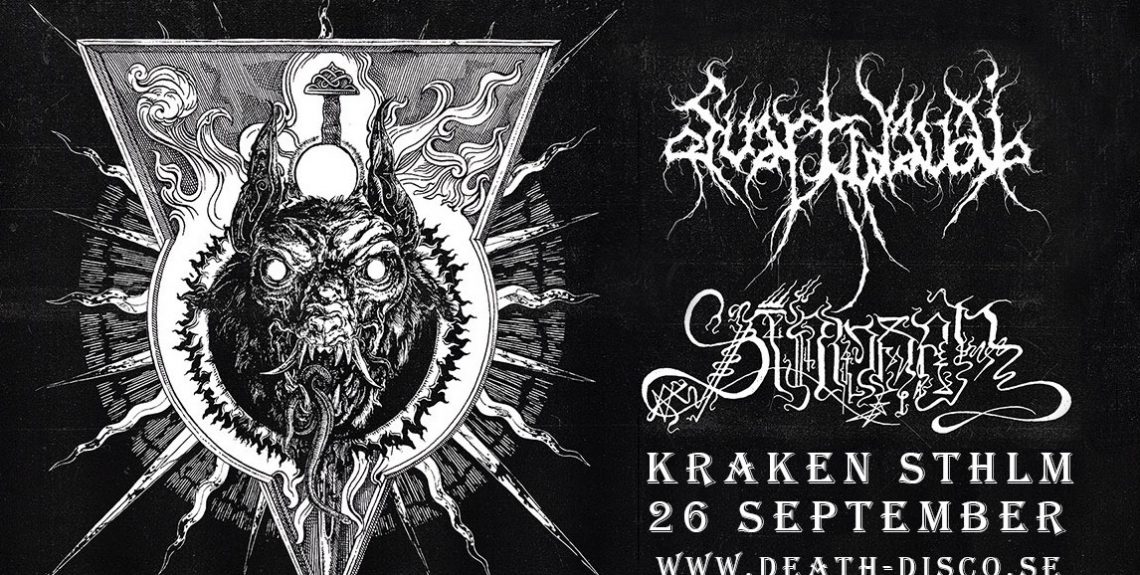 Death Disco bjuder in till en afton av isländsk svartmetall.

Svartidauði

Trots att de ofta omnämns som gudfäder av isländsk black metal fäster Svartidauði ingen som helst vikt vid triviala utmärkelser utan låter dig istället invaggas i hallucinatoriska ljudbilder av shamanistiska riter och lykantropisk lusta.
Med välrenommerade tyska skivbolaget Ván Records i ryggen har Svartidauði nu släppt lös den fasa som hittills endast sjudit under ytan – förkroppsligad i form av fjolårets album, Revelations of the Red Sword, som släpptes sex år på dagen sedan debutskivan Flesh Cathedral.

Sinmara

Sinmara grundades år 2008 och har sedan dess karvat ut sin plats som såväl en av den moderna underjordens mest vördade band samt en grundval inom isländsk black metal, ansedd av många som en av genrens mest inflytelserika scener.

Åldersgräns: 18 år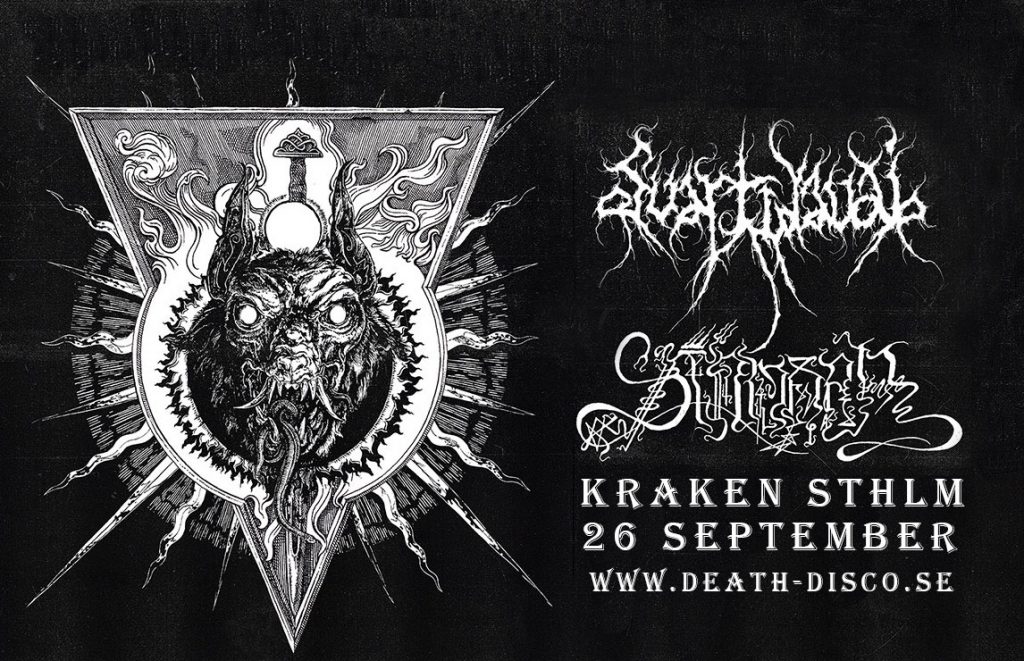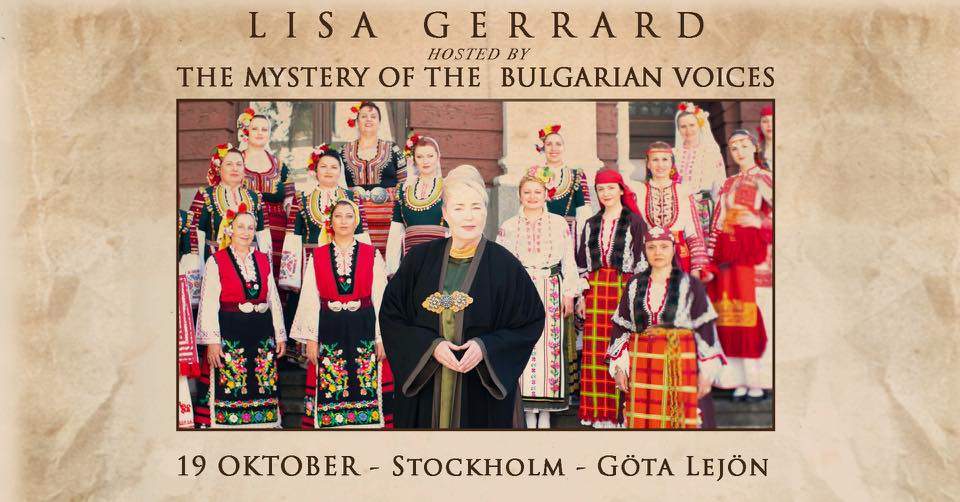 Death Disco Productions och Triffid And Danger Concertspresenterar stolt två konserter med den legendariska Dead Can Dance-sångerskan Lisa Gerrard tillsammans med a cappella-kören The Mystery of the Bulgarian Voices – Le Mystère des Voix Bulgares:
19 oktober Lisa Gerrard & The Mystery of the Bulgarian Voices i Stockholm
20 oktober Lisa Gerrard & The Mystery of the Bulgarian Voices i Oslo
Främst känd som den gudomliga kvinnorösten i Dead Can Dance samt för soloskivor och soundtrack såsom Gladiator – plus ytterligare samarbeten med mästerkompositören Hans Zimmer – har Lisa Gerrard karvat ut sin egna stil.
Kören som ackompanjerar Lisa på denna turné är känd över hela världen och har genomfört fler än 1250 konserter i de mest prestigefyllda konsertlokalerna jorden runt. År 2018 gav kören ut sitt första studioalbum på över två decennier: BooCheeMish.
"Mysteriet" ligger i hur de lyckas kombinera diafonisk sång med dissonanta harmonier till att frammana en rent hisnande ljudbild, och med Lisa Gerrard i sina led vågar vi utlova en oförglömlig afton!