Home
/ Articles posted by Death Disco Productions (Page 2)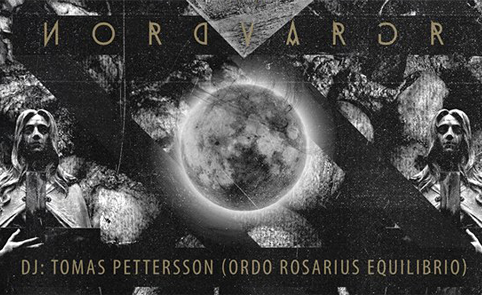 This is the only official pre-party, prior to Cold Meat Industry – 30 Years Anniversary live! Even though the venue takes more than only 66 people, we chose to not sell more tickets simply because we want to give this event a more private touch.
Swedish black industrial pioneer Henrik Björkk is going to perform a live set as Nordvargr and Tomas Pettersson will entertain you with his favourite songs throughout the evening.
Don't waste time, as we are convinced that there are more than 66 people willing to join the Cold Meat Industry official pre-party: Nordvargr & guests!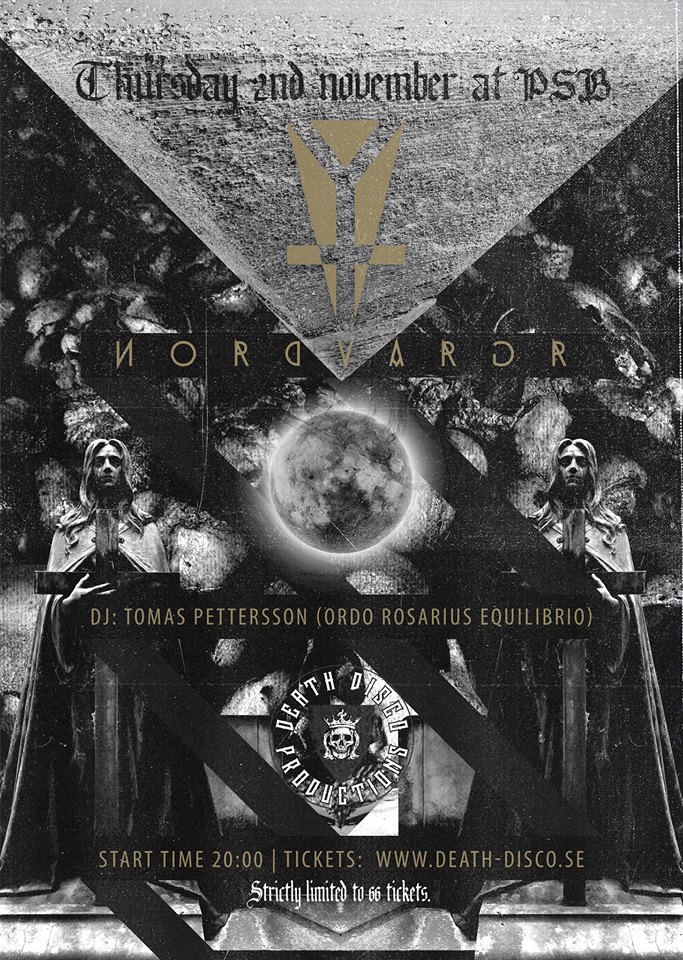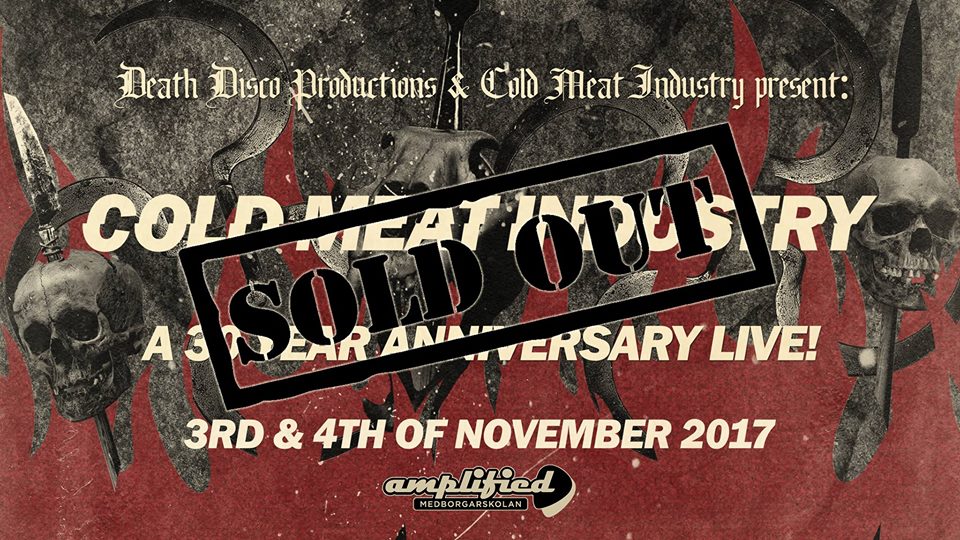 Today it is exactly one year since our very first event and it feels like the perfect timing to announce that our upcoming Cold Meat Industry – 30 Years Anniversary festival is now completely sold out!
A big thank you to all the people that will be travelling from all the corners of the world, 41 different countries to be more precise! We will do our best to make sure that you will experience two unforgettable days in our beloved Stockholm!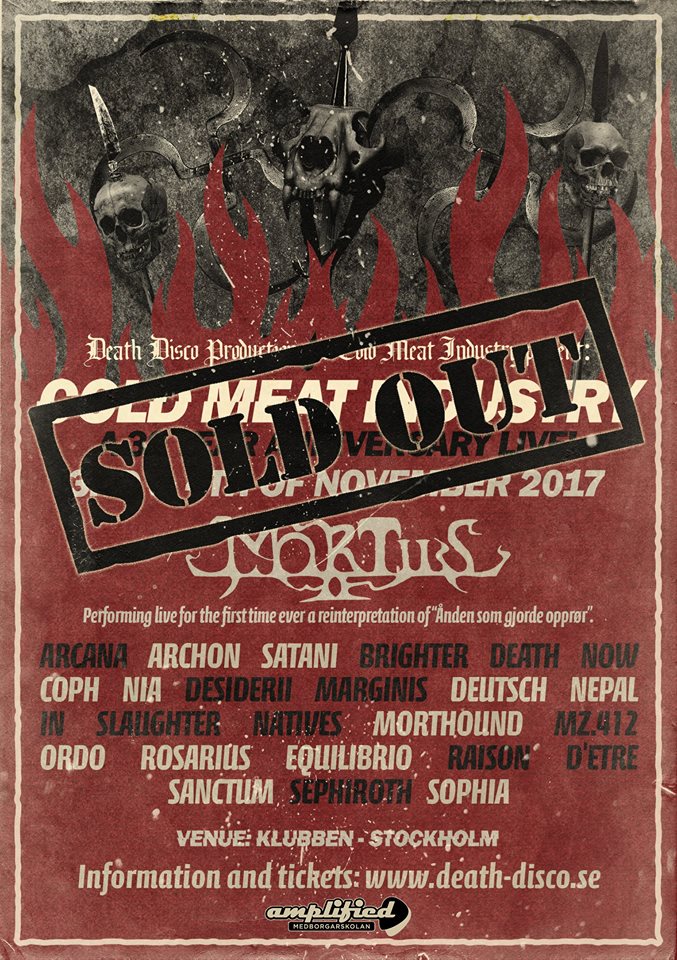 THANK YOU to each and one of you that participated to the first edition of Stockholm Slaughter! It has been a hell of a ride to bring the festival to life and it has been as honor to have such great bands performing on the two stages in front of such a great crowd!
Today it is exactly one month since we succumbed into silence after several months of intensive work and preparations. The silence was much needed to take in the feedback received, to analyze and decide whether or not to continue. It will not be an easy task to top this year's edition in terms of line-up and the received support but we accept the challenge!
Stockholm Slaughter – The Second Coming
Stockholm deserves its own metal festival where bands play in front of an international audience and we have seen it possible. It was overwhelming to see metalheads from 29 different countries gathering to celebrate acclaimed bands, in a city that is a home-town to so much metal history.
We have learned some important lessons after this first edition while going through your requests and complaints. We do encourage you to write reviews or even better, use the feedback-link bellow as a direct communication channel to us. Only with your help and input can we improve the festival.
www.stockholmslaughter.com/quiz/2018-bands/
Our focus for the next year is on:
The sound at the main stage
Less to no overlapping between the stages
Places to sit and relax during the day
Warm up day held at the same venue the day before the festival
This having said, mark the 28th of April 2018 in your calendars and join us on yet another journey that will lead to a unique festival and line-up!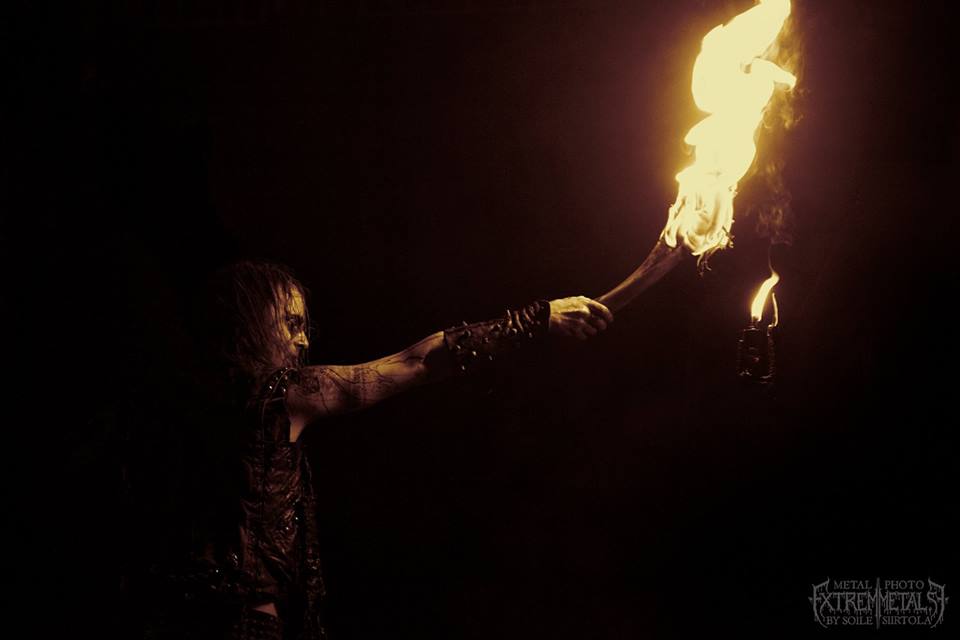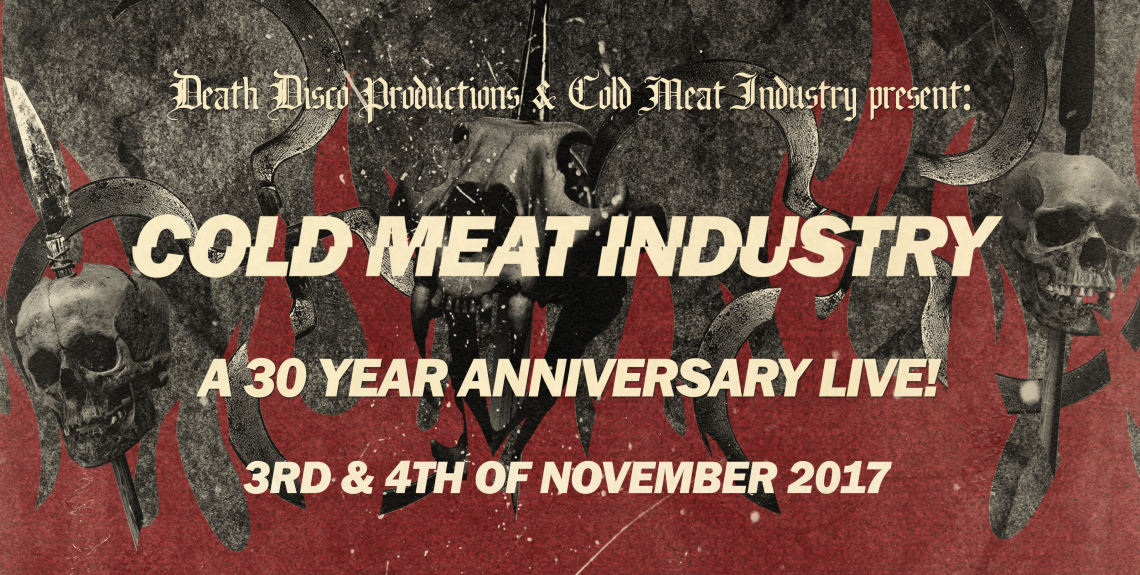 Posted in
Arcana
,
ARCHON SATANI
,
Brighter Death Now
,
Coph Nia
,
Desideri Marginis
,
Deutsch Nepal
,
In Slaughter Natives
,
Morthound
,
Mortiis
,
Mz 412
,
Ordo Rosarius Equilibrio
,
Raison D'Etre
,
Sanctum
,
Sephiroth
,
Sophia
by
Death Disco Productions
| Tags:
Cold Meat Industry
Darkness comes in many forms…
If you've ever been into genres like Dark Ambient, Neofolk, Power Electronics or Martial Industrial you must have surely heard of the legendary label Cold Meat Industry.
Founded by Roger Karmanik in 1987, it released music made by himself or his friends. The label grew pretty fast into a respected name and later on to become a genre of its own, an untouchable giant amongst the industrial subgenres.
A lot of the signed acts by the label are still widely celebrated in Europe, playing for full houses but, ironically, in Sweden and other Scandinavian countries we have rarely seen more than a few constellations from the label since its start.
We have now gathered more acts signed to the famed Cold Meat Industry than any other festival has ever managed to.
Together with Roger Karmanik we intend to make this event the ultimate Cold Meat Industry party and celebrate 30 years since the foundation of this piller for the industrial subgenres. This will be a gathering that will never happen again, nowhere, period!
Earlier acts plus almost all the big performers from the label have been brough together: some rarely play live, other have never played at all or some were even put to rest a long time ago.
Without further a do, Death Disco Productions together with Cold Meat Industry proudly present: A 30 year anniversary live!
Age limit: 18 years old
Location: Klubben – Stockholm – Sweden
Tickets: to be released Friday the 5th of May
Price: 770 SEK + service fee
Nearest hotels: Motel L (100 m away from the venue), Park Inn by Radisson Stockholm Hammarby Sjöstad (1,1 km away)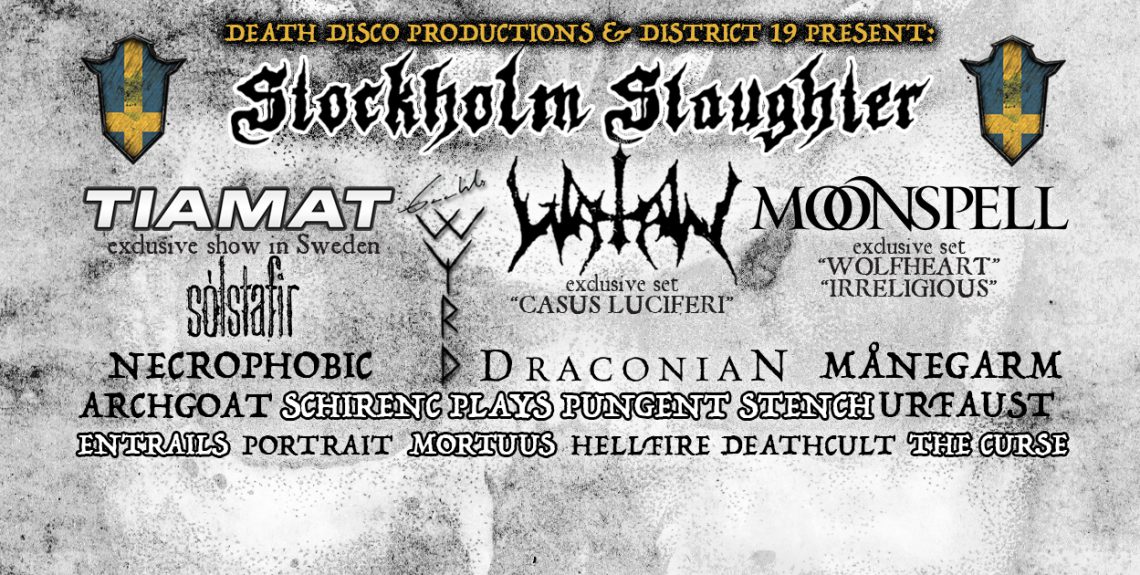 Due to health issues Shining are unfortunately forced to cancel all shows scheduled in March and April, including our event.
We have once again done our best to find a suitable band for our festival within the very short time and we are happy to be able to announce that Gaahls WYRD has now been added to the billing!
Legendary singer, front man, artist and composer, Gaahl, has assembled some of Norway's finest metal musicians under his new moniker Gaahls WYRD. The band consist of Sir (Trelldom, God Seed, Djerv), Lust Kilman (The Batallion, God Seed, Grimfist), Eld (Krakow, Aeternus) and Baard Kolstad (Borknagar, Leprous).
This highly qualified line-up plays a finely selected, career spanning repertoire from Gaahl's time in Trelldom, Gorgoroth and God Seed. The band also aim to perform new original material. Gaahl is known for his haunting stage presence and excellent performances.
The running order is to be published within 2 weeks.