Home
/ Archive by category "Stockholm Slaughter"
Category Archives:
Stockholm Slaughter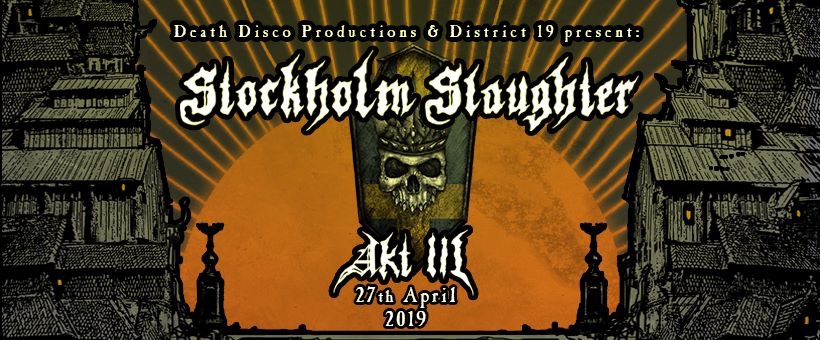 Mgła does not need much of a introduction. The polish fog will engulf Stockholm with an exclusive performance at the third edition of our festival!
Furthermore, the depressive black metal act hailing from Finland, Totalselfhatred [official] will perform for the very first time on Swedish shores.
The updated line-up in alphabetic order:
Arcturus
BÖLZER
Forndom
Harakiri for the sky
Mgła
Morgana Lefay
Månegarm
Rotting Christ
Shining
Totalselfhatred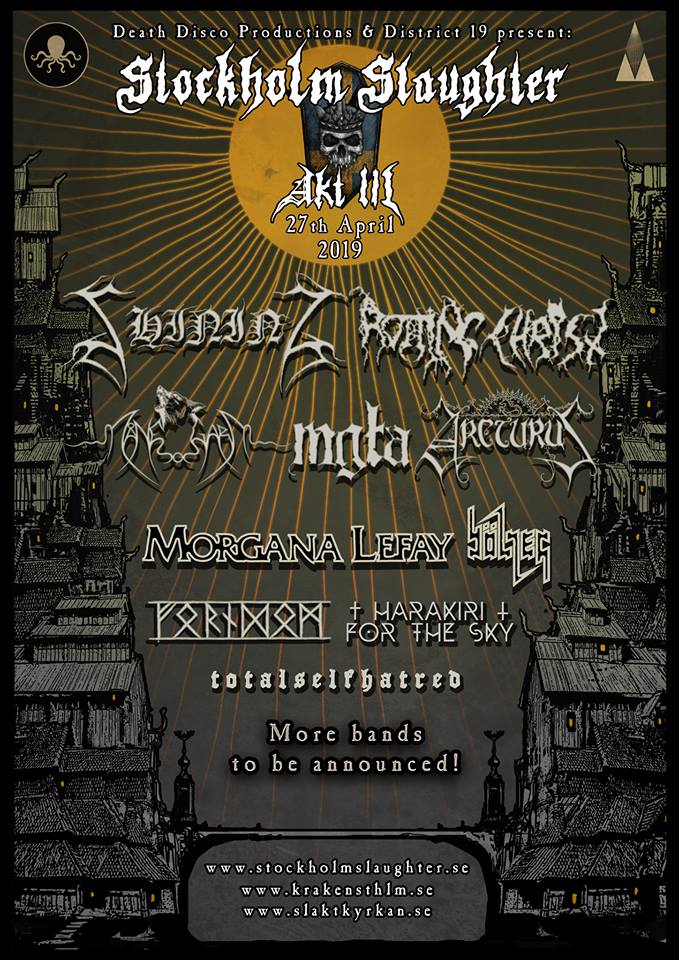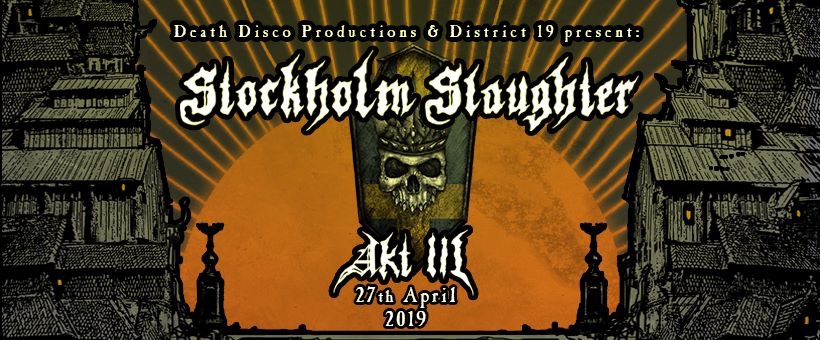 The time has now come to announce the continuation of Stockholm Slaughter: the third act will take place on April 27, 2019. We've selected a location that's become somewhat of a gathering point for the Stockholm metal underground in recent years, having now hosted hundreds of such events: Watain's release party, the Black Harvest festival, the Dark Days of Stockholm festival and Mayhem's rendition of their legendary album De Mysteriis Dom Sathanas, for example.
Appropriately, Stockholm Slaughter 2019 will take place in Slakthusområdet, which translates to "the slaughterhouse area". The entire block used to be one big abattoir apparatus! The main stage will be at Kraken Sthlm, located a few minutes from our previous venue, Fryshuset. The nearest subway and train station is Globen. Located just one hundred meters away or one minute walking distance is our second stage and venue – Slaktkyrkan, or "The Slaughter Church".
Another important change is that the festival will only take place on Saturday, as opposed to the first two and then three days of our 2018 edition. Expect at least 12 intense hours of internationally acclaimed acts taking turns performing on two stages. Guests travelling from afar are encouraged to arrive one day early, since we'll be hosting a pre-party event on the Friday, April 26. That said, we're once again looking forward to welcoming all of you into the heart of Sweden for Stockholm Slaughter: Akt III!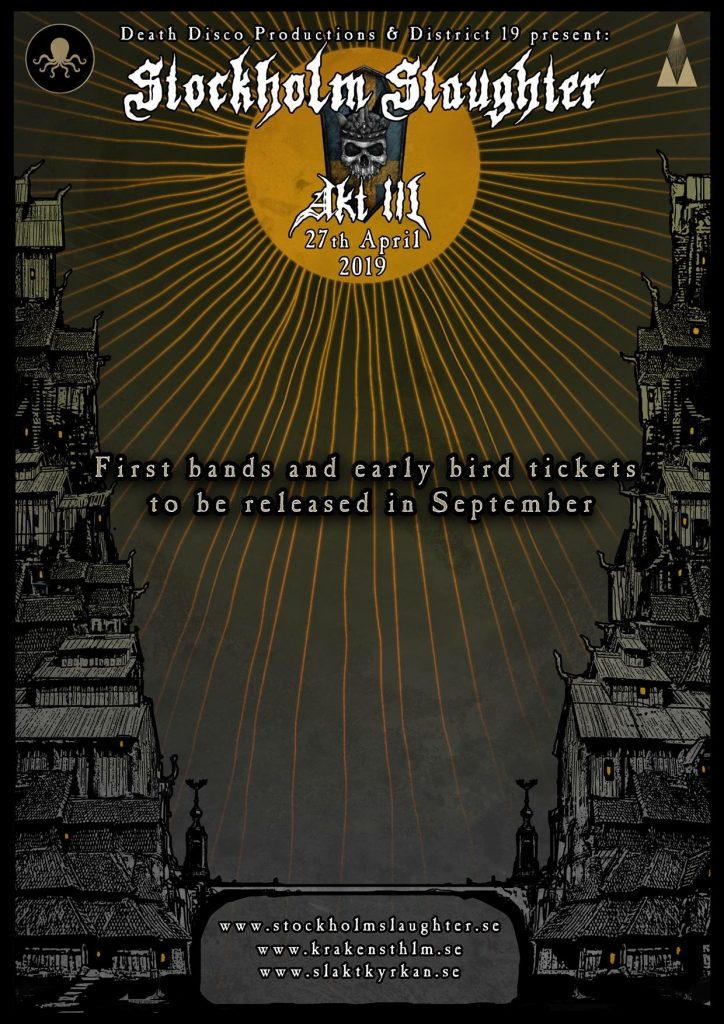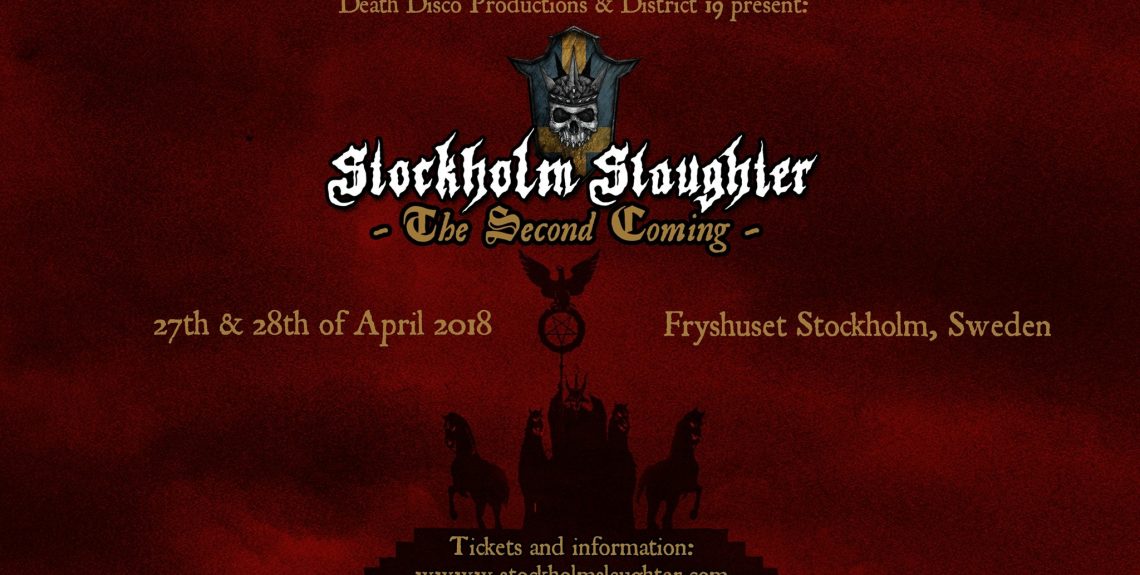 Spread the news, the dawn of the dead is upon us!
Scandinavian Death Metal legends confirmed – Entombed A.D., the latest addition to the line-up of Stockholm Slaughter! The band is to perform on Saturday night.
As extreme we like our music, as much we disdain any political agendas, especially extreme ideologies of all types. As opposed to different blogs or newspapers, we do not have a political agenda but we do stand firmly for artistic freedom.
As previously reported, Marduk and Taake have been prohibited from performing at Fryshuset. We deeply regret this but have no choice but to respect their decision.
As such, we have been toiling day and night to find a solution. We are pleased to say that we found a Stockholm venue that agreed to host an early afternoon show with Marduk Official and Taake (Official) on Sunday 29th of April.
We are aware that this means some visitors might need to make changes in their personal schedules. This is obviously most unfortunate but, under the current timeline, the only realistic solution to keep the line-up intact.
We also feel that it's very important to show them our support in these turbulent times.
2-day and Saturday tickets will obviously be valid for the Sunday show.
An updated running order and more information will be published within the next days.
Thank you for the shown support and see you in less than two weeks!
3 days – 22 bands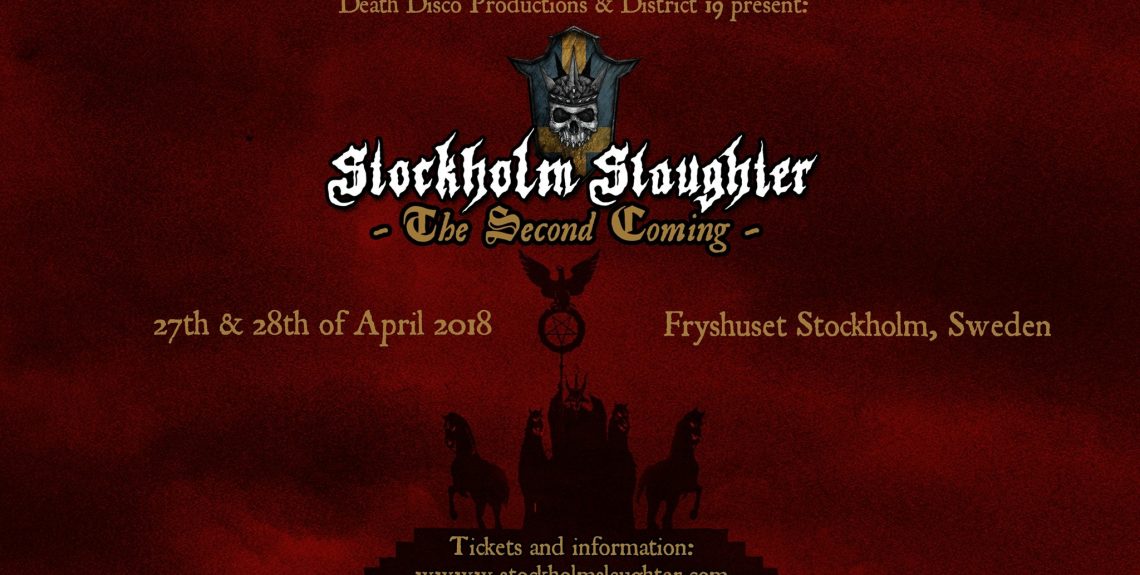 As we promised when we announced the first bands of the line-up, we have tried to work out a solution that has less to no overlapping between the stages and we'd like to think that we've reached our goal. In less than 5 weeks time, Stockholm Slaughter – The Second Comingwill once again be the international meeting place for metal fans from all around the world.
Friday:
Count Raven, Demonical, Tsjuder, Thyrfing, Hallatar, SEPTICFLESH-official-, AURA NOIR [official]
Saturday:
Alfahanne, Fejd, Fides Inversa, Enforcer, Sinister OfficialSwallow the Sun, One Tail, One Head, Arkona, October Tide, Master's Hammer, DOOL, Marduk Official, Asagraum, Taake (Official)
Time to start planning for the last weekend of April!
The running order may be subject to change.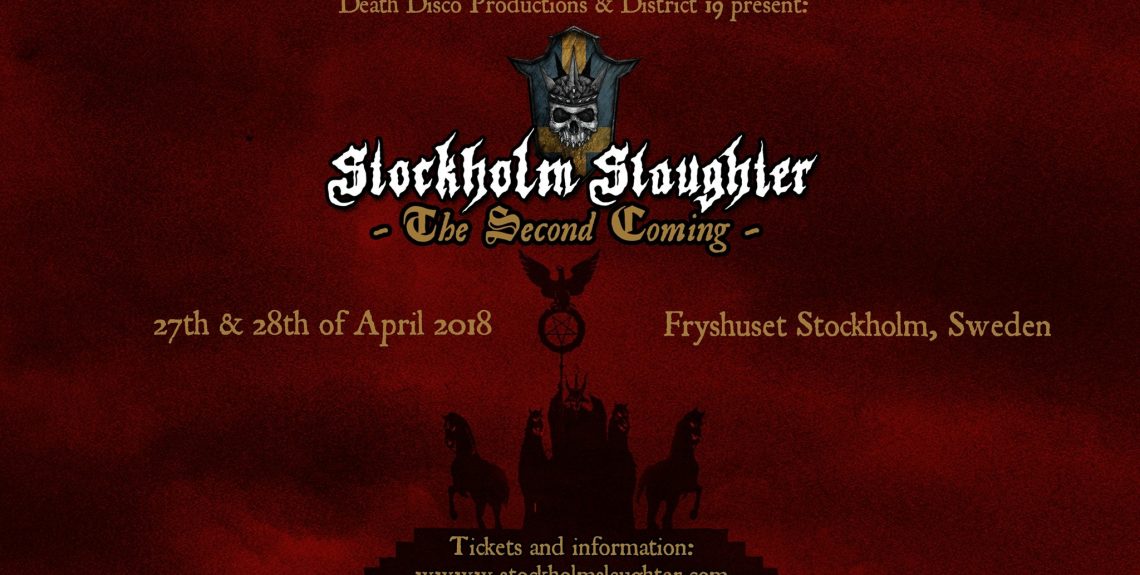 Certain bands are irreplaceable and My Dying Bride is one such name. In an attempt to keep the fans happy we have managed to secure not one, but two international doom metal acts.
We are happy to announce that on Friday the 27th, Hallatar, the all star band whose line-up consists of Tomi Joutsen (also known as the singer in the Finnish band Amorphis), Juha Raivio (the mastermind behind Swallow the Sun) and Mika Karppinen (known as the drummer for the goth metal band H.I.M.). This marks the band's first ever performance outside their home country!
The second doom band added to our line-up is October Tide who is to perform in its entirety on Saturday the 28th of April, their masterpiece, Rain Without End!
P.s. A hint for the real fans, these two bands have a certain project in common…
Updated line-up per day (in alphabetic order) 
Friday: AURA NOIR [official]], Caronte, Demonical, Hallatar, SEPTICFLESH-official-, Thyrfing, Tsjuder
Saturday: Alfahanne, Arkona, Asagraum, DOOL, Enforcer, Fejd, Marduk Official, Master's Hammer, October Tide, One Tail, One Head, Sinister Official, Swallow the Sun, Taake (Official).