Home
/ Articles posted by Death Disco Productions (Page 5)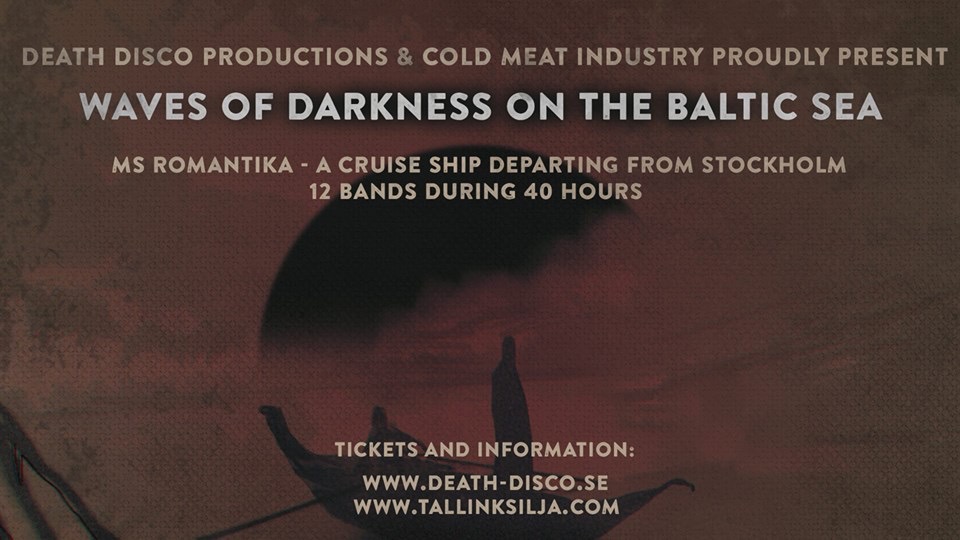 This is it, an event that we've been working on for more than half a year and we can now finally reveal it: WAVES OF DARKNESS ON THE BALTIC SEA!
When we started planning the 30th Anniversary of the legendary label Cold Meat Industry we said right from the start it would be a one-time only event. We are of the opinion that in order to create something unique one must invest a lot of time and energy and we knew that it wouldn't be the same if we were to continue and make it into a yearly event.
So, we decided to take it to the next level and as crazy as it sounds, we're moving the festival to the sea! We are excited to be able to present for you our final project of this kind, once again in conspiracy with Cold Meat Industry.
The cruise ship, M/S Romantika, departs from the waters of Stockholm on Saturday the 14th at 5:00 PM and it returns to Stockholm on Monday morning at 10:30 AM.
You may choose between different cabin categories, prices vary depending on how many people share a cabin, with or without sea view. Tickets on sale starting this Friday!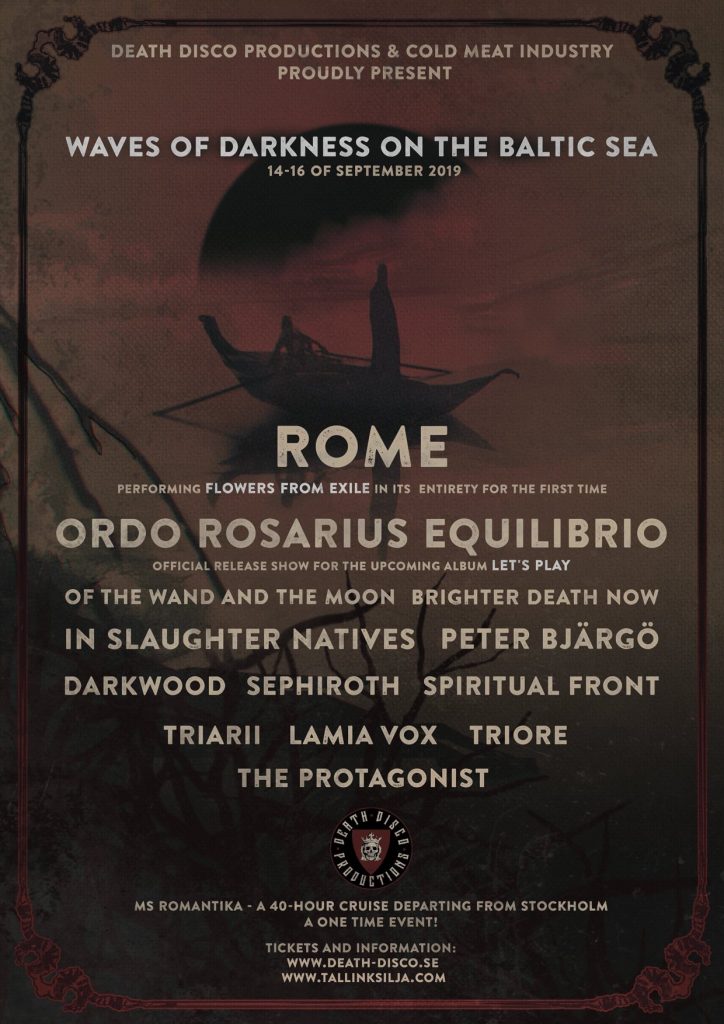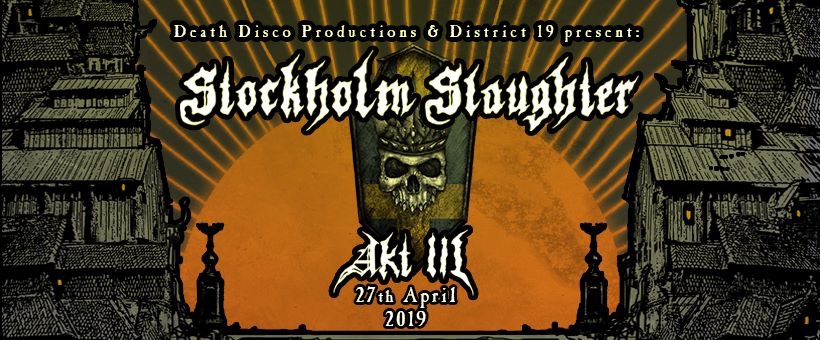 We can now finally reveal the running order Stockholm Slaughter: Akt III. As previously announced, we will not have any overlaps. In practice it also means that we strongly recommend to those that wish to see entire sets of bands that are to perform at Slaktkyrkan, to be there in time in order to avoid long waiting lines at the entry. We will send an email with all practical info a few days prior the festival as well as share the most important info here, please have patience.
Some of you might notice that Morgana Lefay is not on the poster any more. Earlier this week we have been informed by the band that they have (once again) decided to take a break so for now it is unsure when or if they will ever perform again.
This having said we've managed to get a replacement in the form of the Stockholm based Death Metal act DIABOLICAL.
Less than 200 tickets available for Saturday so do not wait if you want to make sure you can get in!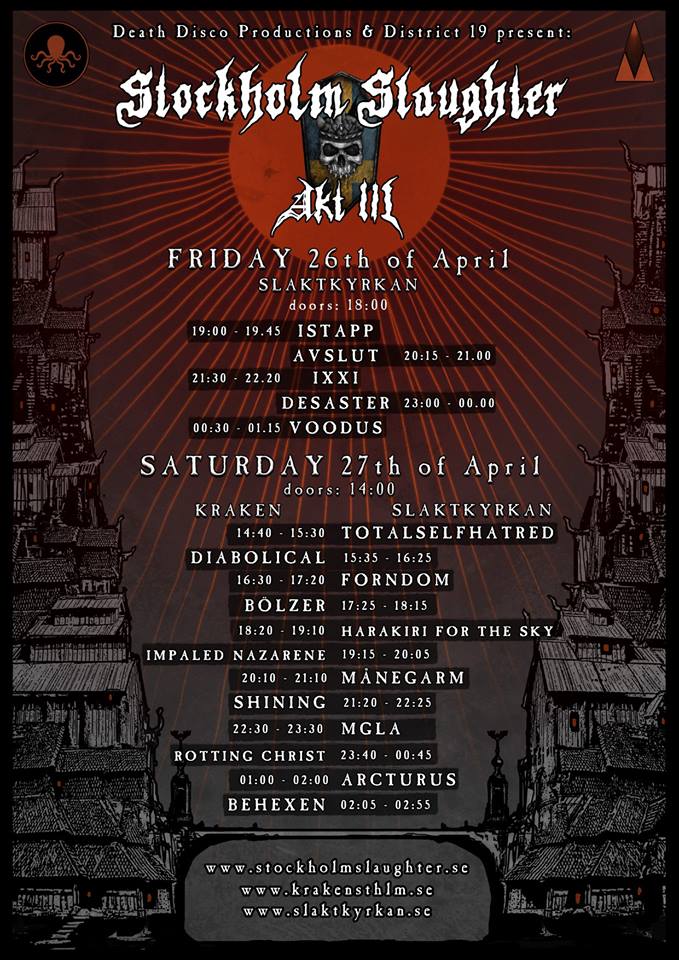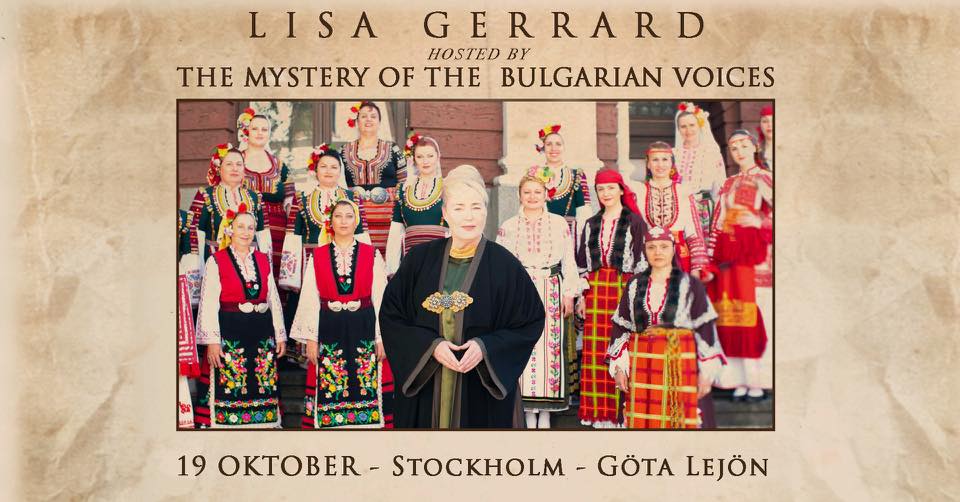 Death Disco Productions och Triffid And Danger Concertspresenterar stolt två konserter med den legendariska Dead Can Dance-sångerskan Lisa Gerrard tillsammans med a cappella-kören The Mystery of the Bulgarian Voices – Le Mystère des Voix Bulgares:
19 oktober Lisa Gerrard & The Mystery of the Bulgarian Voices i Stockholm
20 oktober Lisa Gerrard & The Mystery of the Bulgarian Voices i Oslo
Främst känd som den gudomliga kvinnorösten i Dead Can Dance samt för soloskivor och soundtrack såsom Gladiator – plus ytterligare samarbeten med mästerkompositören Hans Zimmer – har Lisa Gerrard karvat ut sin egna stil.
Kören som ackompanjerar Lisa på denna turné är känd över hela världen och har genomfört fler än 1250 konserter i de mest prestigefyllda konsertlokalerna jorden runt. År 2018 gav kören ut sitt första studioalbum på över två decennier: BooCheeMish.
"Mysteriet" ligger i hur de lyckas kombinera diafonisk sång med dissonanta harmonier till att frammana en rent hisnande ljudbild, och med Lisa Gerrard i sina led vågar vi utlova en oförglömlig afton!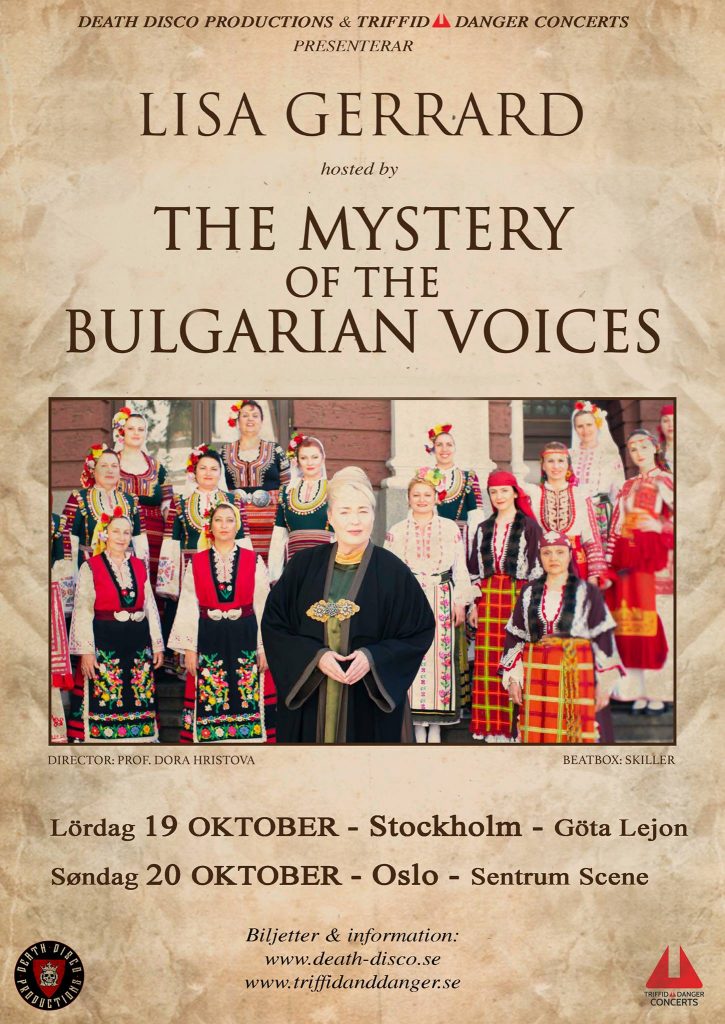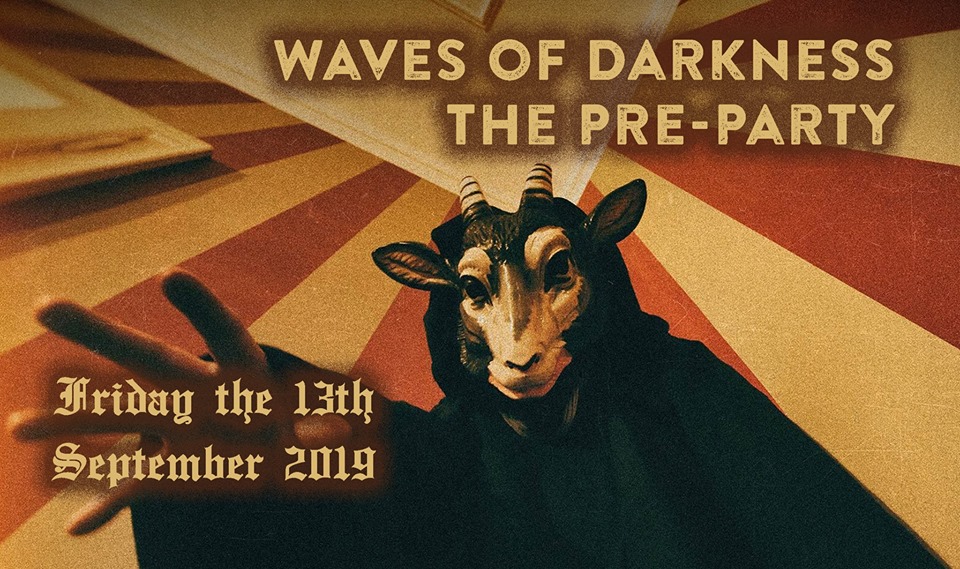 The official pre-party for Waves of Darkness on the Baltic Sea!
We hereby invite you to a warm up evening before we set sail the day after. This is also your chance to purchase festival merchandise in advance.
Strictly limited to 250 tickets, get your ticket in advance!
20:30 Der Blaue Reiter
21:35 The Lust Syndicate
22:55 THE DEVIL & THE UNIVERSE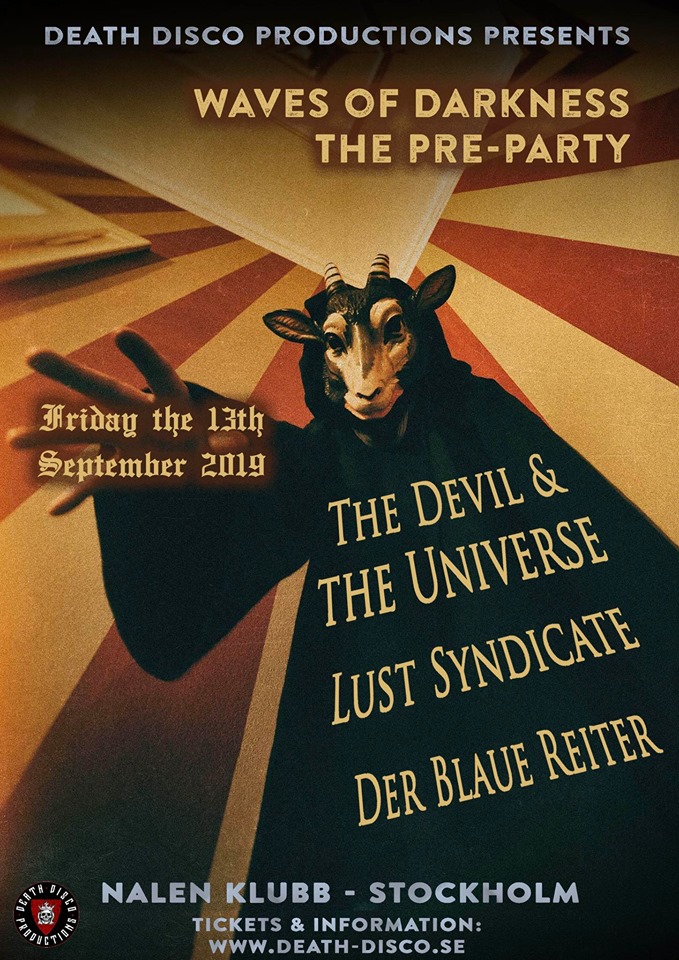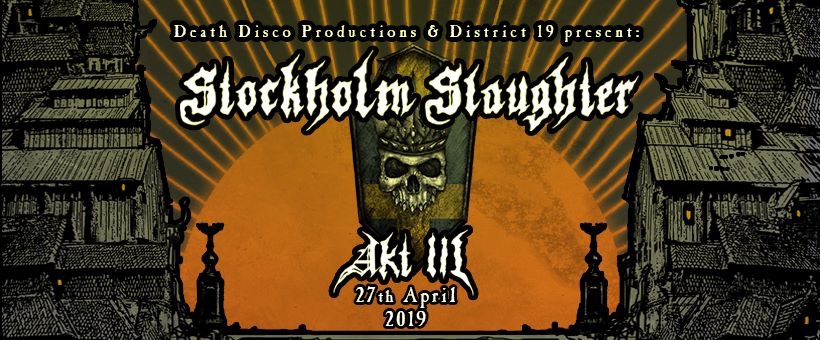 With the addition of Behexen Official and Impaled Nazarene (exclusive Suomi Finland Perkele set) the line-up for the 3rd edition of Stockholm Slaughter is finally complete.
1 day – 2 stages – 12 bands during 12 hours
We've already sold half of the festival capacity so don't wait for too long if you want to secure your spot at the heaviest metal party in town!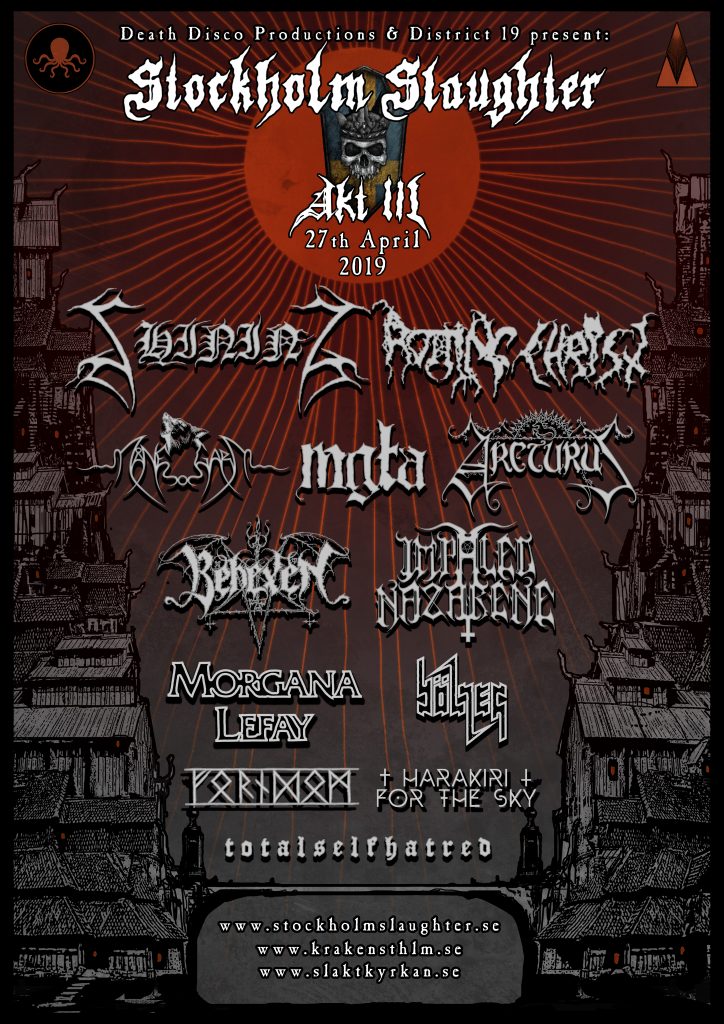 Varmt välkomna till kvällens ljudmagi!
Hålltider:
16:15 – insläpp VIP-biljetter
19:00 – insläpp ordinarie biljetter
20:00 – Maria W Horn
21:15 – Sunn O)))
00:00 – curfew publik
Ha gärna i åtanke att kvällens konsert är slutsåld och vi beräknar att det kommer att ta upp till 60 till 80 minuter innan vi hunnit checka in alla biljettköpare. Av den anledningen ber vi er att ha biljetterna till hands när ni kommer fram till Slaktkyrkan. Det är obligatorisk garderob som gäller för större jackor eller större väskor/ryggsäckar.
Sunn o))) har mängder av merchandise med sig (allt från tröjor till deras egna gitarrpedaler) och det är både kort och även kontanter som gäller, de accepterar EUR och SEK.
Vi ses i dimman!
...

See More

See Less