Home
/ Articles posted by Death Disco Productions (Page 7)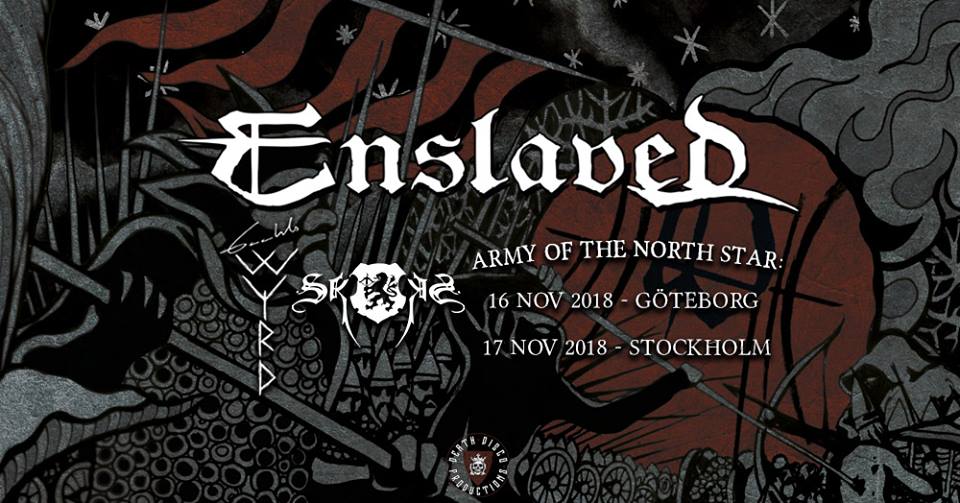 Kära vänner, nu när säsongens sista evenemang gått av stapeln skulle vi vilja ta detta tillfälle i akt och tacka för allt stöd vår verksamhet fått i år. Vi kunde inte vara nöjdare med att avsluta denna säsong med enastående framträdanden av Ulver, ROME (Jerome Reuter) och DARKHER!
De sista fem månaderna har vi arrangerat spelningar med 34 band i 7 olika skandinaviska städer – det har varit en stor utmaning men i slutändan värt varje sekund, vi är gränslöst tacksamma för all er support. Innan vi försätter oss i välförtjänt dvala har vi en spännande nyhet att delge er.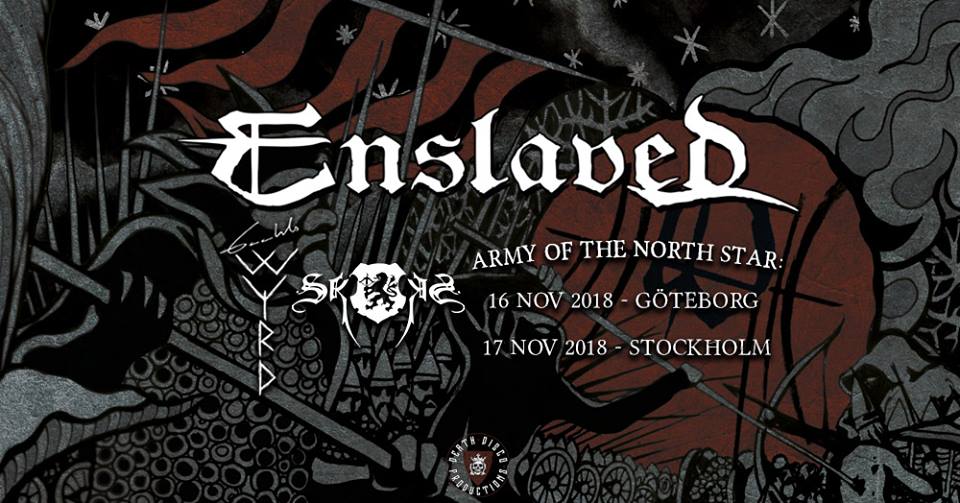 Våra vänner från festivalen Beyond the Gates beger sig i november ut på vägarna för allra första gången. Utvalda skandinaviska städer kommer att stå värd för den spektakulära turnén Army of the North Star och två svenska städer ingår i turnéplanen:
16 nov Enslaved, Gaahls Wyrd, Skogen i Göteborg
17 nov Enslaved, Gaahls Wyrd, Skogen i Stockholm
Turnéns huvudakt är Enslaved, med Gaahls WYRD som co-headliner. Beyond the Gates och Enslaved har format väldigt speciella länkar sinsemellan; på fjolårets festival levererade bandet en fullständigt makalös tolkning av debutalbumet "Vikingligr Veldi" i sin helhet, vilket lämnade såväl fans som kritiker likaledes handfallna. På årets upplaga av festivalen, innan de beger sig ut på Army of the North Star-strapatsen i november, kör Enslaved ett exklusivt set baserat på sitt klassiska album "Frost". Själva turnén bjuder på bandets nytolkningar av gamla klassiker – givna nytt liv genom den erfarenhet och skicklighet bandets nuvarande inkarnation besitter – samt låtar från 2017 års kritikerrosade album, "E", vilket även vann fjolårets Grammis.
Gaahls Wyrd frontas av den legendariske vokalisten Gaahl, tidigare frontman i Gorgoroth, God Seed och Trelldom. Bandet framför material från samtliga tre nämnda akter men även material från den kommande debutskivan som släpps senare i år.
I egenskap av lokal arrangör anser vi oss ha hittat en perfekt matchning för denna turné och är glada att presentera Skogen som förband för bägge Sverigedatum.
Torgrim Øyre, manager för Beyond the Gates, kommenterar:
"Jag tror vi kan slå fast att Enslaved golvade hela publiken med fjolårets "Vikingligr Veldi"-spelning. Det var nästan surrealistiskt att höra hur väl materialet låter när det framförs av ett band med dryga tjugo års ytterligare erfarenhet. De lyckades behålla stämningen i låtarna men samtidigt lägga till ytterligare nivåer av finess och känsla. Enslaved har alltid varit ett band som konstant ryckt framåt, ständigt skapandes nya texturer och paletter i materialet. Deras senaste skiva, "E", är ett bevis på detta. Jag kan svårligen bärga mig tills vi får ut det här paketet på vägarna och får chansen att visa alla vad över tjugofem år av norsk metalhistoria kan resultera i."
Med Gaahls Wyrd och Skogen som inbjudna gäster har denna turné potential att bli en av de starkaste black och heathen metal-paketen som nått skandinavisk jord på väldigt länge.
Biljetter finns till försäljning på death-disco.se samt tickster.se
Vi ses framför scenen i november!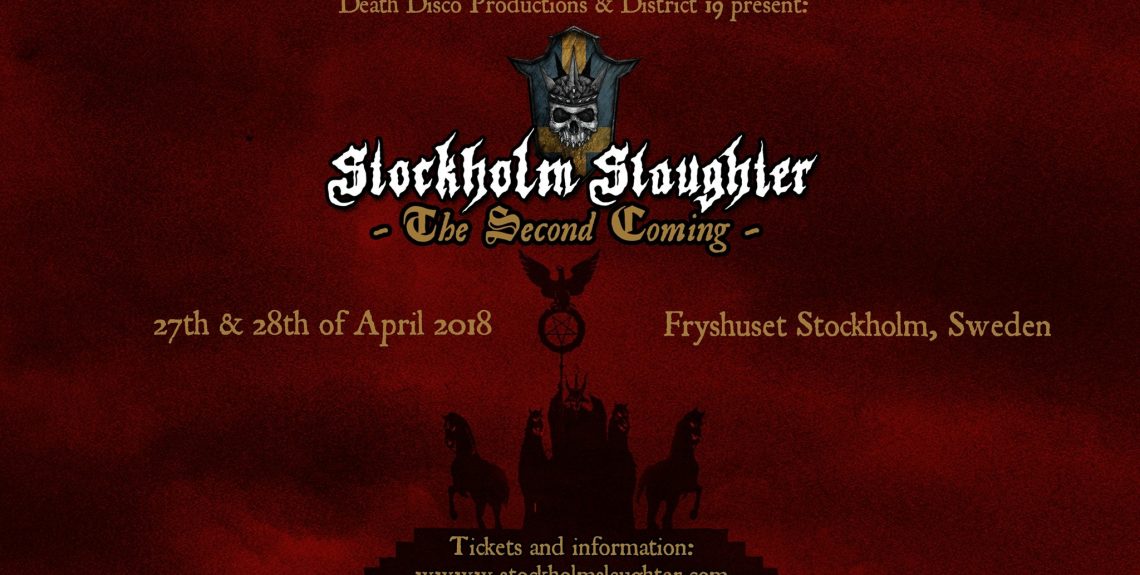 Spread the news, the dawn of the dead is upon us!
Scandinavian Death Metal legends confirmed – Entombed A.D., the latest addition to the line-up of Stockholm Slaughter! The band is to perform on Saturday night.
As extreme we like our music, as much we disdain any political agendas, especially extreme ideologies of all types. As opposed to different blogs or newspapers, we do not have a political agenda but we do stand firmly for artistic freedom.
As previously reported, Marduk and Taake have been prohibited from performing at Fryshuset. We deeply regret this but have no choice but to respect their decision.
As such, we have been toiling day and night to find a solution. We are pleased to say that we found a Stockholm venue that agreed to host an early afternoon show with Marduk Official and Taake (Official) on Sunday 29th of April.
We are aware that this means some visitors might need to make changes in their personal schedules. This is obviously most unfortunate but, under the current timeline, the only realistic solution to keep the line-up intact.
We also feel that it's very important to show them our support in these turbulent times.
2-day and Saturday tickets will obviously be valid for the Sunday show.
An updated running order and more information will be published within the next days.
Thank you for the shown support and see you in less than two weeks!
3 days – 22 bands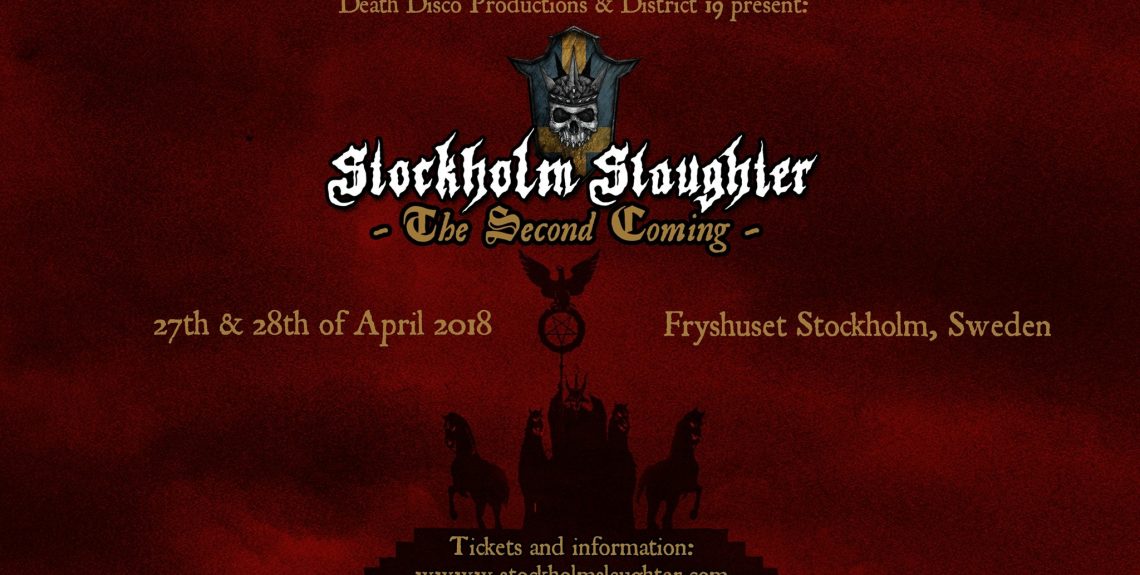 As we promised when we announced the first bands of the line-up, we have tried to work out a solution that has less to no overlapping between the stages and we'd like to think that we've reached our goal. In less than 5 weeks time, Stockholm Slaughter – The Second Comingwill once again be the international meeting place for metal fans from all around the world.
Friday:
Count Raven, Demonical, Tsjuder, Thyrfing, Hallatar, SEPTICFLESH-official-, AURA NOIR [official]
Saturday:
Alfahanne, Fejd, Fides Inversa, Enforcer, Sinister OfficialSwallow the Sun, One Tail, One Head, Arkona, October Tide, Master's Hammer, DOOL, Marduk Official, Asagraum, Taake (Official)
Time to start planning for the last weekend of April!
The running order may be subject to change.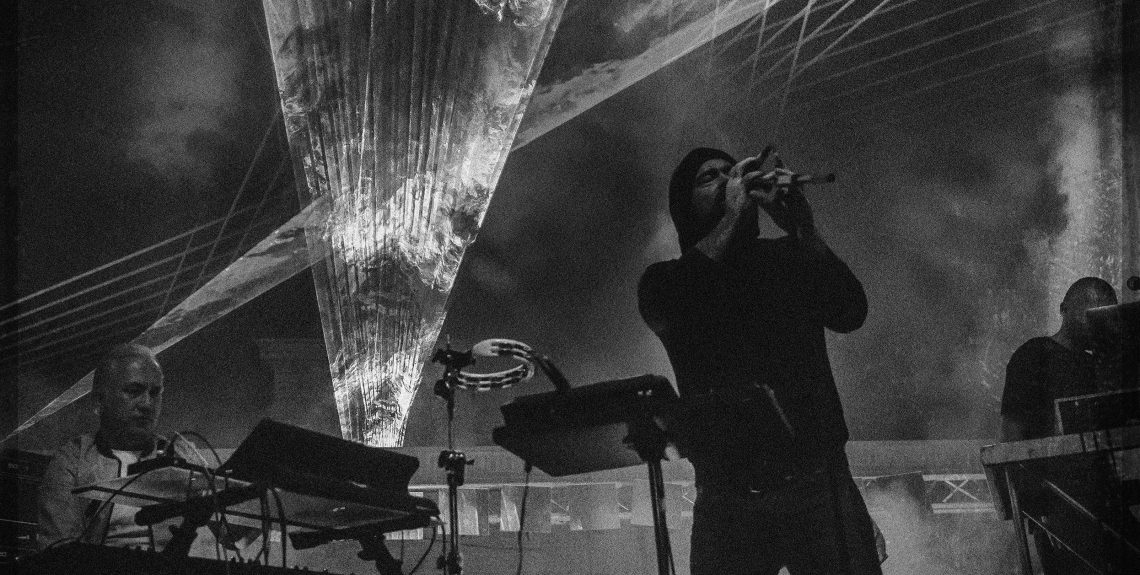 Pris: 380 kr + serviceavgift
Många band faller inom kategorin experimentell musik, få akter kan dock uppriktigt hävda sig ha laborerat så pass mycket som
Ulver
gjort. Under sina 26 år som verksamt band har de gått från black metal till a cappella, från filmmusik till sextiotalsrock och vidare till dark ambient.
Senaste skivan, "The Assassination of Julius Caesar", beskrivs enklast som en dramatisk popsaga. Med sin senaste EP, "Sic Transic Gloria Mundi", tar bandet än en gång syntpopmusiken till tidigare outforskade nivåer. Är detta indikativt på en permanent inriktning från bandets sida? Oavsett huruvida detta är sista gången vi hör Ulver framföra popmusik, eller så nära man kan komma åtminstone, har de norska vargarna skapat en oerhört givande och stimulerande musikupplevelse.
19 maj är det då äntligen dags för Ulver att spela i Stockholm för allra första gången. Vi med insyn i produktionen, som sett scenshowens tekniska specifikationer för ljus och laser, vågar nog utlova någonting utöver det vanliga. Det här är ingen vanlig konsert, utan snarare en likväl visuell som musikalisk upplevelse.
Varmt välkomna till en afton av mörk popmagi!
Förband:
ROME (Jerome Reuter)
+
DARKHER
Jerome Reuter har skapat mer musik under sina tolv år som verksam med Rome än vad de flesta band producerar under flera decennier. 19 maj återvänder han till Stockholm för ännu en akustisk duett. Rome är, som huvudstadspubliken nu börjar förstå, en beroendeframkallande liveakt – någonting som måste upplevas för att förstås.
Darkher är ett alias som användas av Jayn Wissenberg – vokalist, lead-gitarrist, producent och textförfattare; bandets främste drivkraft med andra ord. Hennes trollbindande musik bjuder på såväl hänförande skönhet som intensiv svärta. Darkhers debutalbum är riktigt imponerande och vi ser fram emot att se henne dela scen med Ulver och Rome.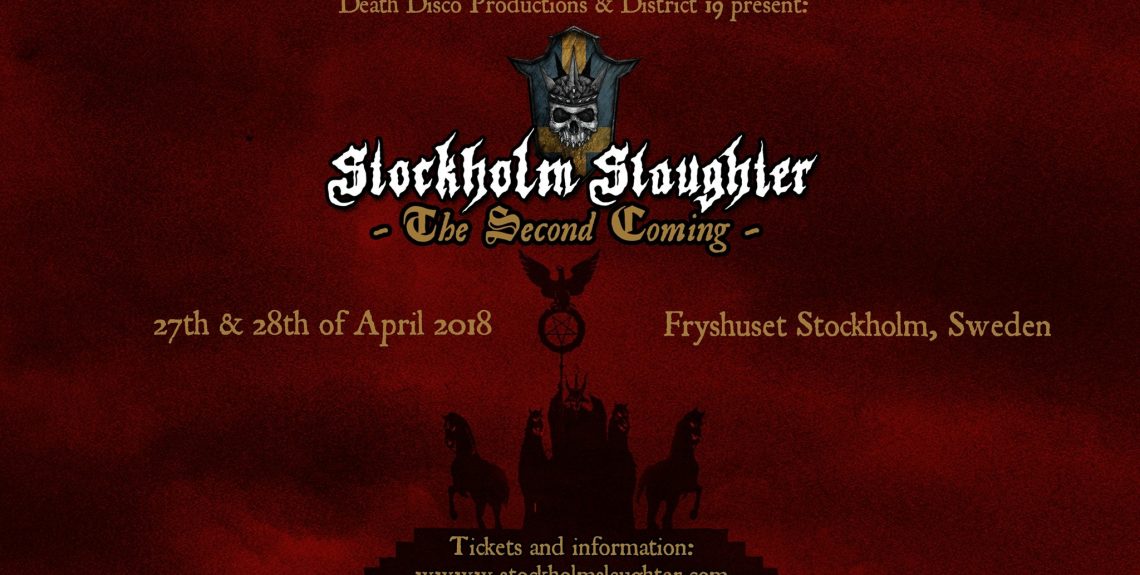 Certain bands are irreplaceable and My Dying Bride is one such name. In an attempt to keep the fans happy we have managed to secure not one, but two international doom metal acts.
We are happy to announce that on Friday the 27th, Hallatar, the all star band whose line-up consists of Tomi Joutsen (also known as the singer in the Finnish band Amorphis), Juha Raivio (the mastermind behind Swallow the Sun) and Mika Karppinen (known as the drummer for the goth metal band H.I.M.). This marks the band's first ever performance outside their home country!
The second doom band added to our line-up is October Tide who is to perform in its entirety on Saturday the 28th of April, their masterpiece, Rain Without End!
P.s. A hint for the real fans, these two bands have a certain project in common…
Updated line-up per day (in alphabetic order) 
Friday: AURA NOIR [official]], Caronte, Demonical, Hallatar, SEPTICFLESH-official-, Thyrfing, Tsjuder
Saturday: Alfahanne, Arkona, Asagraum, DOOL, Enforcer, Fejd, Marduk Official, Master's Hammer, October Tide, One Tail, One Head, Sinister Official, Swallow the Sun, Taake (Official).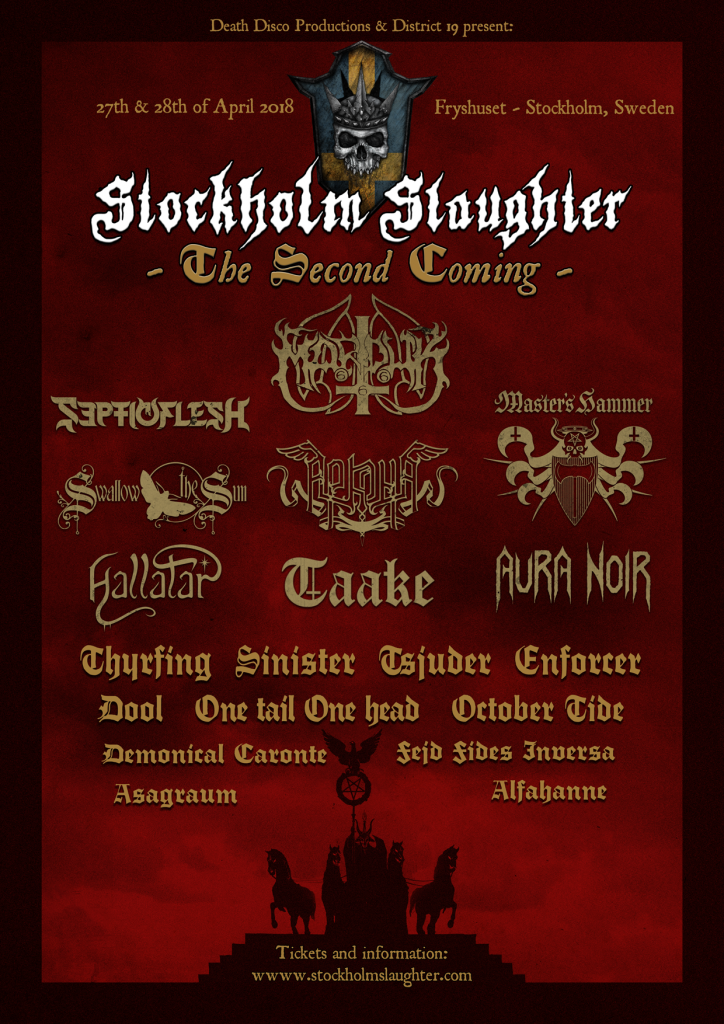 Varmt välkomna till kvällens ljudmagi!
Hålltider:
16:15 – insläpp VIP-biljetter
19:00 – insläpp ordinarie biljetter
20:00 – Maria W Horn
21:15 – Sunn O)))
00:00 – curfew publik
Ha gärna i åtanke att kvällens konsert är slutsåld och vi beräknar att det kommer att ta upp till 60 till 80 minuter innan vi hunnit checka in alla biljettköpare. Av den anledningen ber vi er att ha biljetterna till hands när ni kommer fram till Slaktkyrkan. Det är obligatorisk garderob som gäller för större jackor eller större väskor/ryggsäckar.
Sunn o))) har mängder av merchandise med sig (allt från tröjor till deras egna gitarrpedaler) och det är både kort och även kontanter som gäller, de accepterar EUR och SEK.
Vi ses i dimman!
...

See More

See Less