Home
/ Articles posted by Death Disco Productions (Page 5)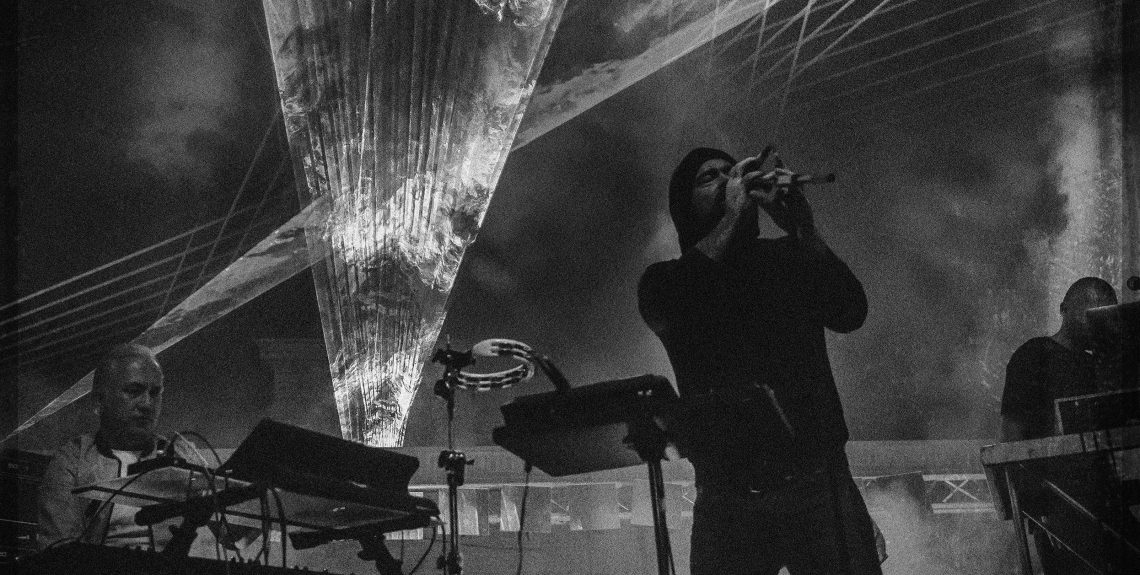 Pris: 380 kr + serviceavgift
Många band faller inom kategorin experimentell musik, få akter kan dock uppriktigt hävda sig ha laborerat så pass mycket som
Ulver
gjort. Under sina 26 år som verksamt band har de gått från black metal till a cappella, från filmmusik till sextiotalsrock och vidare till dark ambient.
Senaste skivan, "The Assassination of Julius Caesar", beskrivs enklast som en dramatisk popsaga. Med sin senaste EP, "Sic Transic Gloria Mundi", tar bandet än en gång syntpopmusiken till tidigare outforskade nivåer. Är detta indikativt på en permanent inriktning från bandets sida? Oavsett huruvida detta är sista gången vi hör Ulver framföra popmusik, eller så nära man kan komma åtminstone, har de norska vargarna skapat en oerhört givande och stimulerande musikupplevelse.
19 maj är det då äntligen dags för Ulver att spela i Stockholm för allra första gången. Vi med insyn i produktionen, som sett scenshowens tekniska specifikationer för ljus och laser, vågar nog utlova någonting utöver det vanliga. Det här är ingen vanlig konsert, utan snarare en likväl visuell som musikalisk upplevelse.
Varmt välkomna till en afton av mörk popmagi!
Förband:
ROME (Jerome Reuter)
+
DARKHER
Jerome Reuter har skapat mer musik under sina tolv år som verksam med Rome än vad de flesta band producerar under flera decennier. 19 maj återvänder han till Stockholm för ännu en akustisk duett. Rome är, som huvudstadspubliken nu börjar förstå, en beroendeframkallande liveakt – någonting som måste upplevas för att förstås.
Darkher är ett alias som användas av Jayn Wissenberg – vokalist, lead-gitarrist, producent och textförfattare; bandets främste drivkraft med andra ord. Hennes trollbindande musik bjuder på såväl hänförande skönhet som intensiv svärta. Darkhers debutalbum är riktigt imponerande och vi ser fram emot att se henne dela scen med Ulver och Rome.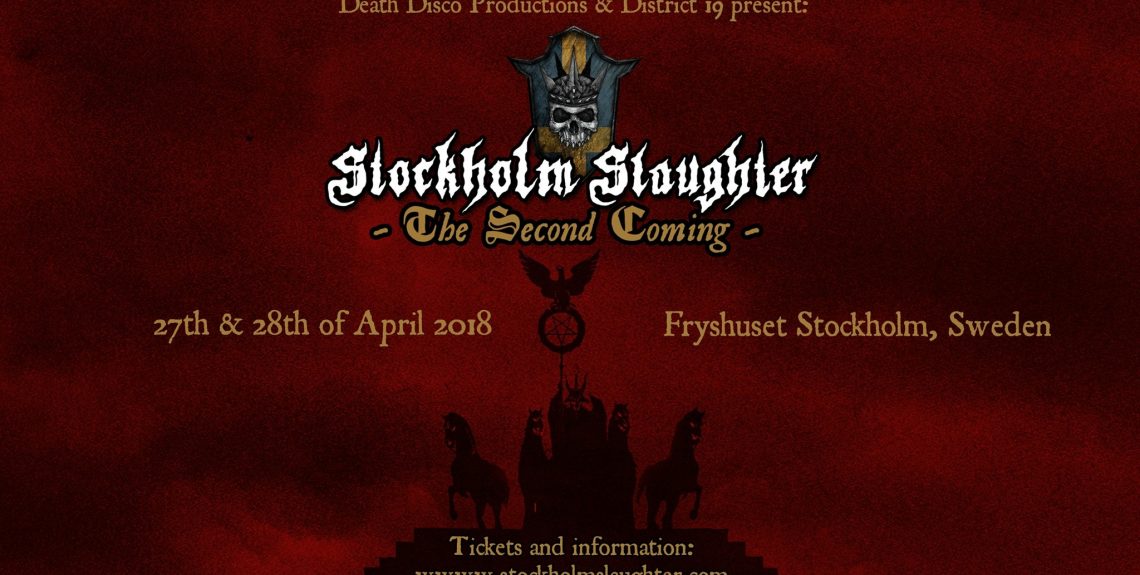 Certain bands are irreplaceable and My Dying Bride is one such name. In an attempt to keep the fans happy we have managed to secure not one, but two international doom metal acts.
We are happy to announce that on Friday the 27th, Hallatar, the all star band whose line-up consists of Tomi Joutsen (also known as the singer in the Finnish band Amorphis), Juha Raivio (the mastermind behind Swallow the Sun) and Mika Karppinen (known as the drummer for the goth metal band H.I.M.). This marks the band's first ever performance outside their home country!
The second doom band added to our line-up is October Tide who is to perform in its entirety on Saturday the 28th of April, their masterpiece, Rain Without End!
P.s. A hint for the real fans, these two bands have a certain project in common…
Updated line-up per day (in alphabetic order) 
Friday: AURA NOIR [official]], Caronte, Demonical, Hallatar, SEPTICFLESH-official-, Thyrfing, Tsjuder
Saturday: Alfahanne, Arkona, Asagraum, DOOL, Enforcer, Fejd, Marduk Official, Master's Hammer, October Tide, One Tail, One Head, Sinister Official, Swallow the Sun, Taake (Official).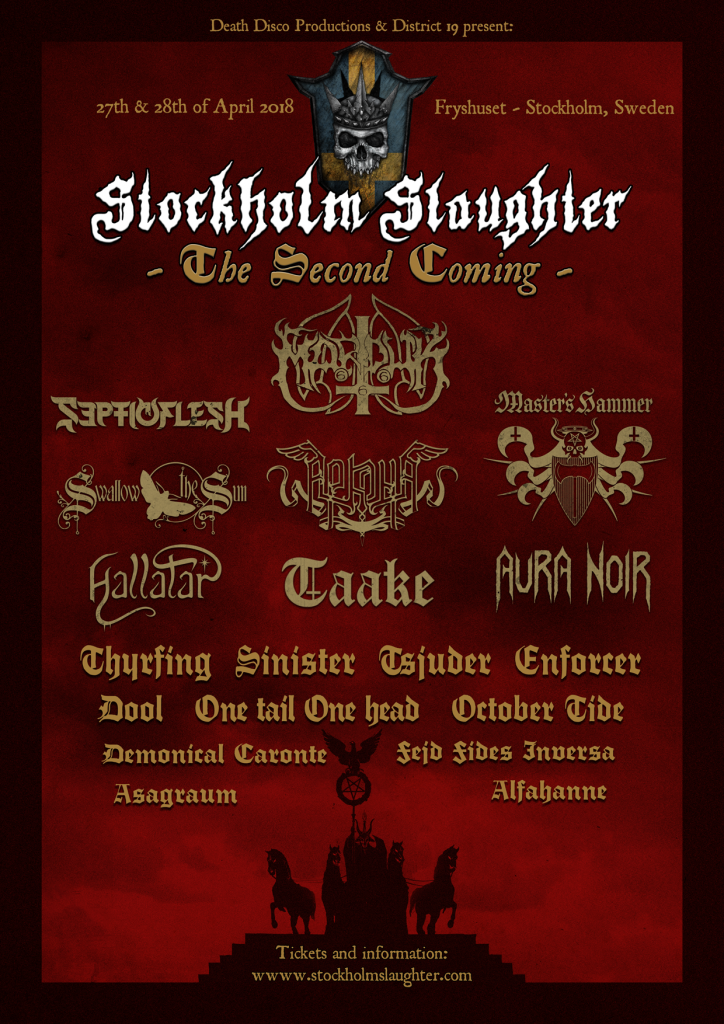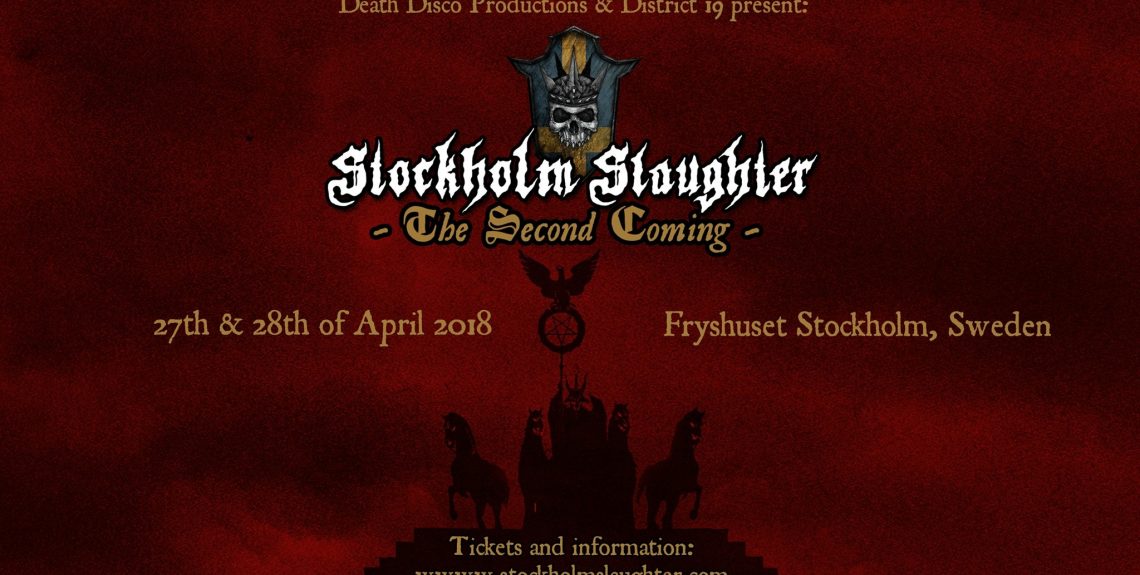 With the addition of SEPTICFLESH-official-, Taake (Official), AURA NOIR [official], Tsjuder, Demonical, Caronte, Fides Inversa and Alfahanne the bill for 2018 is finally complete. We'd dare say that we have managed to gather a substantial number of internationally celebrated metal acts who are to perform in Stockholm during the last weekend of April, all under the same roof.
As previously mentioned, there will be a maximum 5 to 10 minutes overlapp between the acts. This only applies to the bands performing on Saturday. Bands performing on Friday will not have any overlapping at all.
In about two weeks time we will announce which days the bands will perform as well as release the one day tickets.
To those willing to save some money, we strongly advice you to purchase combo-tickets, as these are limited in number and once these will be sold out, only day tickets will be available.
Last but not least, according to Tickster, people from 10 different countries (list available in the comment section) have already planned their trip to Stockholm in the end of April.
We're trustful that Stockholm will once again become the international capital of extreme music!
20 bands during 2 days, what are you waiting for?!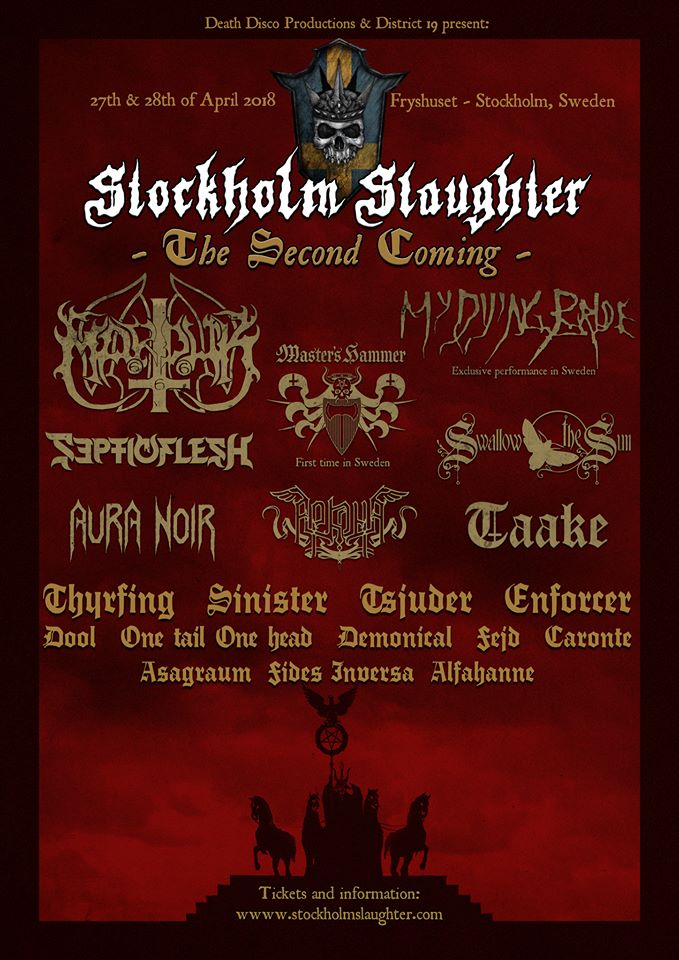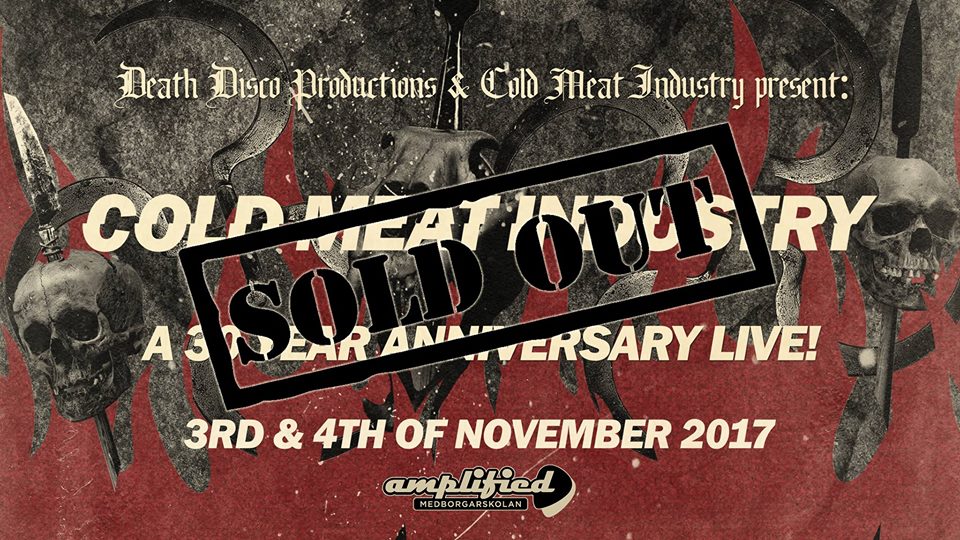 The weekend that many of us have been waiting for is finally closing in. Here comes some very important information about what to expect and how you can contribute to a smooth running event.
Arrival in Stockholm:
If you're arriving by car, make sure you know in advance where you're going to park your car. Parking in the inner city can be an issue and fines are given all the time. Parking around the festival area is extremely limited so we suggest that you use the public transport instead.
If you are arriving by train, you can take the green line subway to Gullmarsplan to get to the venue.
If you're landing at Arlanda Airport, and you are minimum 2 persons, we recommend that you use the Flygbussarna Door to Gate service, that will basically take you from the airport all the way to your accommodation in Stockholm. Other shared transportation options are Flygbussarna, Arlanda Express, the SL train service.
If you're landing at Bromma, Skavsta or Västerås, then Flygbussarna might be the only easy way to get into the city.
Keep in mind that you must have a valid ticket before getting on board of the above-mentioned transport services. Payments to the driver/conductor are not possible. You can book you tickets either online, at the ticket machines or at SL services centers. Check the websites for details.
The address to the venue is: Mårtensdalgatan 6, Stockholm
At the entrance
As you probably know, the festival is completely sold out since more than two months ago. There are no spare tickets at the box office. In order to access the festival, you have to show a valid ticket (the pdf-file that includes a QR-code). Receipts, order confirmations or anything else than valid tickets will not be accepted.
Please have your ticket ready when you enter the venue to assure a smooth check-in for everybody. Upon entering the venue, you will receive a wristband. The wristband is your ticket for the rest of the weekend, meaning that you can get in and out as often as you want.
It is absolutely forbidden to bring any sharp objects, liquids or any kind of weapons (including tear-gas spray). Bringing alcohol or food to the venue is also strictly prohibited.
Cameras and cloakroom
System cameras are allowed, but you are not allowed to bring into the concert hall any kind of backpacks or bags for your camera. Camera accessories, including camera bags MUST be checked in at the cloakroom. The fee for the cloakroom can only be paid in cash.
Large jackets, coats or other large clothing items must be checked in at the cloakroom.
We appreciate if you limit the use of your phone/camera to film or take pictures during performances. It would be most considerate of you to think of the other fellow festival attendees and enjoy the shows together.
Bars, snacks and alcohol policy
Fryshuset Klubben/ Arenan, the venue, has two bars: one on the main floor and one on the balcony in the concert hall.
The merchandise/food area is on a different floor than the concert hall and it is alcohol free. In other words, you will not be able to enter the merchandise area with drinks purchased at the bars in the venue.
The venue will be serving, beer, cider, wine and soft drinks. No strong alcohol due to the strict rules and regulations!
At the merchandise area you can also have a quick snack and in case you want a proper meal, just search for something in the Gullmarsplan / Globen area, which is within walking distance from the venue.
Smoking
The entire building has a strict no smoking policy. The only smoking area is outside, next to the entrance. Once again, no drinks allowed outside (this is a rule that most of the bars and venues have in Sweden).
Toilettes
There are toilets at the entrance of the venue, but also on the left side of the stage in the concert hall.
Security
Our goal is to make this a pleasant experience for everybody while also complying with very strict rules and regulations. Thus some things that may be taken for granted in other countries, are simply forbidden in Sweden (like taking your drink with you when you go out for a smoke).
According to the Swedish law, persons that are extremely intoxicated are to be removed from venues without any prior warning. We hope that during the festival there will not be any such cases. Tap water is absolutely drinkable in Stockholm so, don't save on it, it's free!
Aggressive behaviour will not be tolerated. Please report it to the security guards.
If you or anybody around you is feeling unwell, contact the security staff and they will show you to our festival nurse.
Welcome to Stockholm – the international capital of industrial darkness!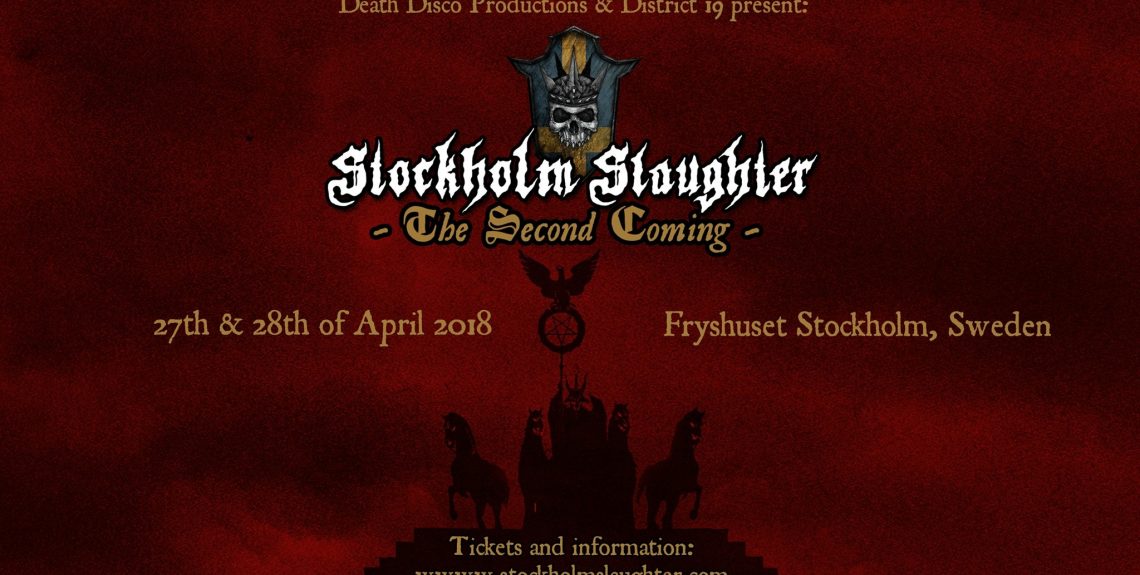 Our line-up is slowly shaping up and remember that there are more bands to be announced! We're pleased to announce the addition of:
Marduk Official
Swallow the Sun
Thyrfing
Enforcer
Asagraum
Fejd
Combo tickets are available in a limited number. Don't snooze, 'cause you will lose!