Home
/ Articles posted by Death Disco Productions (Page 5)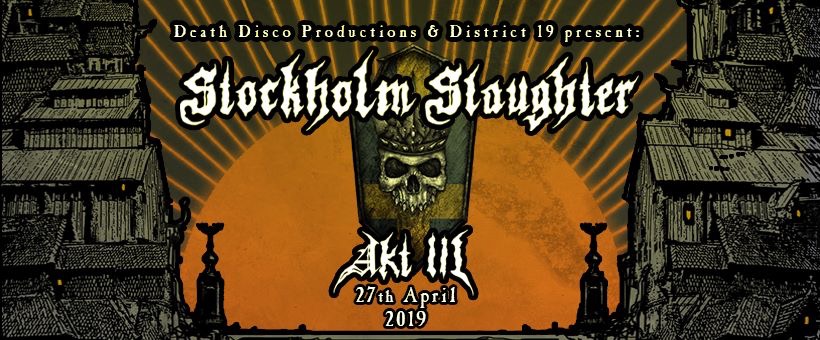 We can now finally reveal the running order Stockholm Slaughter: Akt III. As previously announced, we will not have any overlaps. In practice it also means that we strongly recommend to those that wish to see entire sets of bands that are to perform at Slaktkyrkan, to be there in time in order to avoid long waiting lines at the entry. We will send an email with all practical info a few days prior the festival as well as share the most important info here, please have patience.
Some of you might notice that Morgana Lefay is not on the poster any more. Earlier this week we have been informed by the band that they have (once again) decided to take a break so for now it is unsure when or if they will ever perform again.
This having said we've managed to get a replacement in the form of the Stockholm based Death Metal act DIABOLICAL.
Less than 200 tickets available for Saturday so do not wait if you want to make sure you can get in!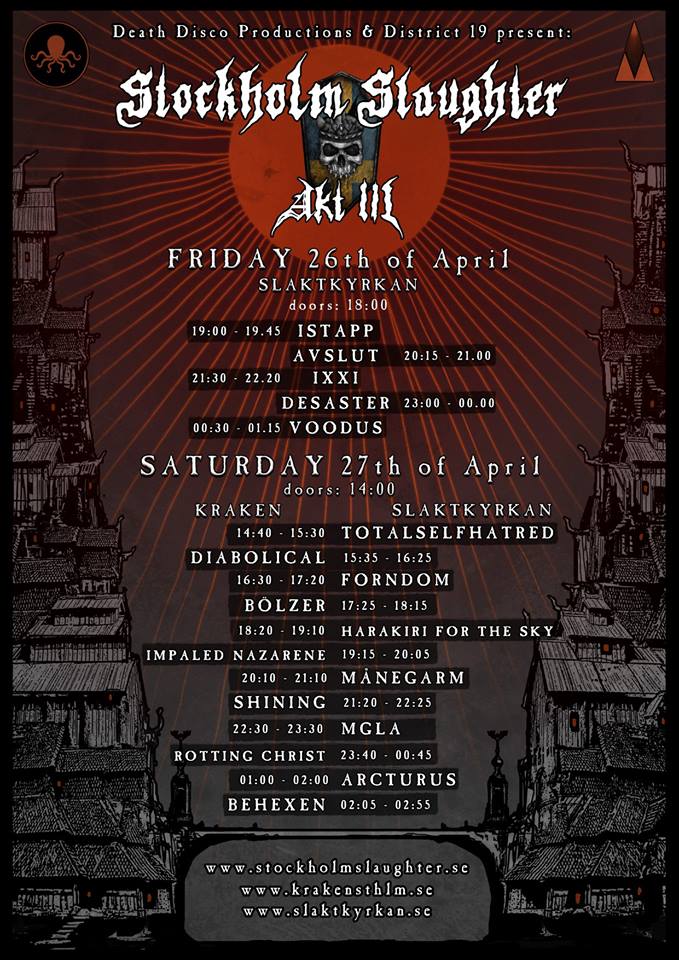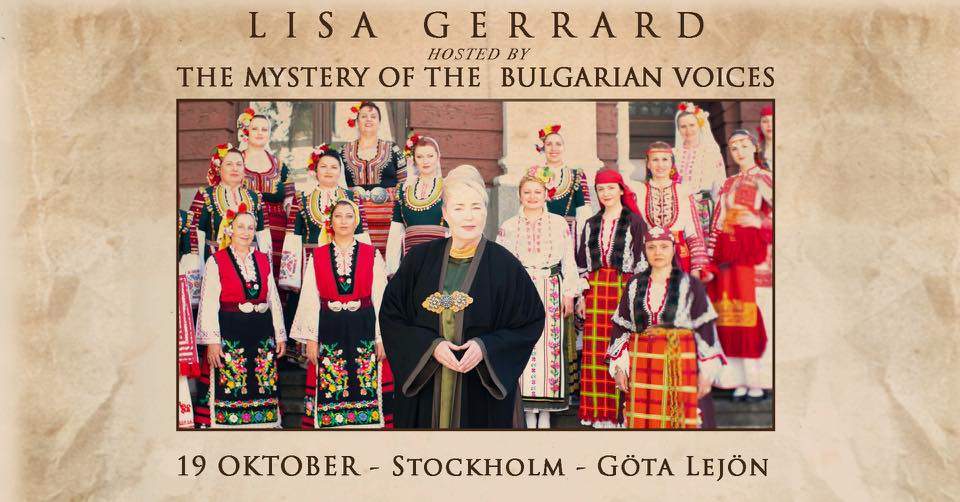 Death Disco Productions och Triffid And Danger Concertspresenterar stolt två konserter med den legendariska Dead Can Dance-sångerskan Lisa Gerrard tillsammans med a cappella-kören The Mystery of the Bulgarian Voices – Le Mystère des Voix Bulgares:
19 oktober Lisa Gerrard & The Mystery of the Bulgarian Voices i Stockholm
20 oktober Lisa Gerrard & The Mystery of the Bulgarian Voices i Oslo
Främst känd som den gudomliga kvinnorösten i Dead Can Dance samt för soloskivor och soundtrack såsom Gladiator – plus ytterligare samarbeten med mästerkompositören Hans Zimmer – har Lisa Gerrard karvat ut sin egna stil.
Kören som ackompanjerar Lisa på denna turné är känd över hela världen och har genomfört fler än 1250 konserter i de mest prestigefyllda konsertlokalerna jorden runt. År 2018 gav kören ut sitt första studioalbum på över två decennier: BooCheeMish.
"Mysteriet" ligger i hur de lyckas kombinera diafonisk sång med dissonanta harmonier till att frammana en rent hisnande ljudbild, och med Lisa Gerrard i sina led vågar vi utlova en oförglömlig afton!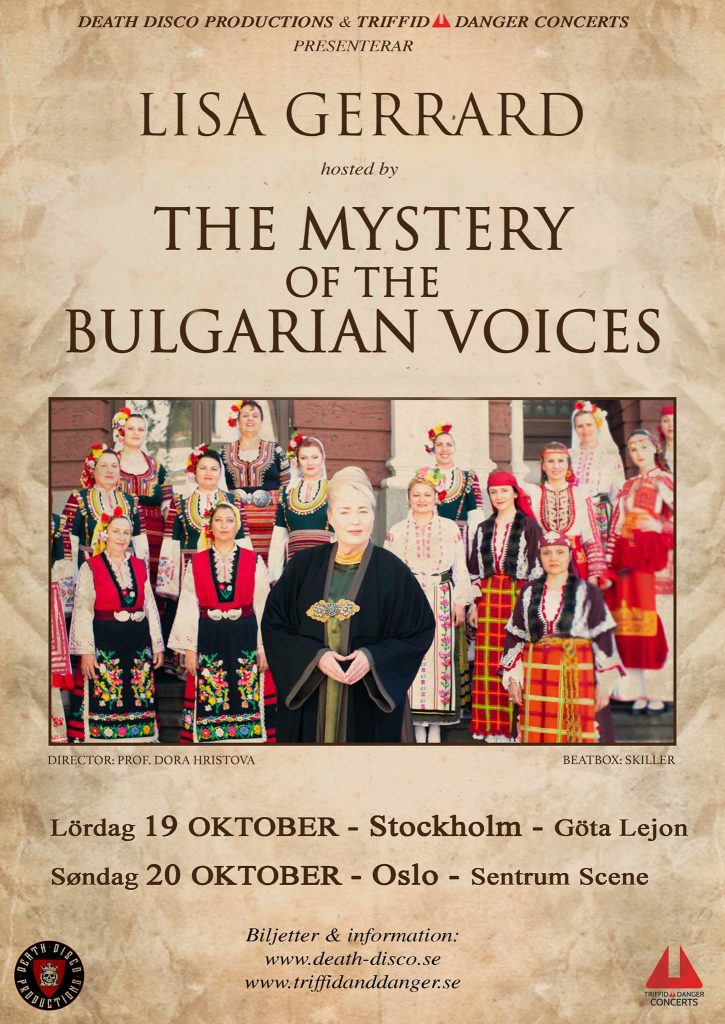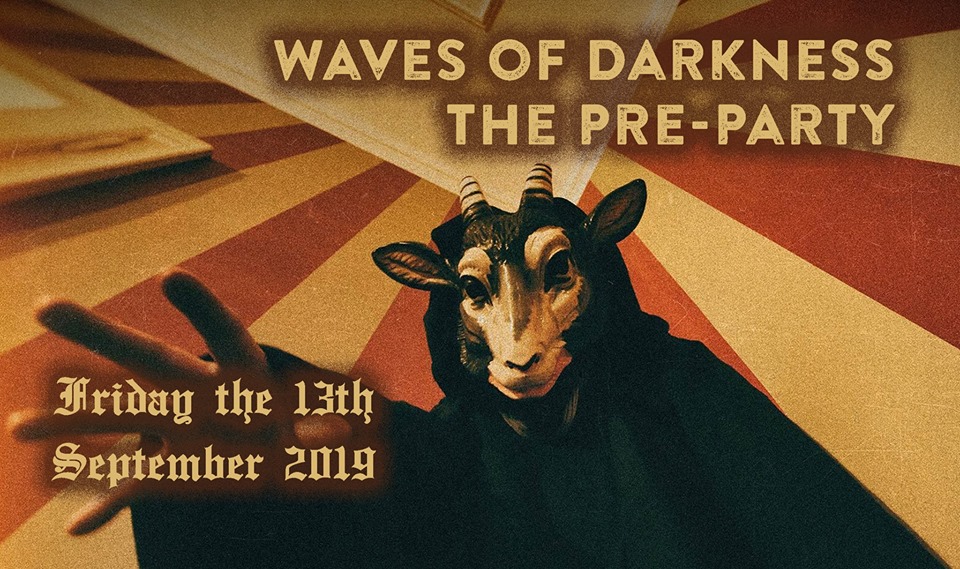 The official pre-party for Waves of Darkness on the Baltic Sea!
We hereby invite you to a warm up evening before we set sail the day after. This is also your chance to purchase festival merchandise in advance.
Strictly limited to 250 tickets, get your ticket in advance!
20:30 Der Blaue Reiter
21:35 The Lust Syndicate
22:55 THE DEVIL & THE UNIVERSE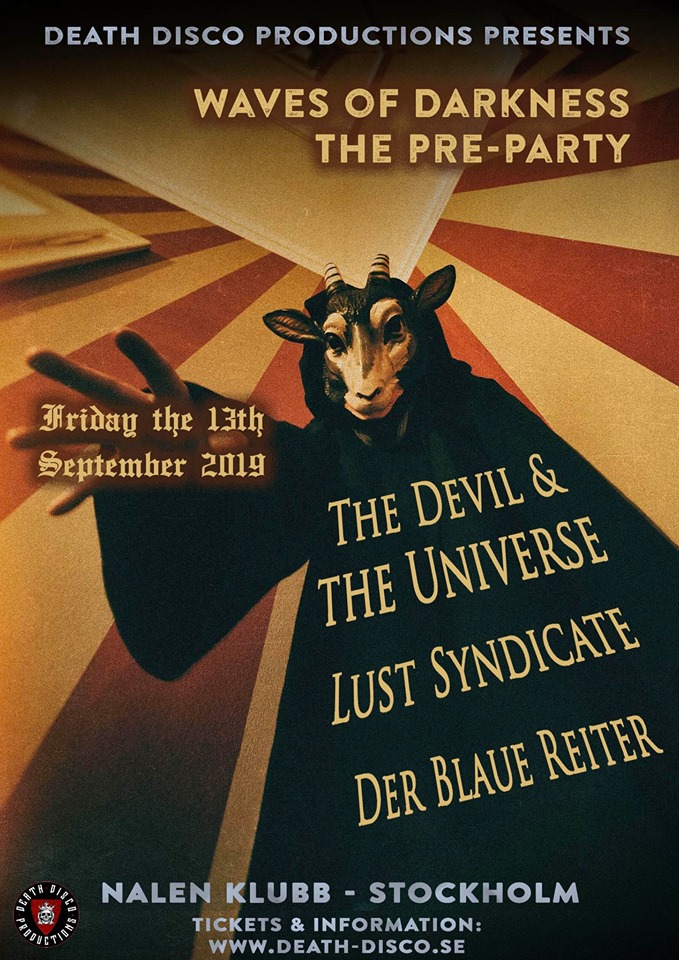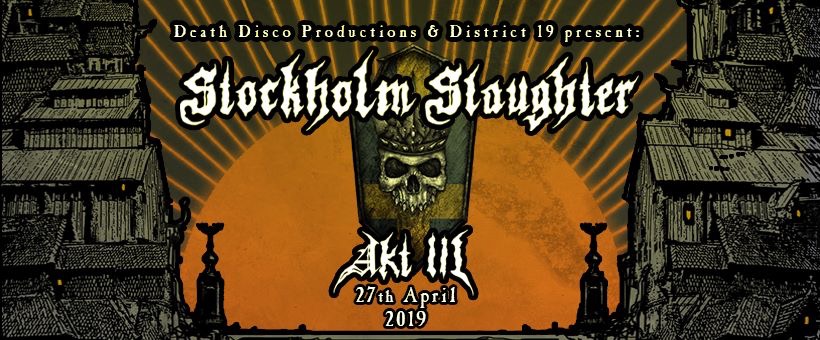 With the addition of Behexen Official and Impaled Nazarene (exclusive Suomi Finland Perkele set) the line-up for the 3rd edition of Stockholm Slaughter is finally complete.
1 day – 2 stages – 12 bands during 12 hours
We've already sold half of the festival capacity so don't wait for too long if you want to secure your spot at the heaviest metal party in town!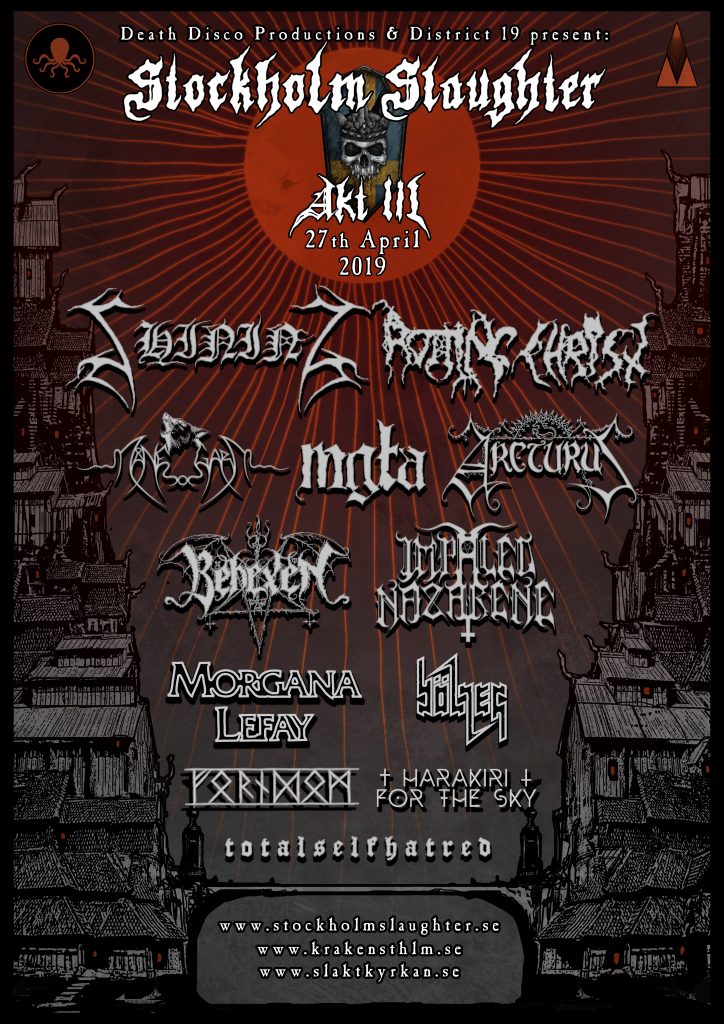 Death Disco Productions presenterar två exklusiva Sverigedatum med ROME (Luxemburg) och Árstíðir (Island).
2 mars – Göteborg – Sticky Fingers
3 mars – Stockholm – Klubben
Luxemburg-baserade neo-folkprojektet ROME, frontade av Jerome Reuter, beger sig i mars ut på Europaturné för att promota sin nya skiva, Le Ceneri Di Heliodoro.
ROME har ägnat de senaste tretton åren åt att utforska och utvidga sina musikaliska vyer. Materialet sammanfogar amerikansk folk med såväl Chanson som den ångestanstrukna ledan från engelsk postpunk – "Chanson Noir", som grundaren och drivkraften Jerome Reuter en gång sade. Hägrandes över allt detta är Reuters karaktäristiska och djupa stämma, en röst du gärna vill tro vet allt om människans sanna natur och syfte.
Rent musikaliskt sneglar Reuter på Jacques Brel, Johnny Cash, Townes Van Zandt, Tom Waits, Leonard Cohen, Michael Gira, Nick Cave – idel melankoliarkitekter som alla har lämnat avtryck i hans artistiska värv.
Som protagonister i ROMEs lyrik finner vi historiens glömda hjältar och outsiders – mestadels de från 1900-talet. Anarkistiska rebeller (Flowers From Exile, 2009), franska motståndsrörelsen (Nos Chants Perdus, 2010), södras Afrikas frihetskämpar (A Passage To Rhodesia, 2014) eller revolutionärer och motståndsmän likt de som avbildas i den ambitiösa trilogin Die Aesthetik Der Herrschaftsfreiheit (2011) som inspirerats av verk signerade Peter Weiss och Pablo Neruda, bland andra.
Detta leder oss till ROMEs trettonde fullängdsalbum, Le Ceneri Di Heliodoro. Här vägrar Reuter rygga tillbaka från det provokativa och tvetydiga – konceptuellt sett bryter han följaktligen ny terräng och tampas med känsliga ämnen såsom den pågående upplösningen av den europeiska gemenskapen, dess relation till USA, samt den sköra sammansättningen av dess nationer.
Aftonens första framträdande går i isländsk regi, med ett band som nyligen släppt sitt fjärde fullängdsalbum. Árstíðir har kommit att bli motvilligt sammanlänkande med den isländska kalendern över stora händelser – bandet grundades samma månad som 2008 års börskrasch, som drabbade Island oerhört hårt, och begav sig iväg på sin första internationella turné samma vecka som Eyjafjallajökulls eruption år 2010. Efter åratal av ihärdigt turnerande har bandet byggt upp en dedikerad lyssnarskara i mer än 30 länder samt berört folk med sin patenterade sång och musikaliska mix av indie, klassiskt och minimalism.
Islänningarna släppte sin fjärde skiva, Nivalis, för ett halvår sedan. Albumet uppvisar från början till slut övertygande kompositioner och erbjuder en hälsosam dos variation på såväl sång som instrument. Tveklöst inspirerade av de hisnande vyerna och extrema säsongsförändringar som står att finna i hemlandet erbjuder Nivalis ett musikaliskt underland för lyssnare att förlora sig i.