Home
/ Articles posted by Death Disco Productions (Page 6)
Death Disco Productions presenterar två exklusiva Sverigedatum med ROME (Luxemburg) och Árstíðir (Island).
2 mars – Göteborg – Sticky Fingers
3 mars – Stockholm – Klubben
Luxemburg-baserade neo-folkprojektet ROME, frontade av Jerome Reuter, beger sig i mars ut på Europaturné för att promota sin nya skiva, Le Ceneri Di Heliodoro.
ROME har ägnat de senaste tretton åren åt att utforska och utvidga sina musikaliska vyer. Materialet sammanfogar amerikansk folk med såväl Chanson som den ångestanstrukna ledan från engelsk postpunk – "Chanson Noir", som grundaren och drivkraften Jerome Reuter en gång sade. Hägrandes över allt detta är Reuters karaktäristiska och djupa stämma, en röst du gärna vill tro vet allt om människans sanna natur och syfte.
Rent musikaliskt sneglar Reuter på Jacques Brel, Johnny Cash, Townes Van Zandt, Tom Waits, Leonard Cohen, Michael Gira, Nick Cave – idel melankoliarkitekter som alla har lämnat avtryck i hans artistiska värv.
Som protagonister i ROMEs lyrik finner vi historiens glömda hjältar och outsiders – mestadels de från 1900-talet. Anarkistiska rebeller (Flowers From Exile, 2009), franska motståndsrörelsen (Nos Chants Perdus, 2010), södras Afrikas frihetskämpar (A Passage To Rhodesia, 2014) eller revolutionärer och motståndsmän likt de som avbildas i den ambitiösa trilogin Die Aesthetik Der Herrschaftsfreiheit (2011) som inspirerats av verk signerade Peter Weiss och Pablo Neruda, bland andra.
Detta leder oss till ROMEs trettonde fullängdsalbum, Le Ceneri Di Heliodoro. Här vägrar Reuter rygga tillbaka från det provokativa och tvetydiga – konceptuellt sett bryter han följaktligen ny terräng och tampas med känsliga ämnen såsom den pågående upplösningen av den europeiska gemenskapen, dess relation till USA, samt den sköra sammansättningen av dess nationer.
Aftonens första framträdande går i isländsk regi, med ett band som nyligen släppt sitt fjärde fullängdsalbum. Árstíðir har kommit att bli motvilligt sammanlänkande med den isländska kalendern över stora händelser – bandet grundades samma månad som 2008 års börskrasch, som drabbade Island oerhört hårt, och begav sig iväg på sin första internationella turné samma vecka som Eyjafjallajökulls eruption år 2010. Efter åratal av ihärdigt turnerande har bandet byggt upp en dedikerad lyssnarskara i mer än 30 länder samt berört folk med sin patenterade sång och musikaliska mix av indie, klassiskt och minimalism.
Islänningarna släppte sin fjärde skiva, Nivalis, för ett halvår sedan. Albumet uppvisar från början till slut övertygande kompositioner och erbjuder en hälsosam dos variation på såväl sång som instrument. Tveklöst inspirerade av de hisnande vyerna och extrema säsongsförändringar som står att finna i hemlandet erbjuder Nivalis ett musikaliskt underland för lyssnare att förlora sig i.
Mgła does not need much of a introduction. The polish fog will engulf Stockholm with an exclusive performance at the third edition of our festival!
Furthermore, the depressive black metal act hailing from Finland, Totalselfhatred [official] will perform for the very first time on Swedish shores.
The updated line-up in alphabetic order:
Arcturus
BÖLZER
Forndom
Harakiri for the sky
Mgła
Morgana Lefay
Månegarm
Rotting Christ
Shining
Totalselfhatred
The Greek titans of Black Metal Rotting Christ are returning to Scandinavia! The Tolis brothers have been holding the blasphemy flag high for more than 3 decades and next year they are coming to Stockholm for an exclusive performance!
Norrtälje's Månegarm is the first band to return to Stockholm Slaughter, after having performed during our first edition. The band is currently recording a new album and their performance at Stockholm Slaughter will be the band's official release fest.
There are few bands nowadays that have such a unique sound as Arcturus. The Avant-garde Norwegian metal band is finally due to play on Swedish soil. The quintet, that features members of very well-known Norwegian acts (e.g. Mayhem, Borknagar, ex-Dimmu Borgir, ex-Coventant), has prepared a setlist that contains both old and new material.
The festival line-up is slowly shaping up, but we do have more bands to announce within a few weeks' time.
Remember that the ticket price goes up for each new line-up addition.
Death Disco, i samarbete med Kraken Sthlm, är stolta att presentera denna väldigt speciella afton: en musikalisk resa för den universella själen!
I vissa språk från fjärran östern är Irfan ett tilltalsnamn som fritt översatt betyder "visdom". Det är även namnet på ett band från Sofia, Bulgarien, vars tonkonst tar oss på en storslagen färd från Sahara till Svarta Havet via Balkan.
Sedan starten 2001 har Irfan släppt tre exceptionella album som förseglat deras plats inom såväl världsmusik som neoklassisk darkwave.  Nu är de tillbaka med sin stundande fjärde fullängdare och för att promota verket beger de sig ut på Europaturné som når skandinavisk mark den 28 november.
Opening act: Apoptose (Tyskland)
Detta event är ett måste för fans av Dead Can Dance, Arcana, Daemonia Nymphae eller Hagalaz Runedance.
The time has now come to announce the continuation of Stockholm Slaughter: the third act will take place on April 27, 2019. We've selected a location that's become somewhat of a gathering point for the Stockholm metal underground in recent years, having now hosted hundreds of such events: Watain's release party, the Black Harvest festival, the Dark Days of Stockholm festival and Mayhem's rendition of their legendary album De Mysteriis Dom Sathanas, for example.
Appropriately, Stockholm Slaughter 2019 will take place in Slakthusområdet, which translates to "the slaughterhouse area". The entire block used to be one big abattoir apparatus! The main stage will be at Kraken Sthlm, located a few minutes from our previous venue, Fryshuset. The nearest subway and train station is Globen. Located just one hundred meters away or one minute walking distance is our second stage and venue – Slaktkyrkan, or "The Slaughter Church".
Another important change is that the festival will only take place on Saturday, as opposed to the first two and then three days of our 2018 edition. Expect at least 12 intense hours of internationally acclaimed acts taking turns performing on two stages. Guests travelling from afar are encouraged to arrive one day early, since we'll be hosting a pre-party event on the Friday, April 26. That said, we're once again looking forward to welcoming all of you into the heart of Sweden for Stockholm Slaughter: Akt III!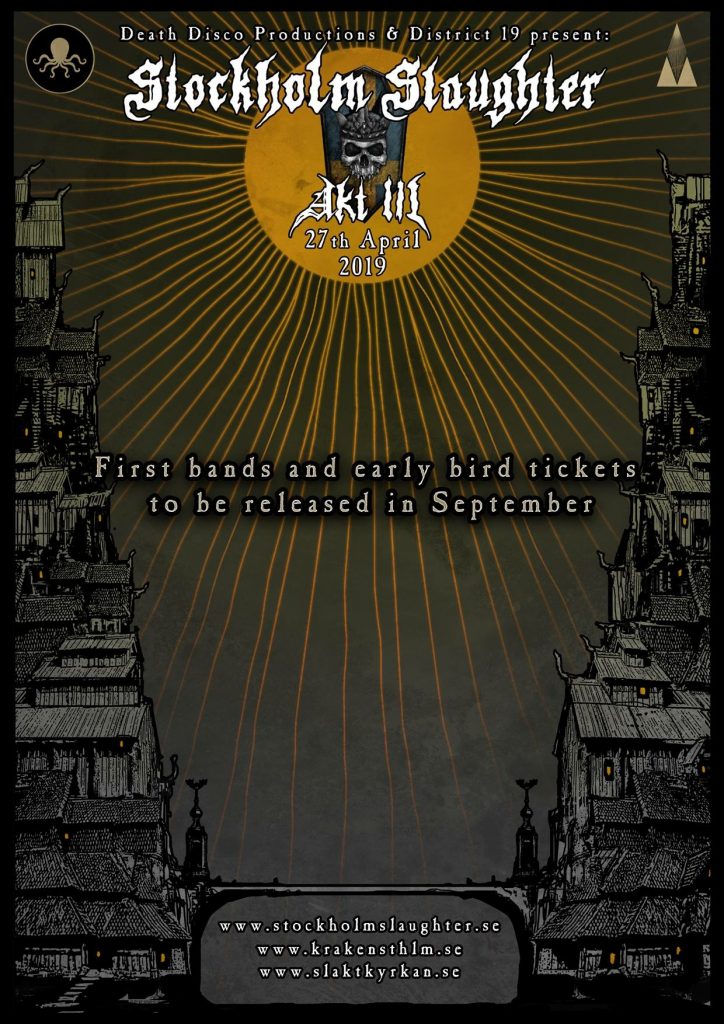 Varmt välkomna till kvällens ljudmagi!
Hålltider:
16:15 – insläpp VIP-biljetter
19:00 – insläpp ordinarie biljetter
20:00 – Maria W Horn
21:15 – Sunn O)))
00:00 – curfew publik
Ha gärna i åtanke att kvällens konsert är slutsåld och vi beräknar att det kommer att ta upp till 60 till 80 minuter innan vi hunnit checka in alla biljettköpare. Av den anledningen ber vi er att ha biljetterna till hands när ni kommer fram till Slaktkyrkan. Det är obligatorisk garderob som gäller för större jackor eller större väskor/ryggsäckar.
Sunn o))) har mängder av merchandise med sig (allt från tröjor till deras egna gitarrpedaler) och det är både kort och även kontanter som gäller, de accepterar EUR och SEK.
Vi ses i dimman!
...

See More

See Less